This post isn't about all goot things to visit in Croatia. Our experience this time borders with small, one week round that started and ended in same place – Rijeka. It was drive through wonderful Krk, Cres, Losinj islands and Istria peninsula with Kamenjak horn and fantastic cities of Pula and Rovinja.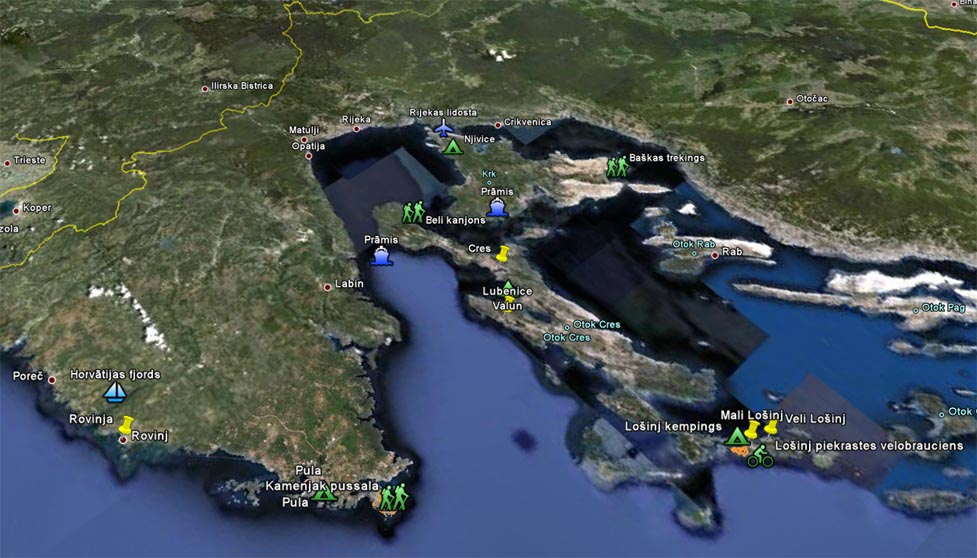 To move between islands, we took ferry.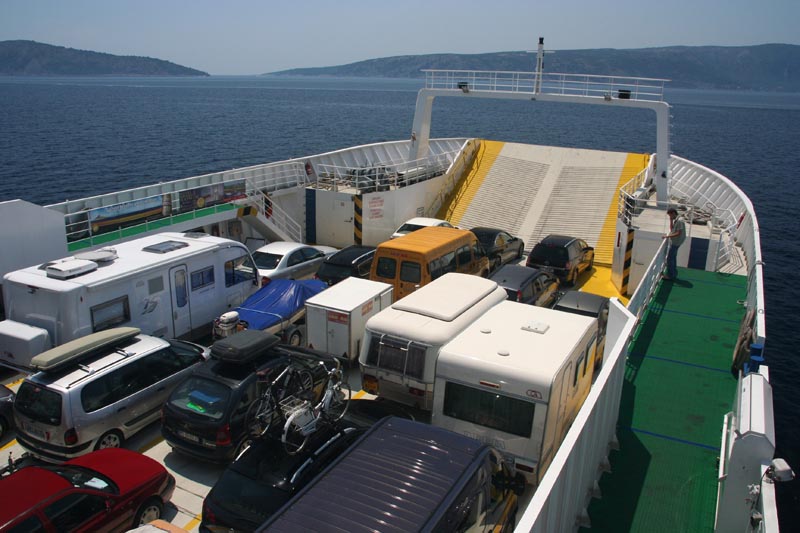 In Cres we had to find city called Valun, hidden in small bay. Valun is notable for it's eco traditions – you can't drive through city, but  your belongings should be pushed in trolley.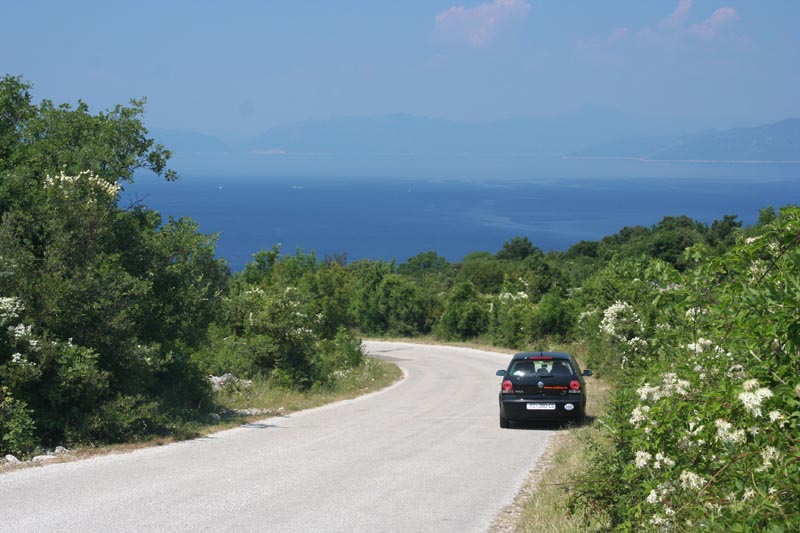 i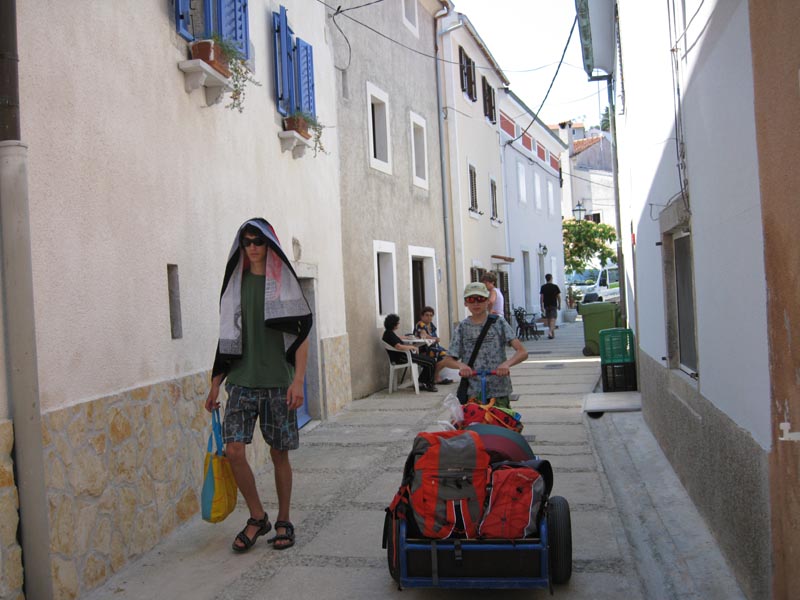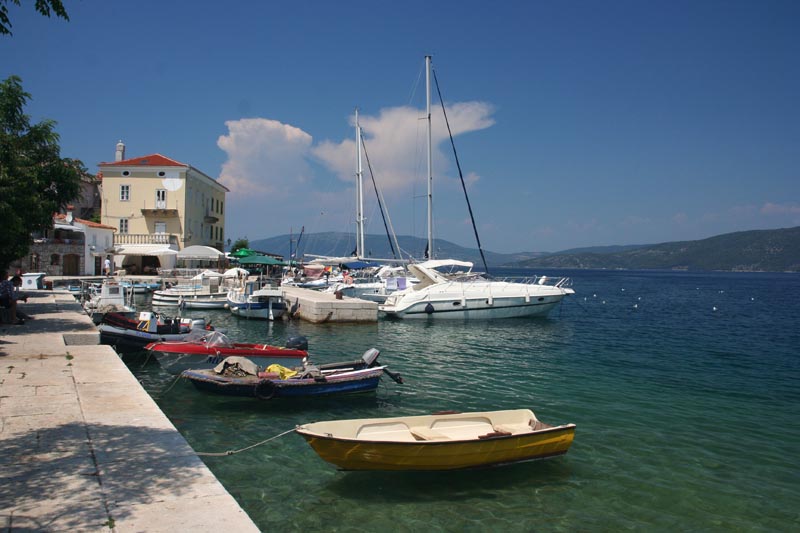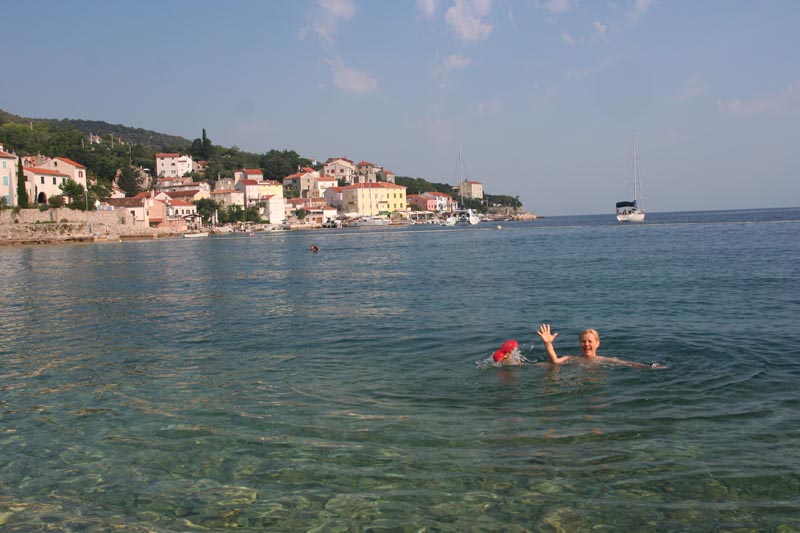 Wonderful swimming place, but beware of hedgehogs and crabs!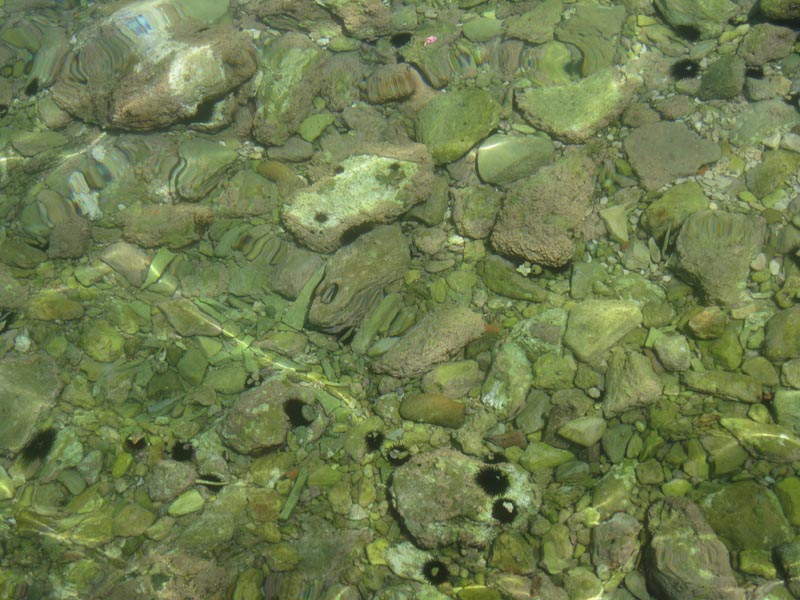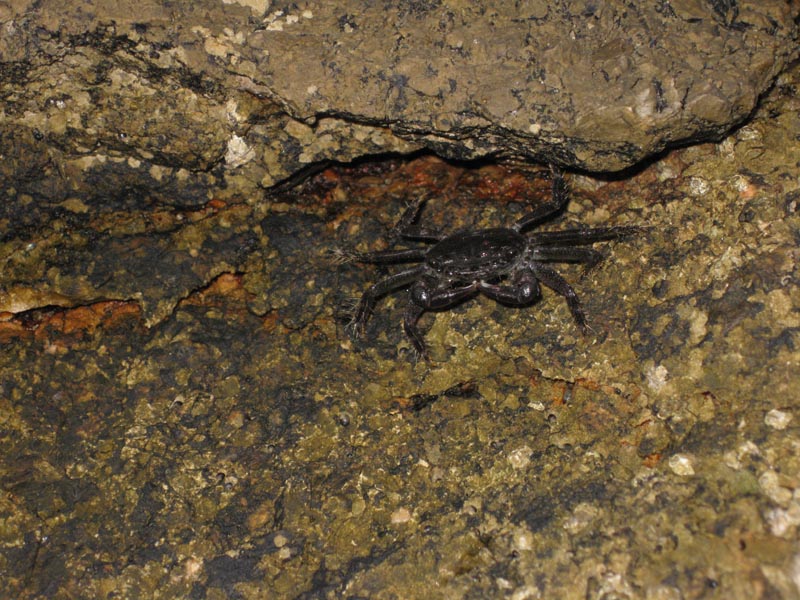 We were adviced to take restaurant "to the right". It was cool – cook grilled today catched fish, and cold white wine was great addition.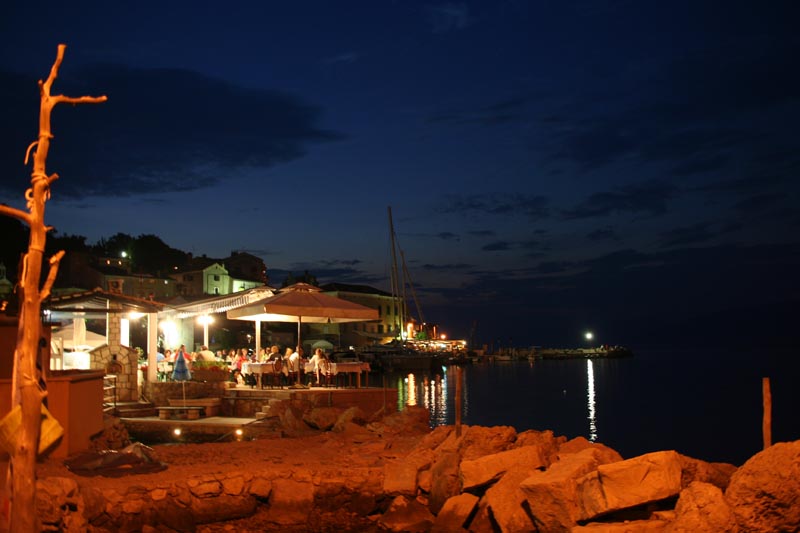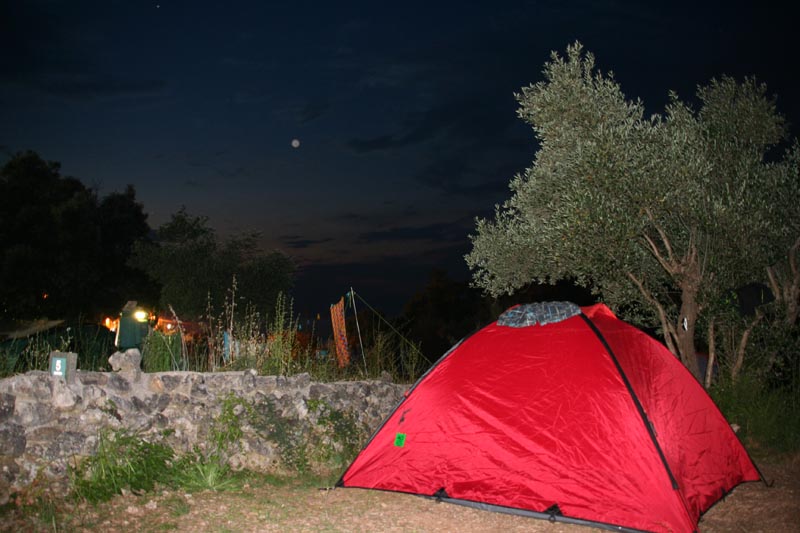 Next morning – to the city of Lubenice. All roads here are enclosed by rock fence, that makes any exchange nearly impossible.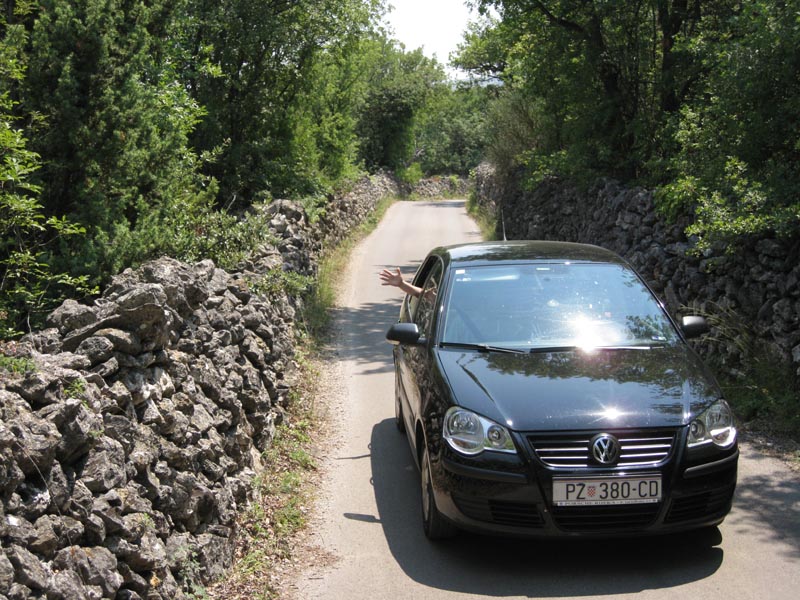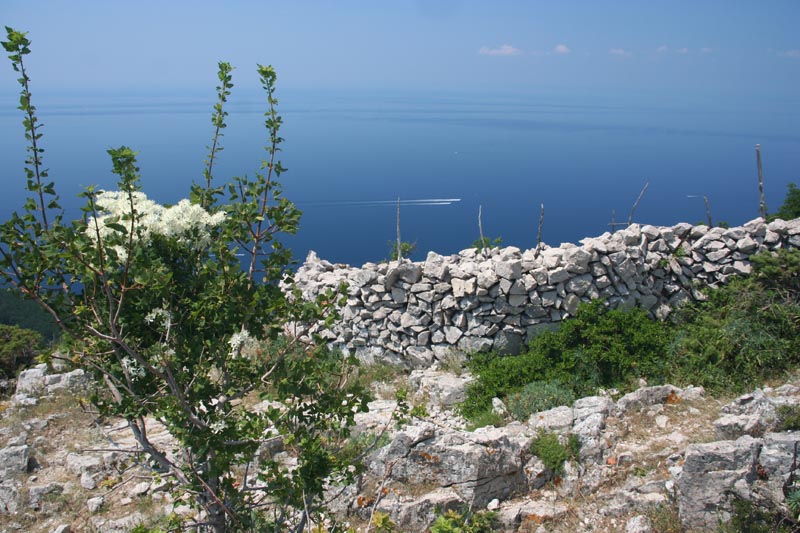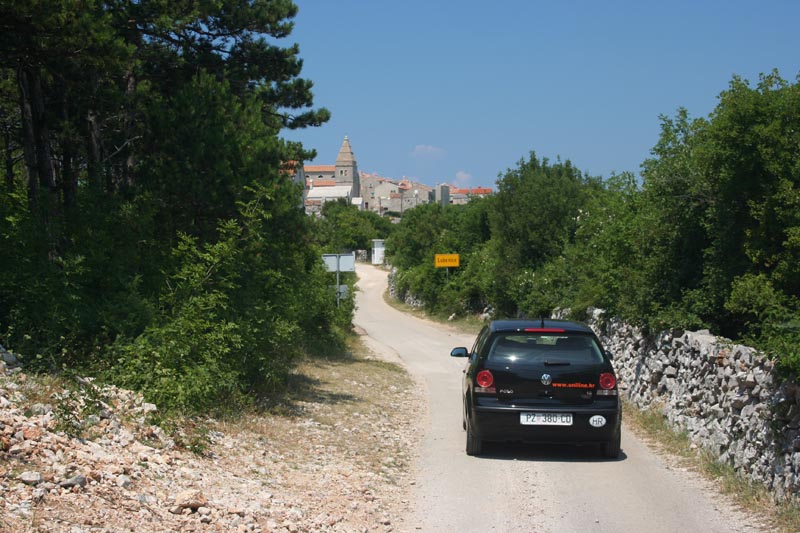 Wonderful sights from Lubenice cliff.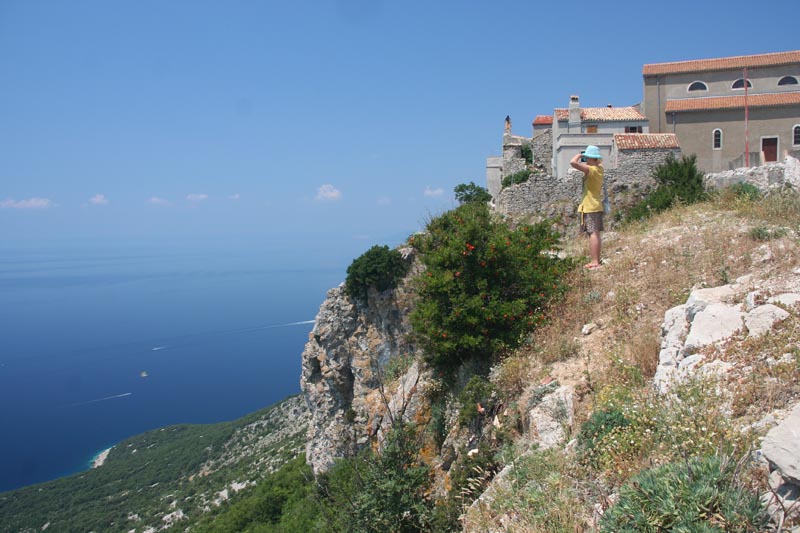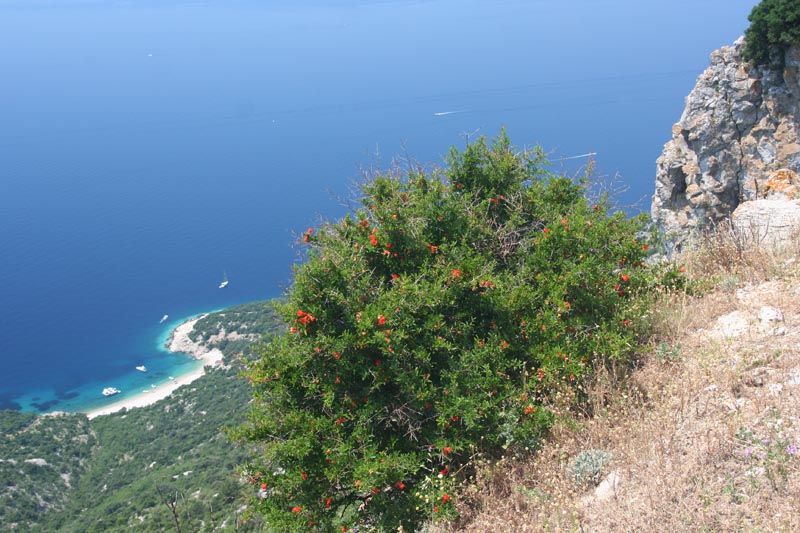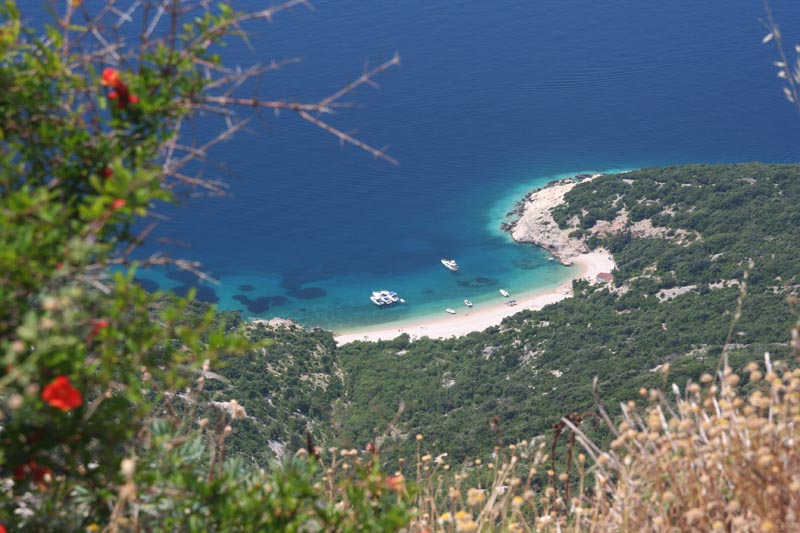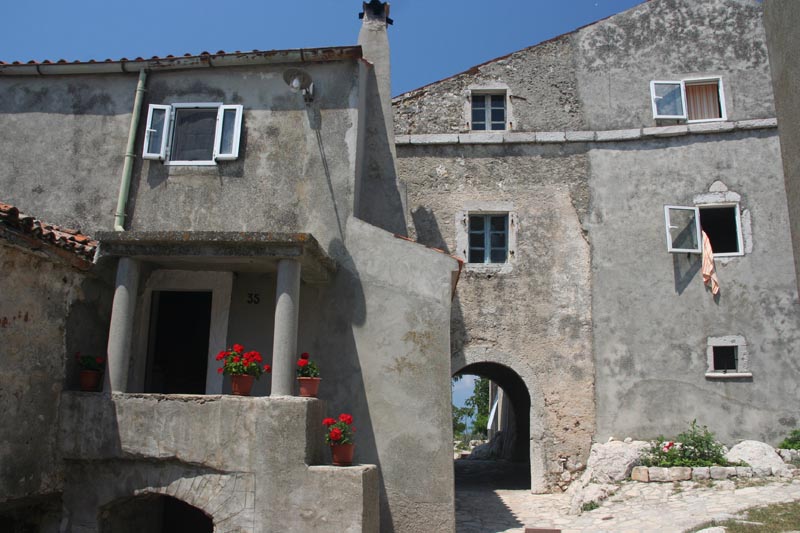 Cicadas – plenty of them here.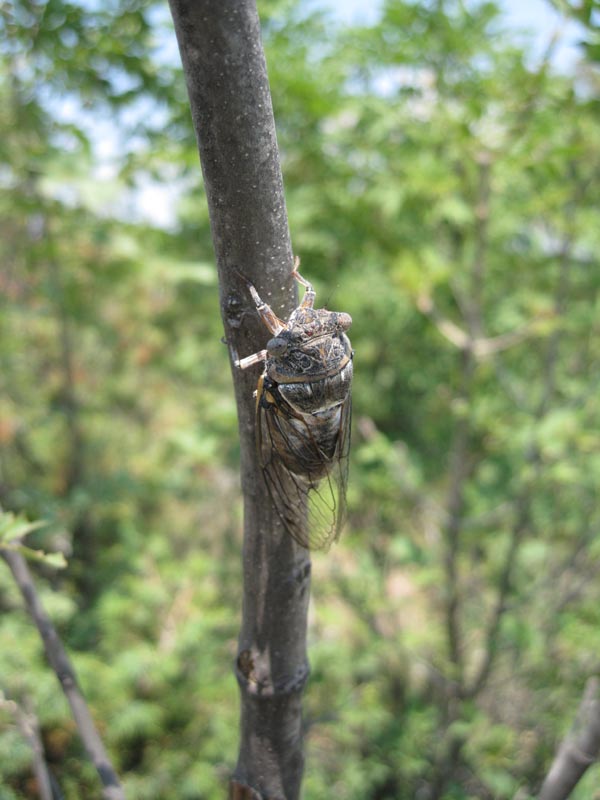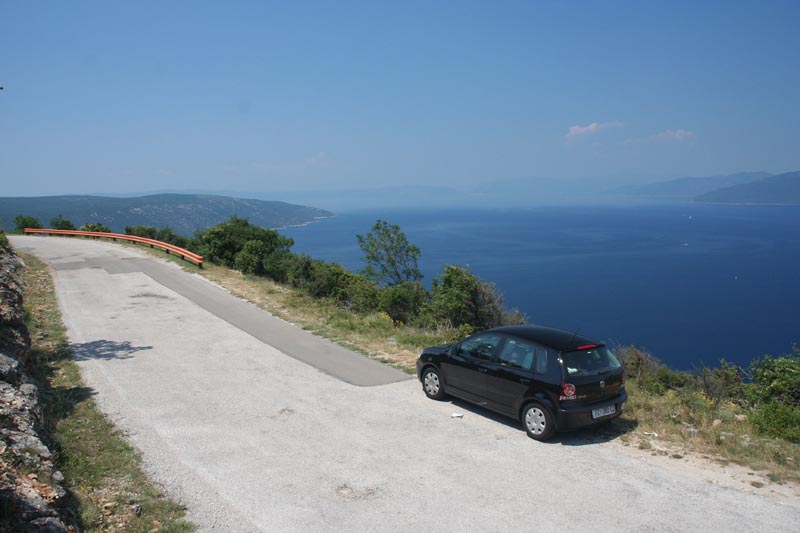 Losinja waited us with beautiful ports, narrow medieval streets and delicious restaurants.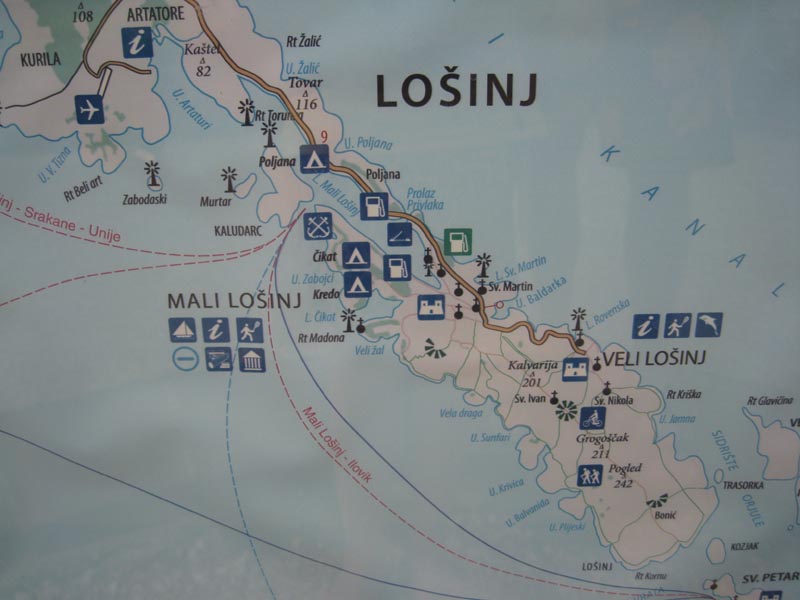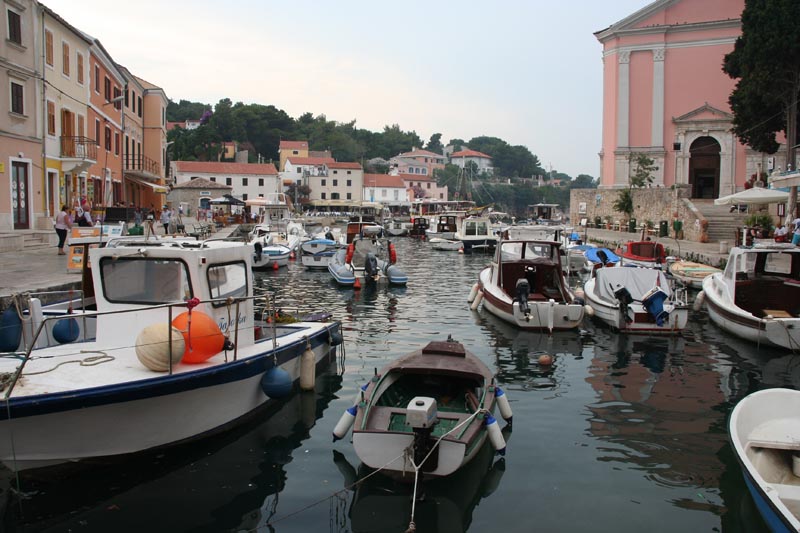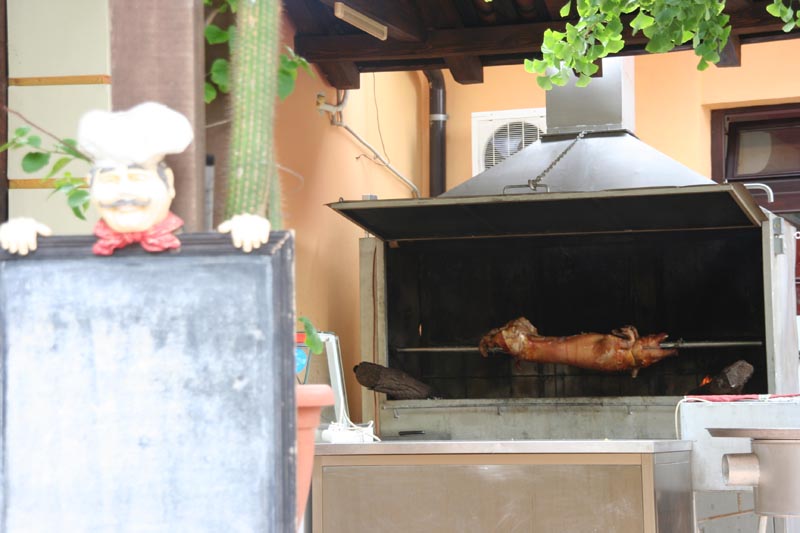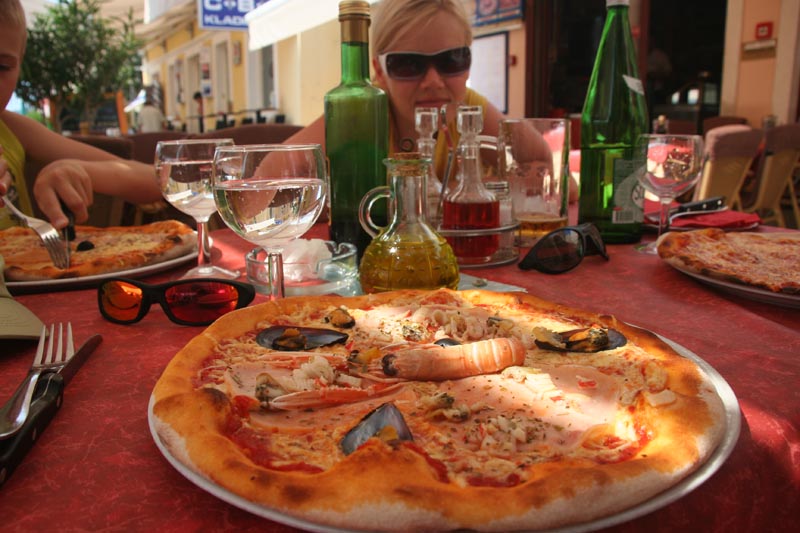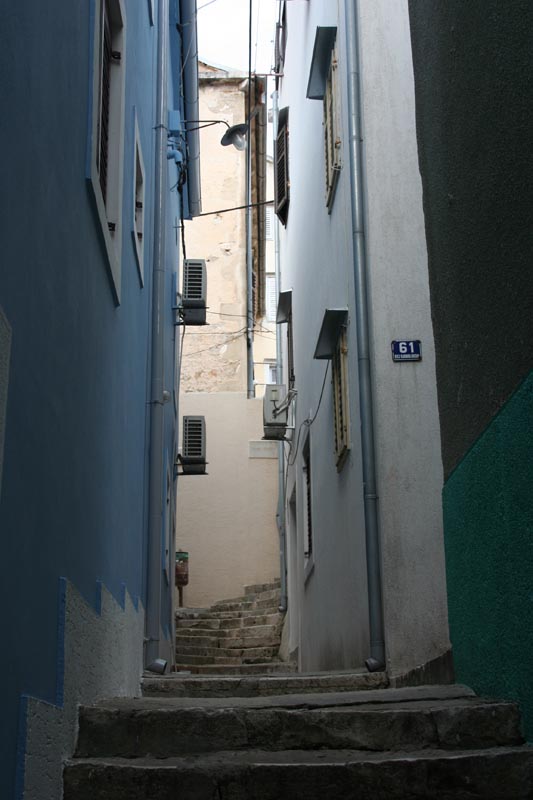 We stayed in huge and people full Cikat camping.
To flee from loud Italian families, who in evening began to make meat on their gas grills, we settled in wharf. Sunset, around running little crabs, vine and sea bounty. Excellent mood.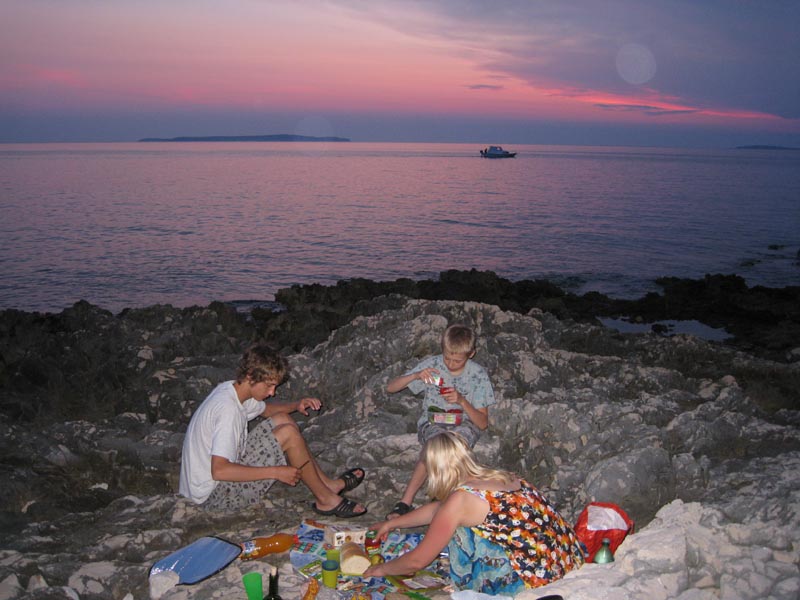 Next morning we went in cycling trip around Losinj Island. We intended cycling to islands further point by shore and then through mountains ridge back to camping. In the start were path which wound through beautiful ghostly tree forest.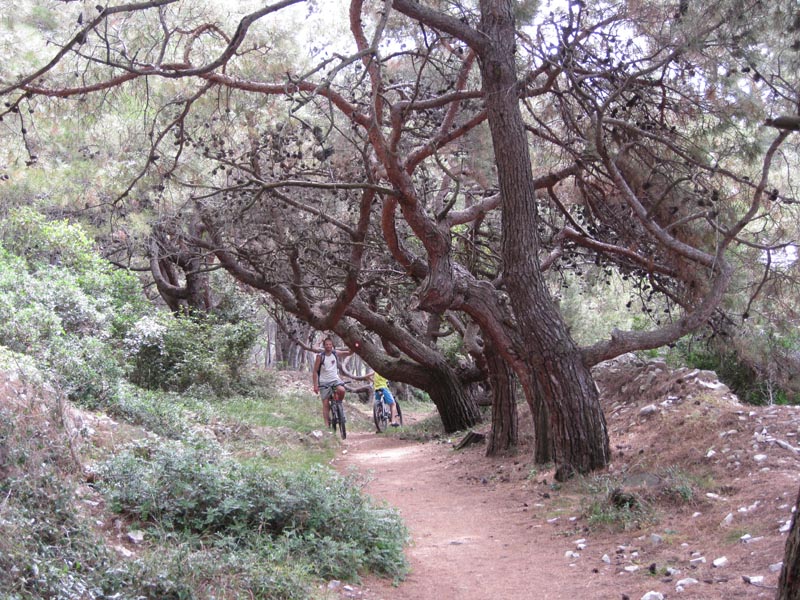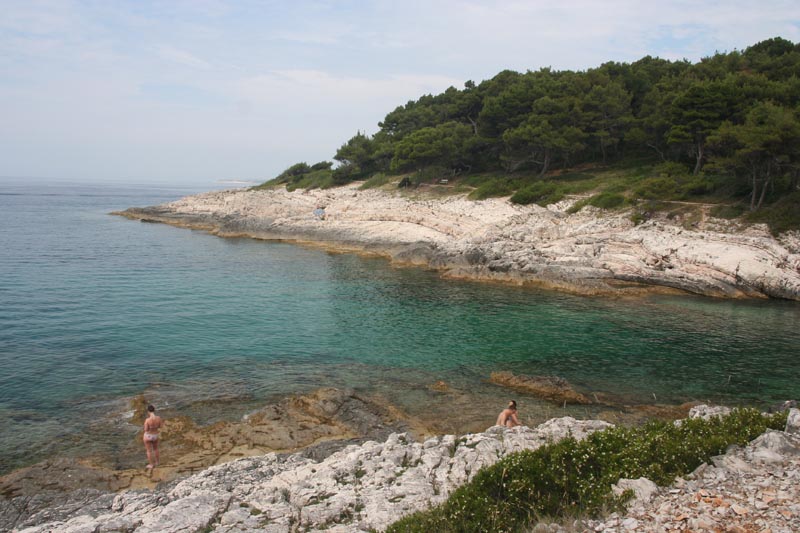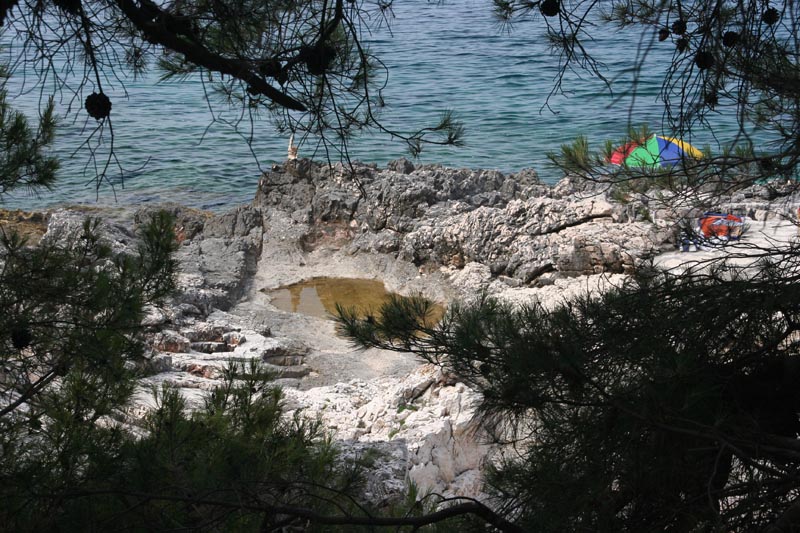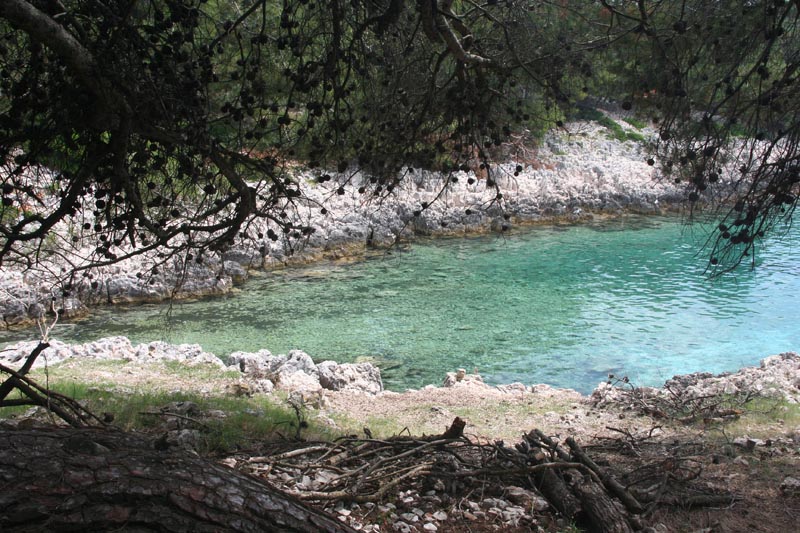 Then the path was rockier and in third bay (from the ten we wanted to bypass) the path disappeared. In the start we pushed bikes, then carried, in hope the path will begin again. But in didn't.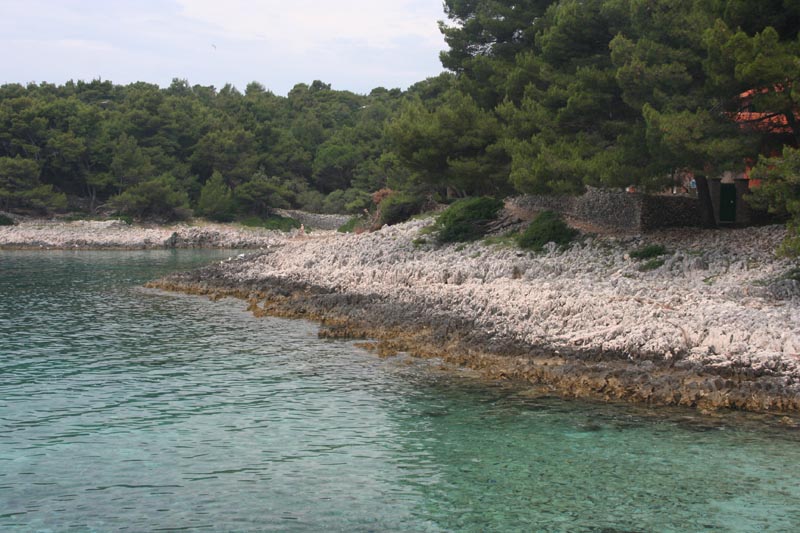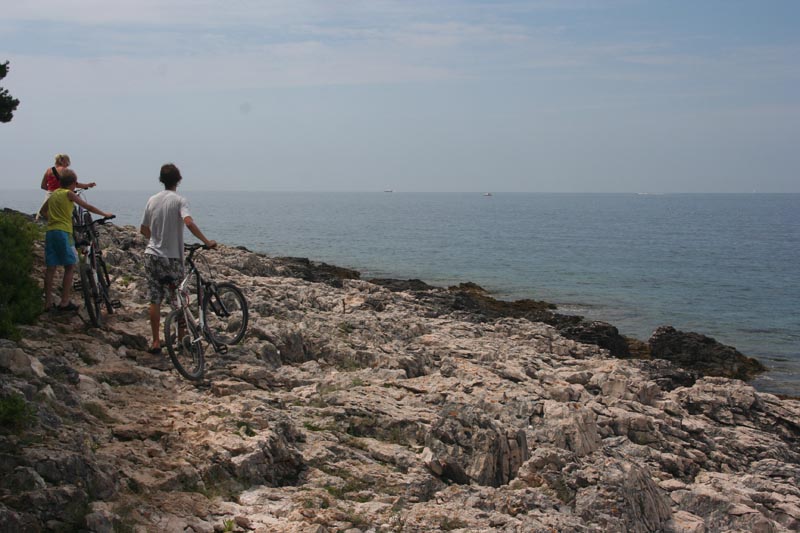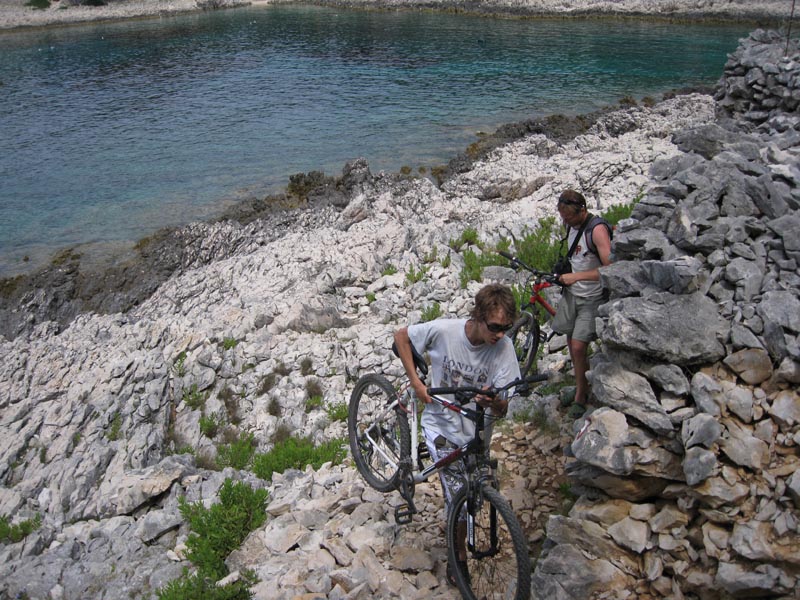 In fourth bay we came across a path which led to islands interior. Typical for Croatia, it was fenced with high rock piles. Path led up the hill and was thrown with sharp rocks so we had to forget about driving or bike pushing. We had to carry them.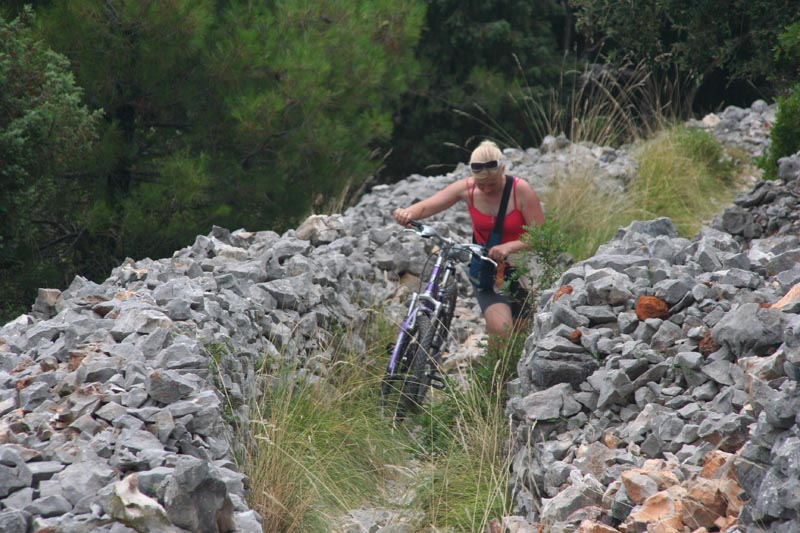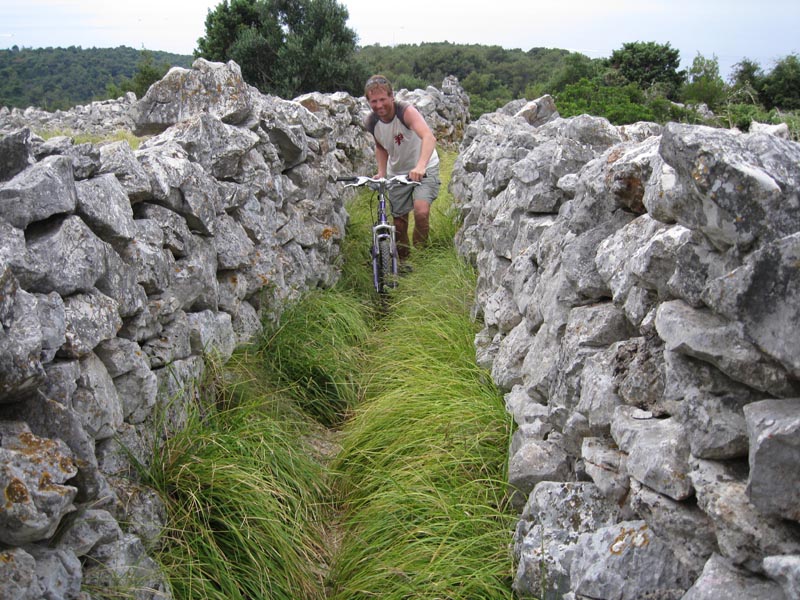 We weren't only cyclers who were lost in this area.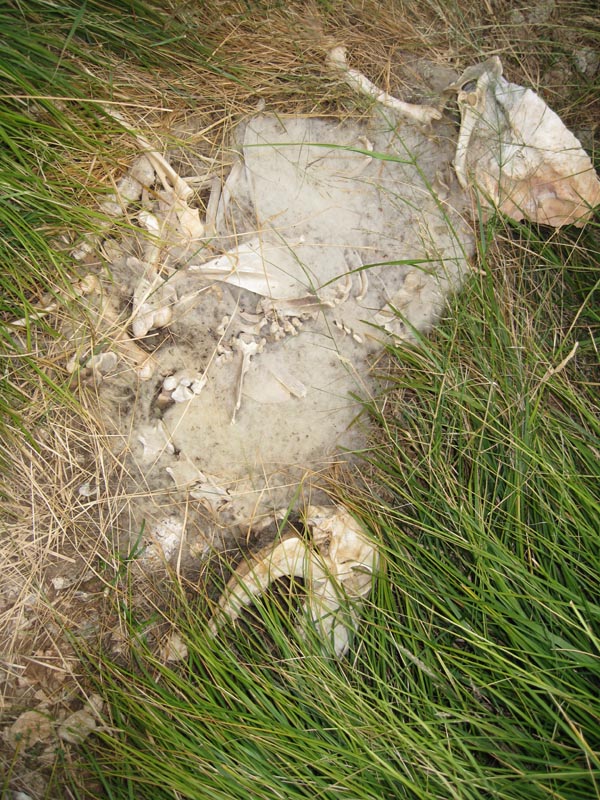 What luck after an hour hiking was hitting mountains main road! We kept going up until the highest spot –St. Ivan church.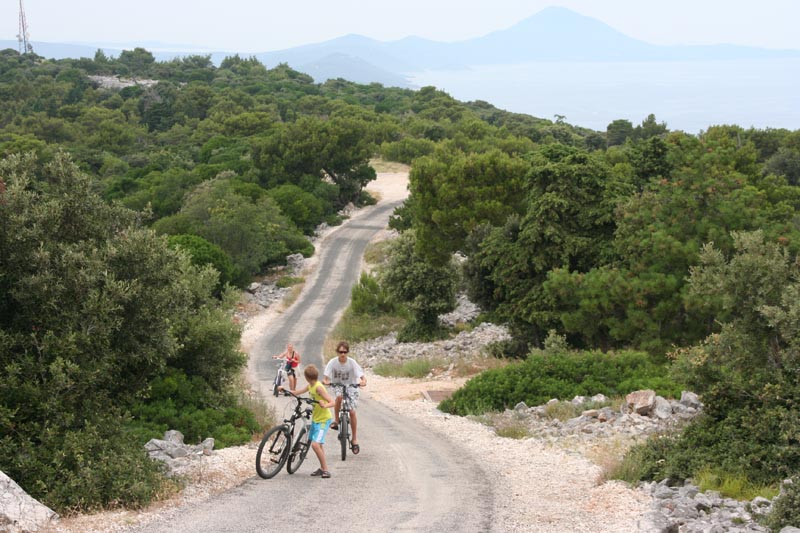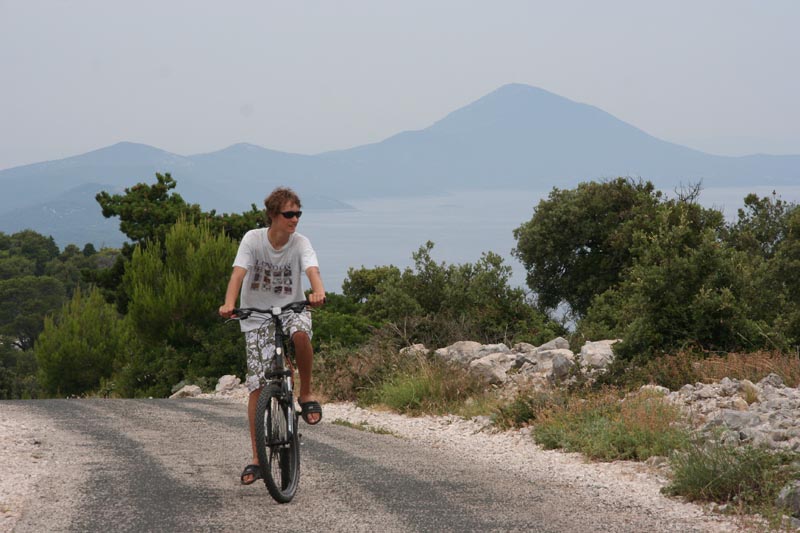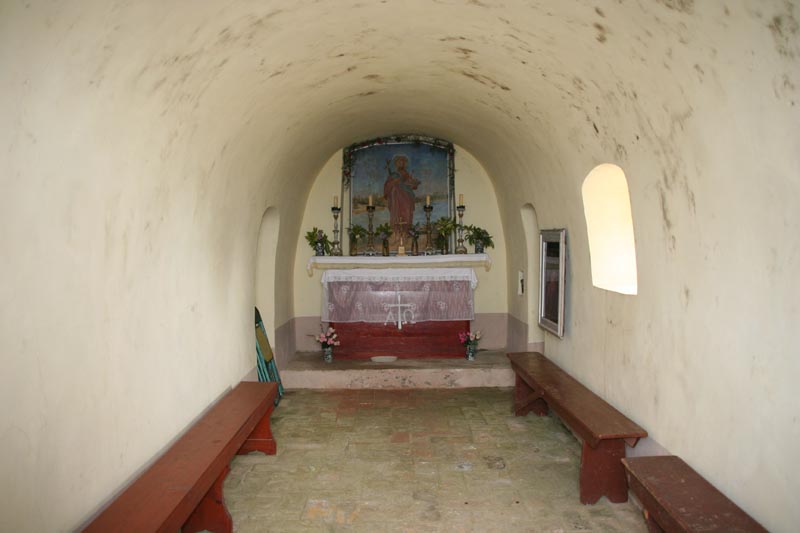 A quarter of kilometer under us was visible Mali Losinj town. It seems it will be a fun down ride.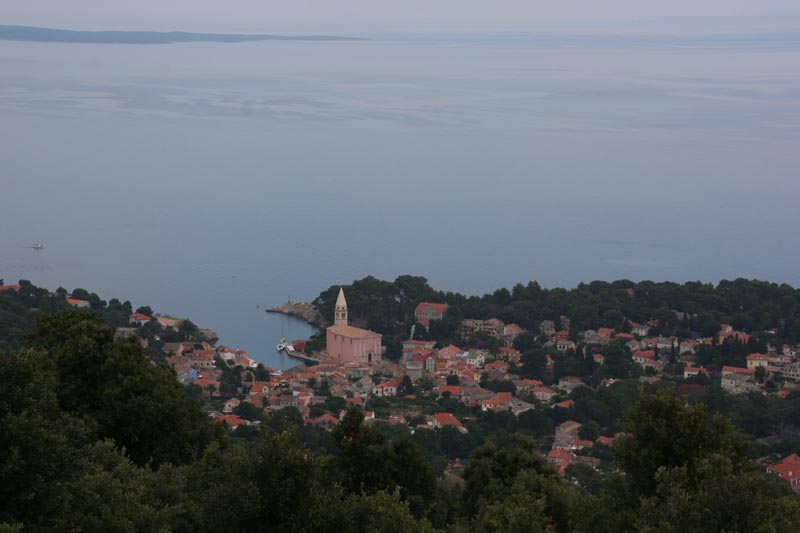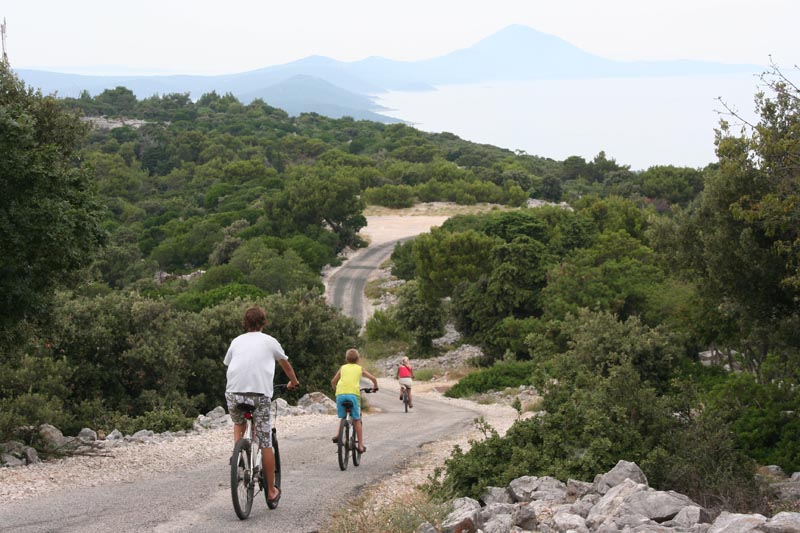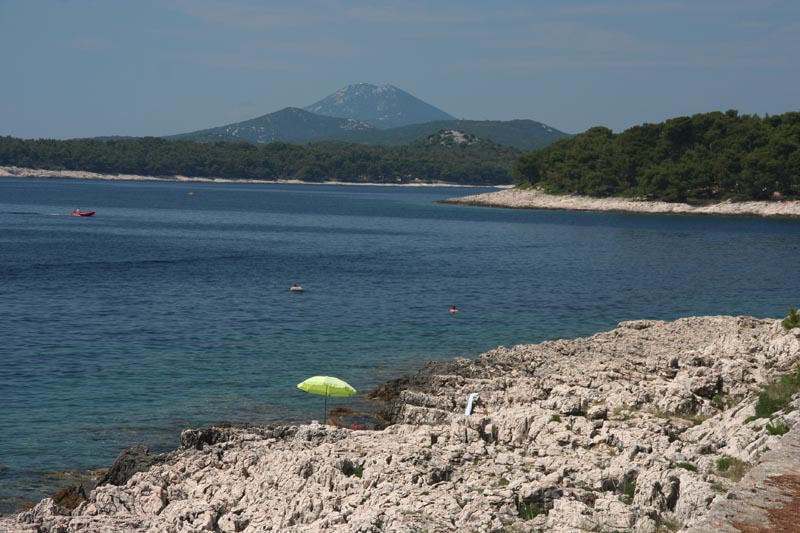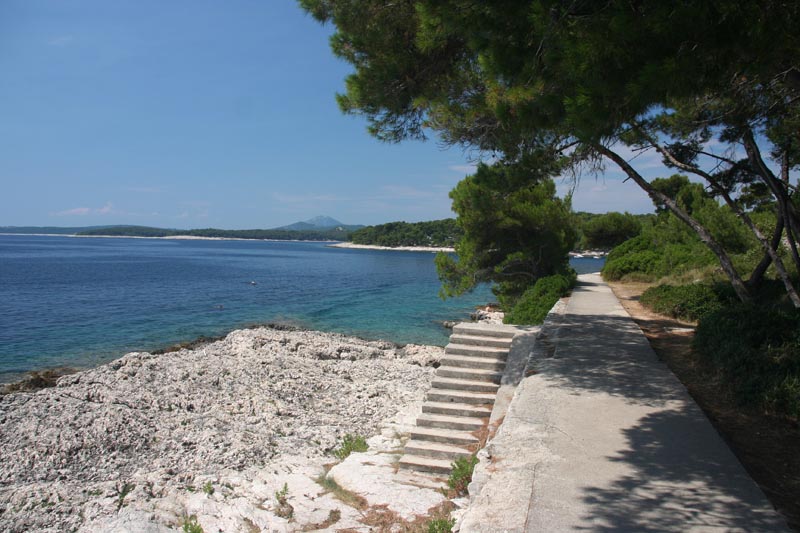 Returned in Cres Island and finally visited islands central city with the same name.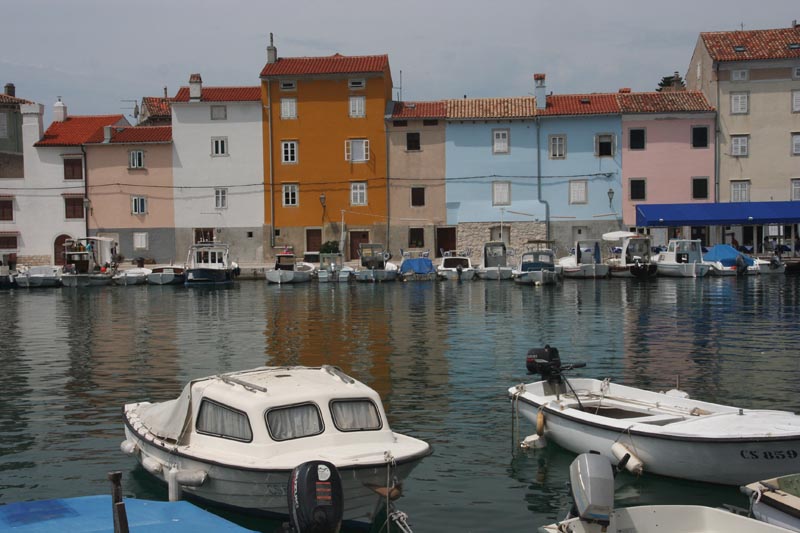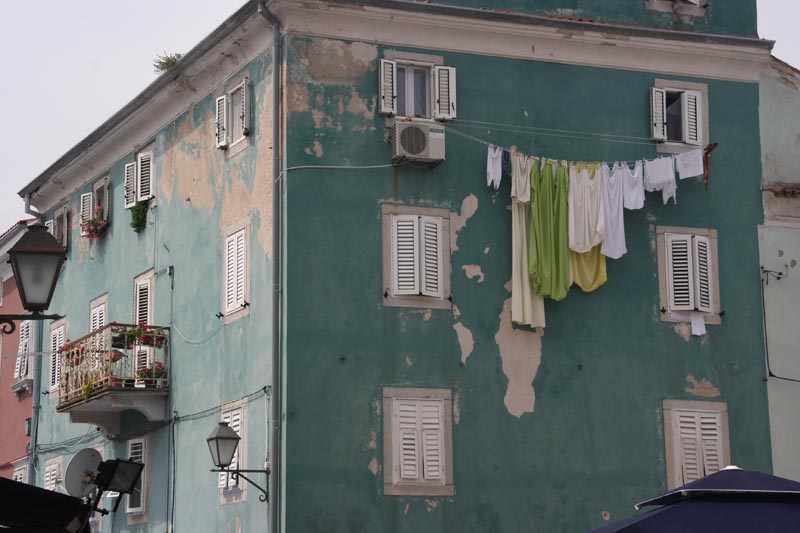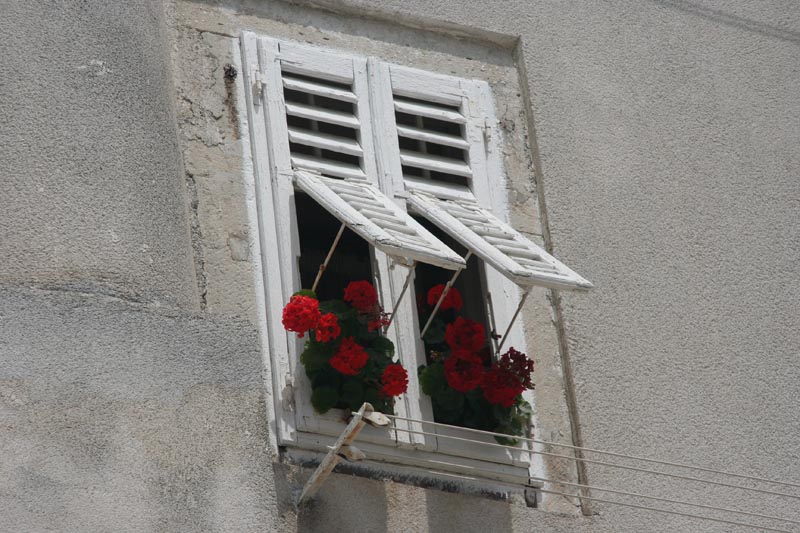 Then by steep cliff we drived to islands other side – to birds Nature Park in Beli valley.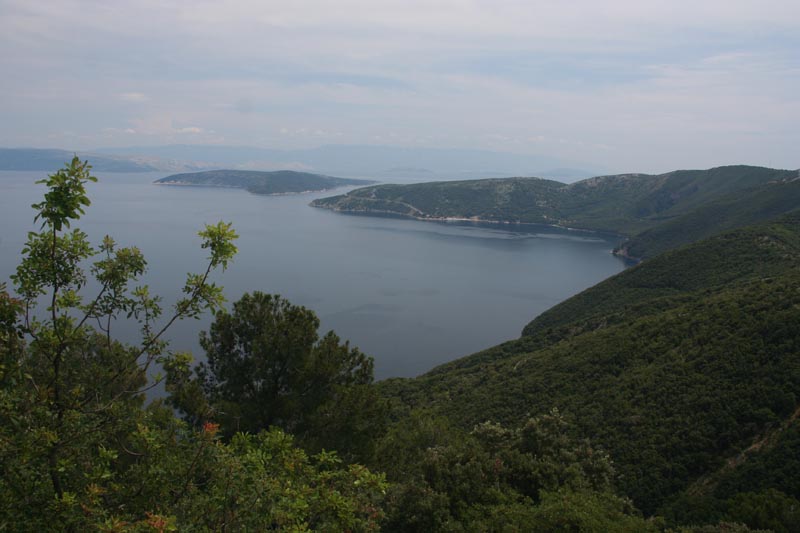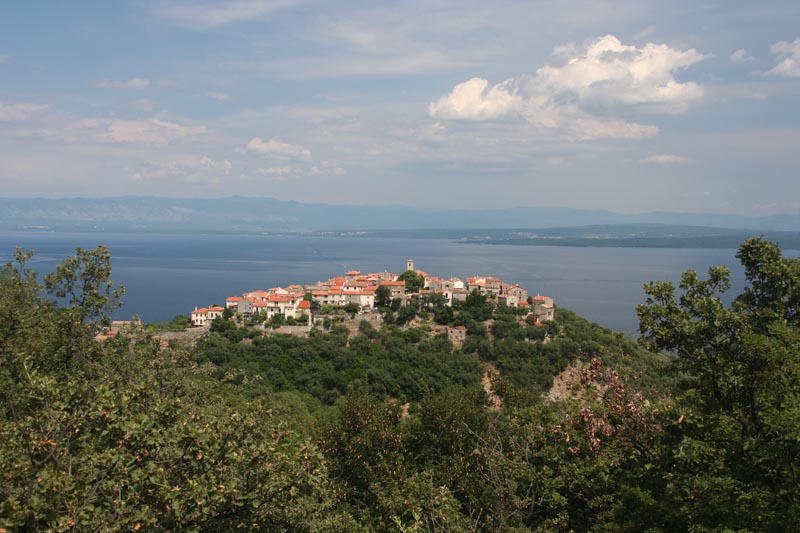 Beli valley maybe wasn't the best on planet, but gave some surprises. First of all it was hard to find entry in it, second some waterfall crossing asked a lot of skill.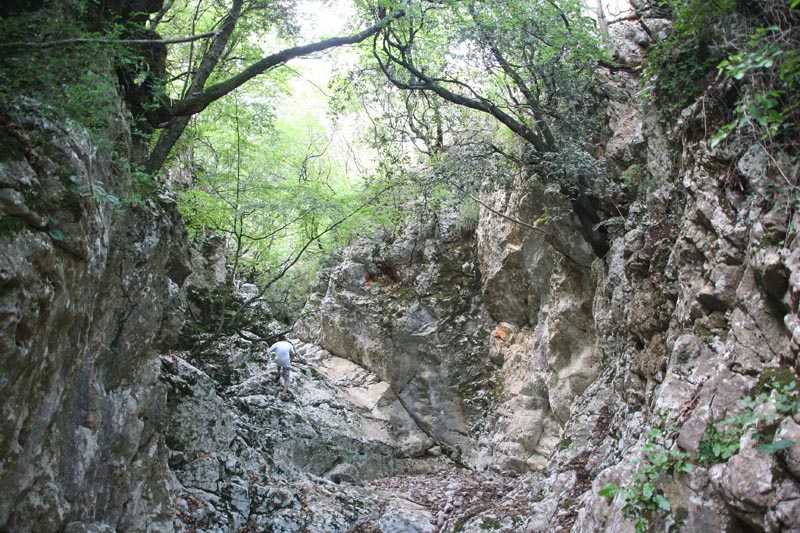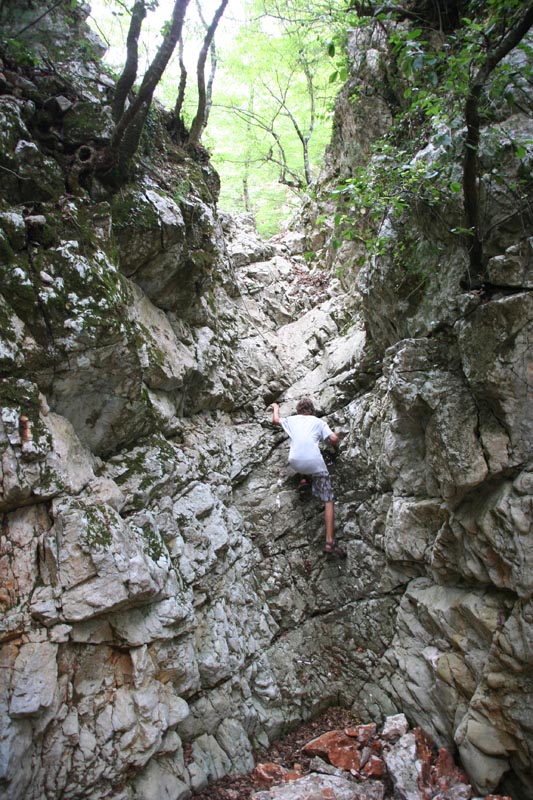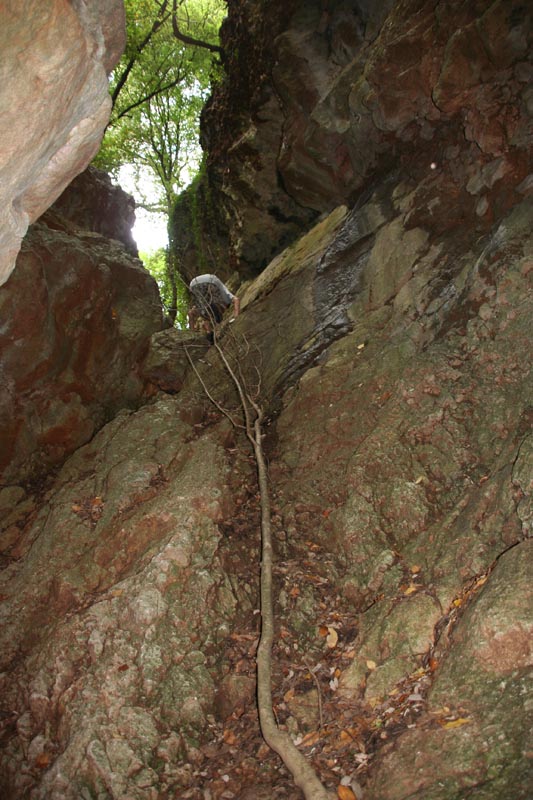 But the worst is – from foot bottom literally came out a ram heard, which was hided there from the sun and kept hiding until the last chance.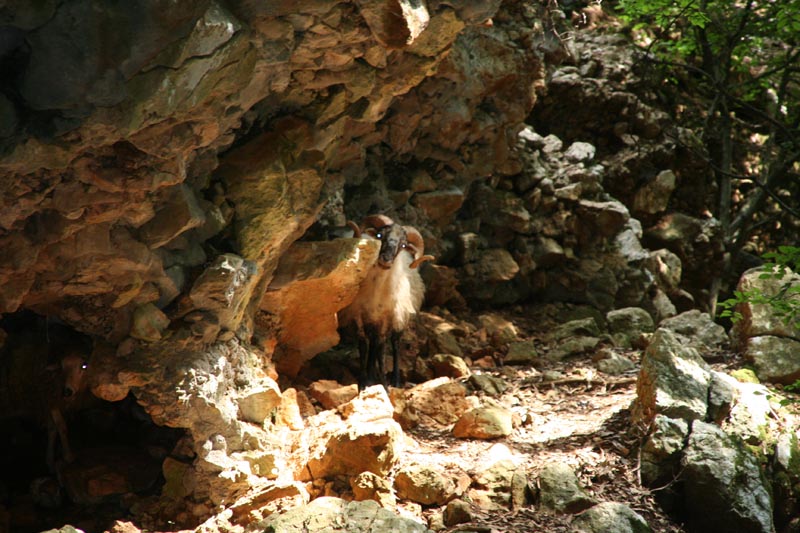 And more, climbing up the bridge, in the road rested a snake. She didn't look very happy when we asked her to move aside 'cause where she slept we needed to put our legs.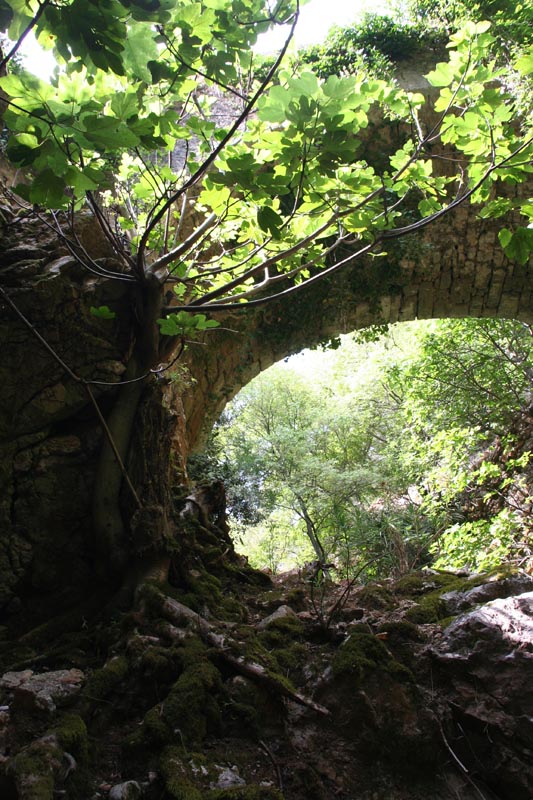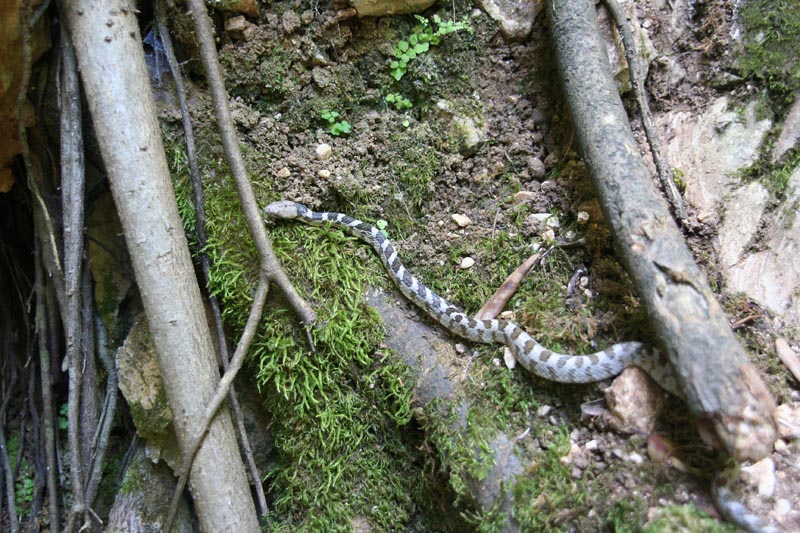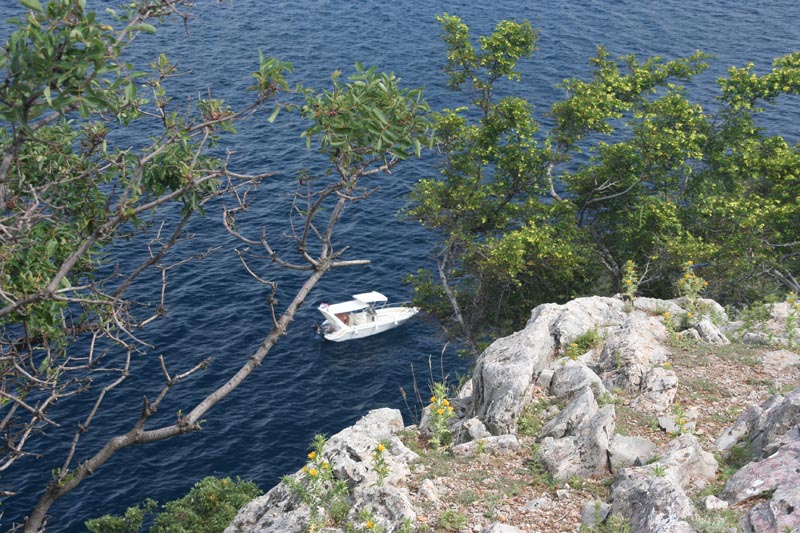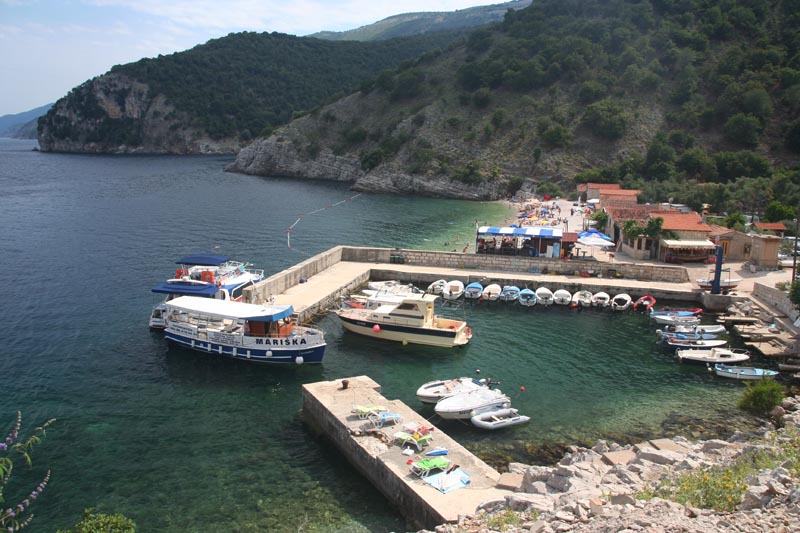 Further we traveled with ferryboat. To mainland – to Istrija demi-island.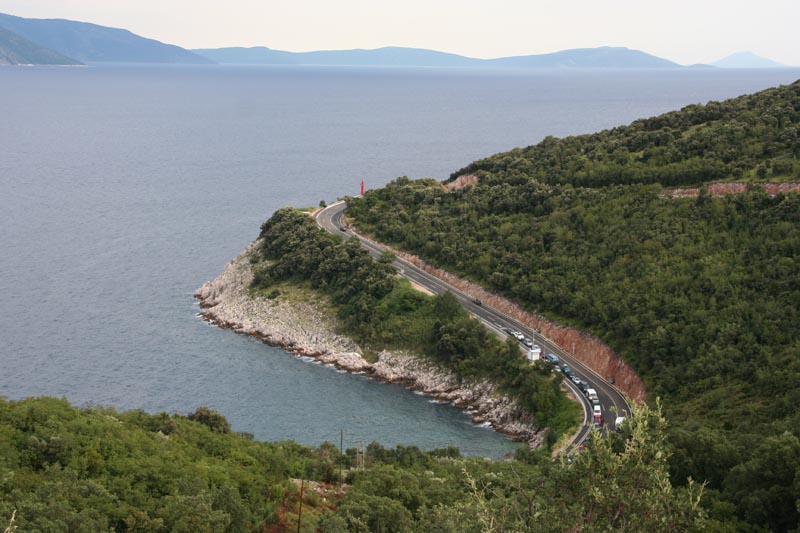 Settled in camping by Pulas. First guest, who came to tent, was 5 minutes after we built the tent, the guest was big but cute animal with tail like ring.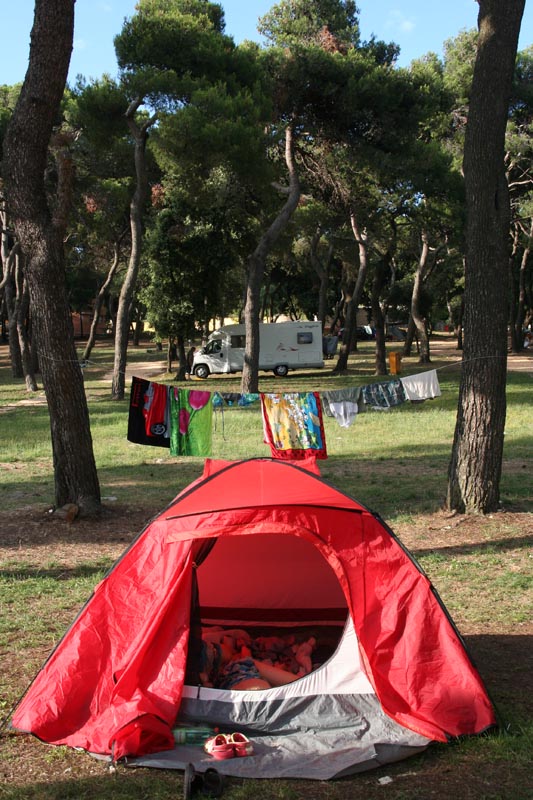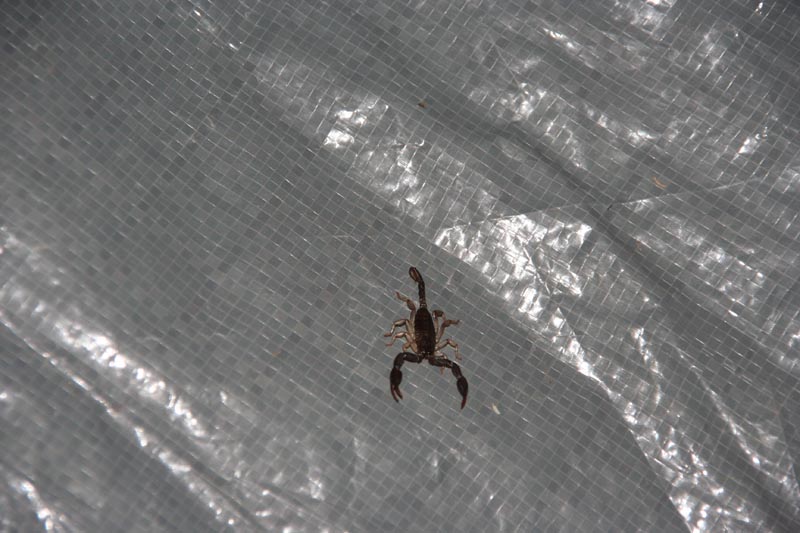 We left guest at tent, but ourselves went to big television watching. This evening the dutch as we saw, wanted, the ball to be hit in urugvarian goal. While they yelled there we ate the fish.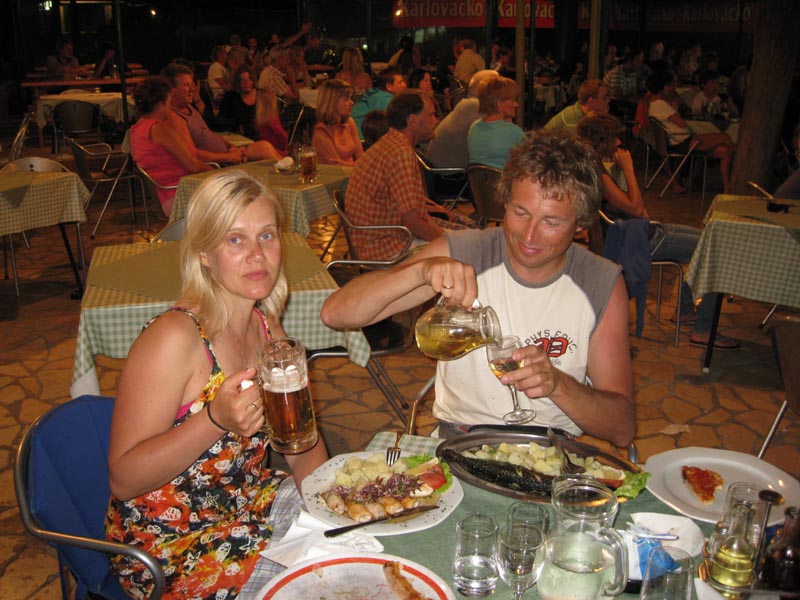 The next day we intended to hike in Kamenjak demi-island. To be honest, in the start we thought about cycling, but then remembered about our sad experience in Losinj. Kamenjak had some other difficulties: demi-islands insides roads was so white and dusty, after the cycling we would look like we worked in cement factory.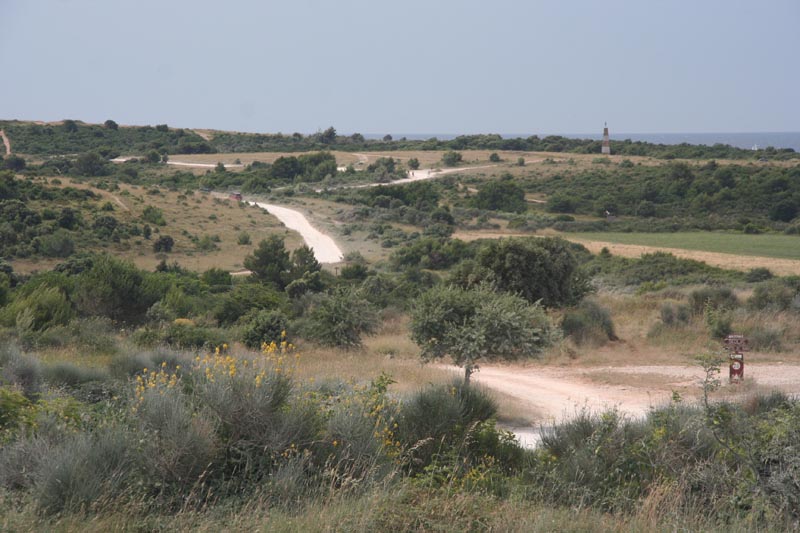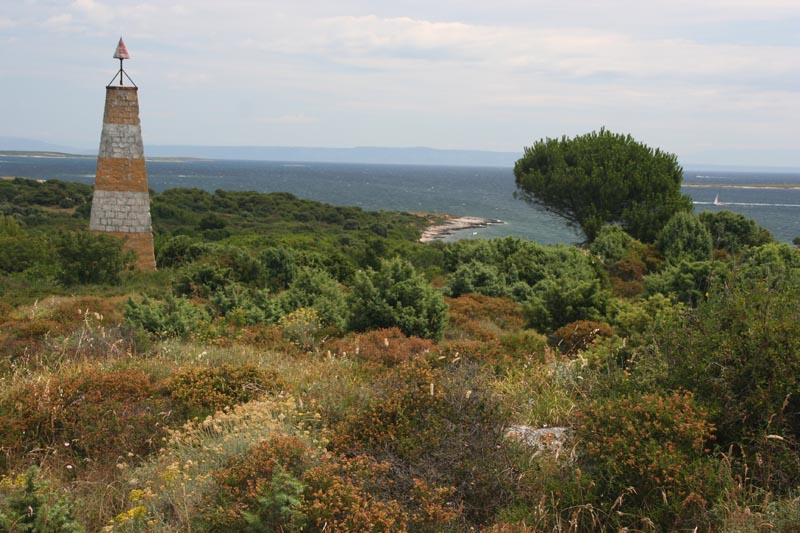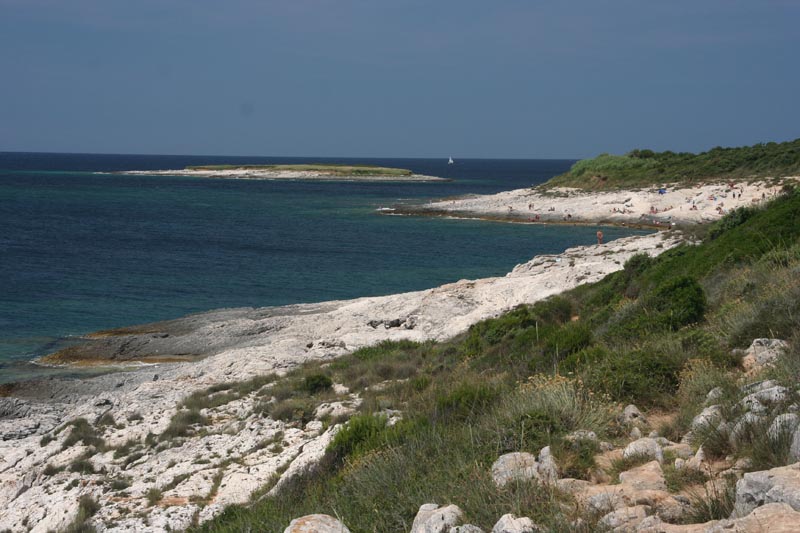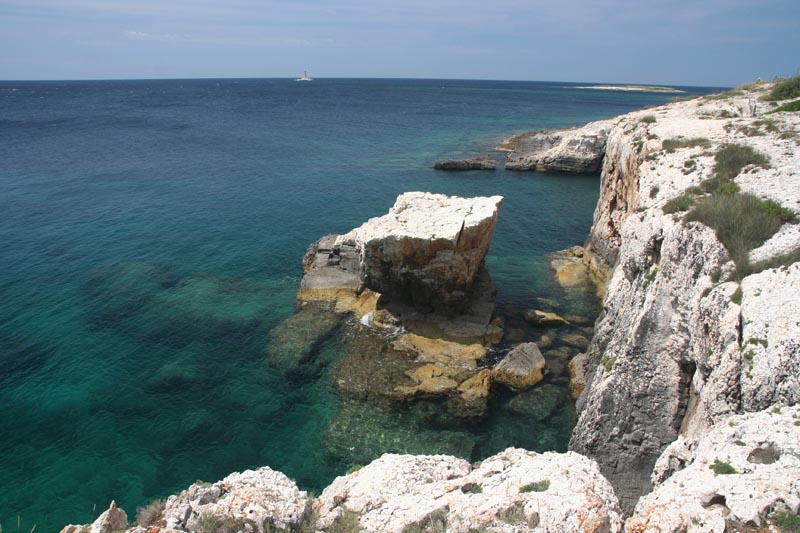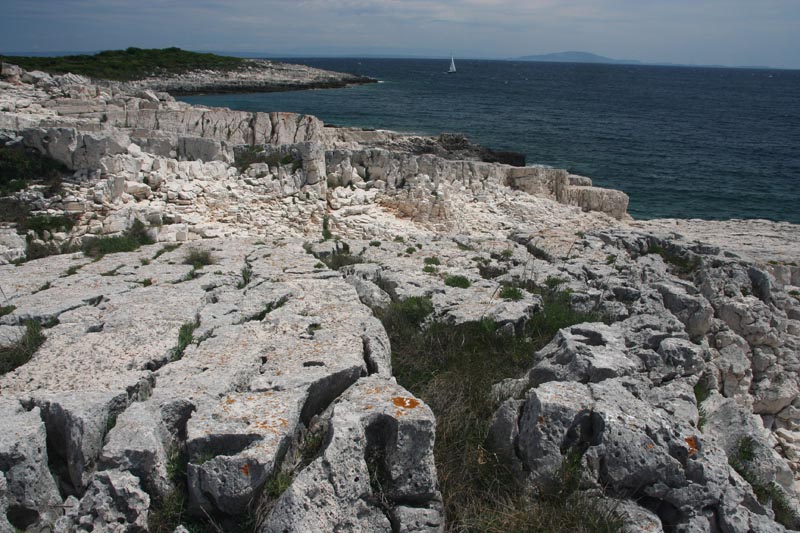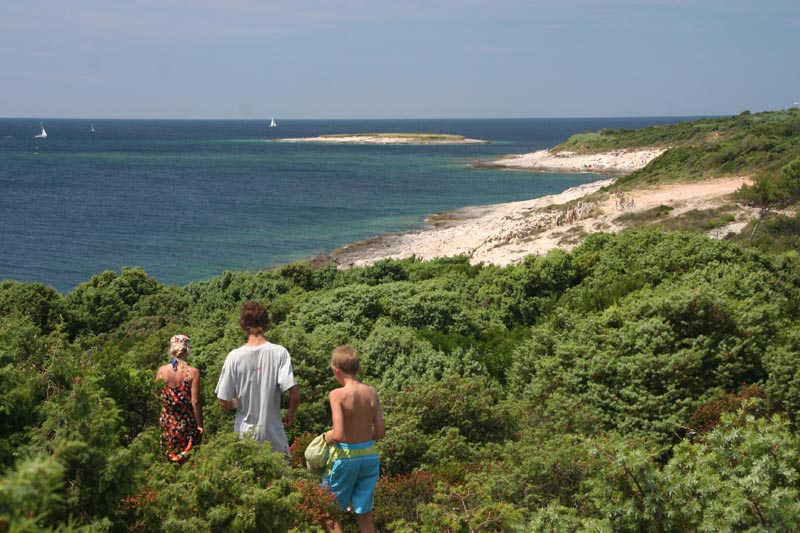 Demi-island main object was in reed hided bar, which established by the brits. Into we could get through sliding gutter, but all design reminded flinston times.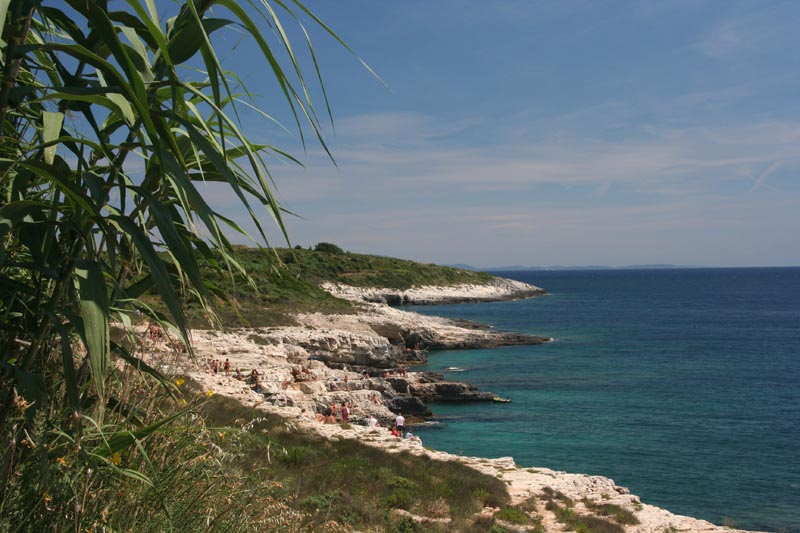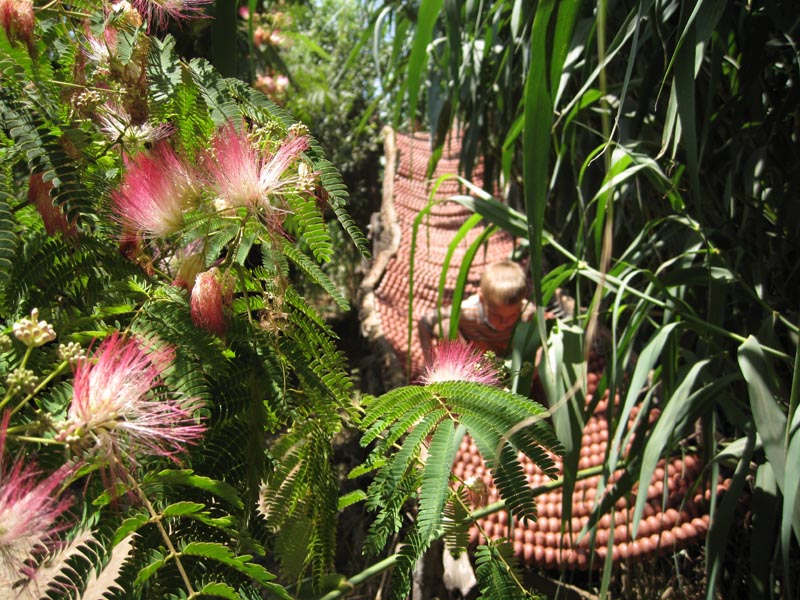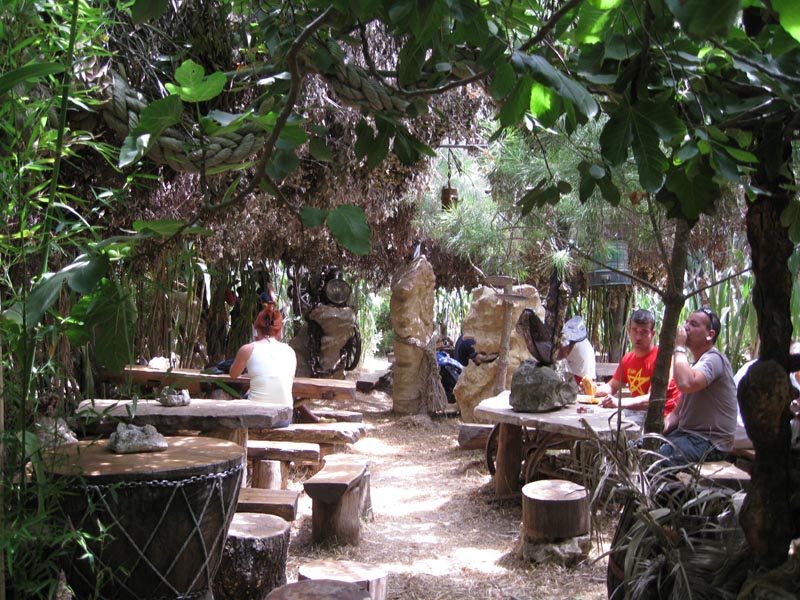 Menu, thank God, was supplemented with latest time civilization greatest discoveries, for example red vine. Here in Croatian heat they drink it with cold cola 50/50. That can be refreshing in days heat!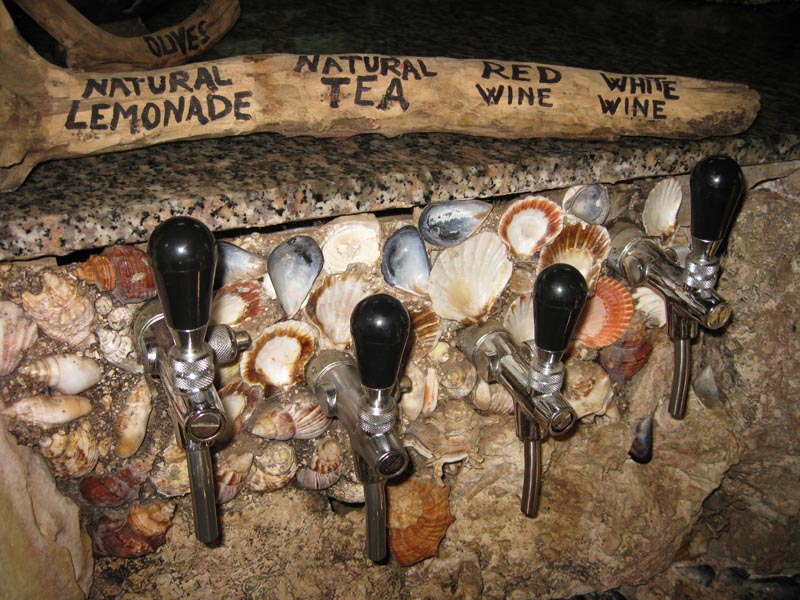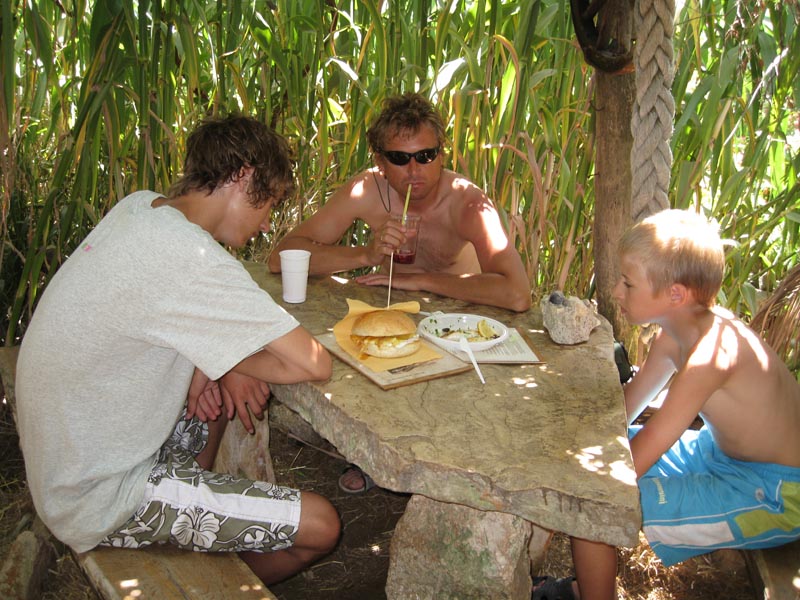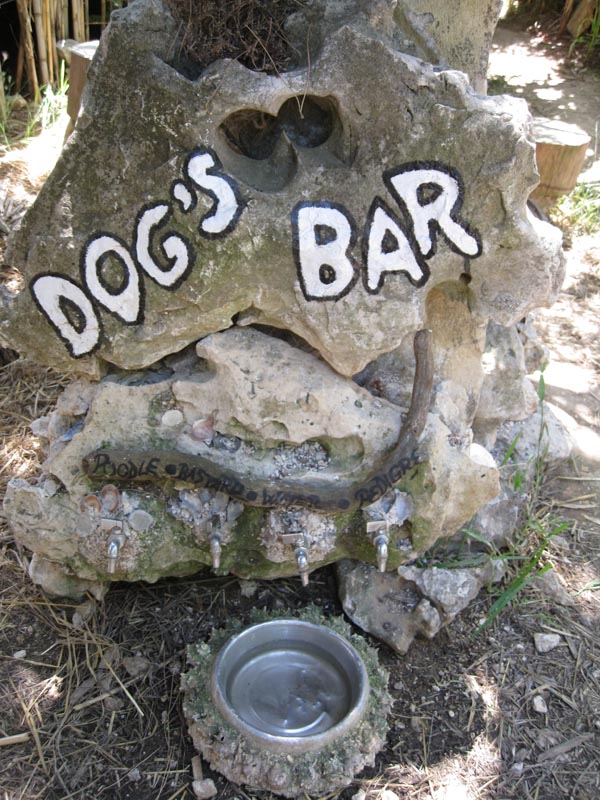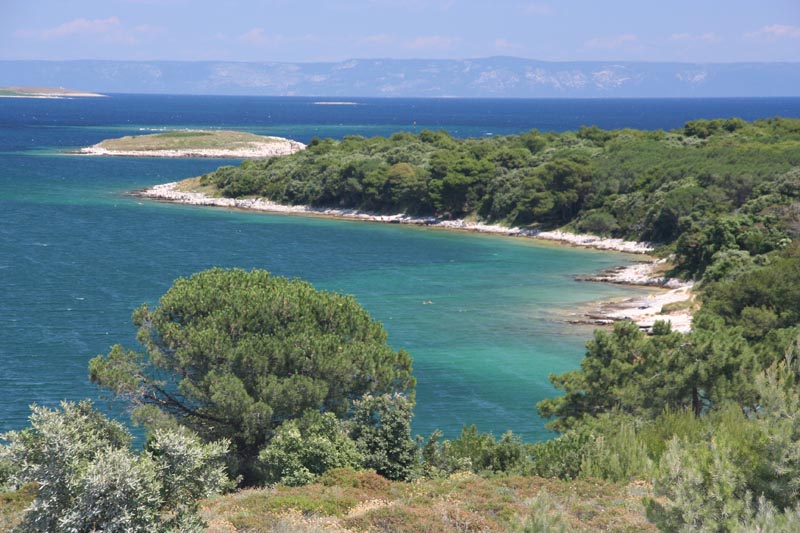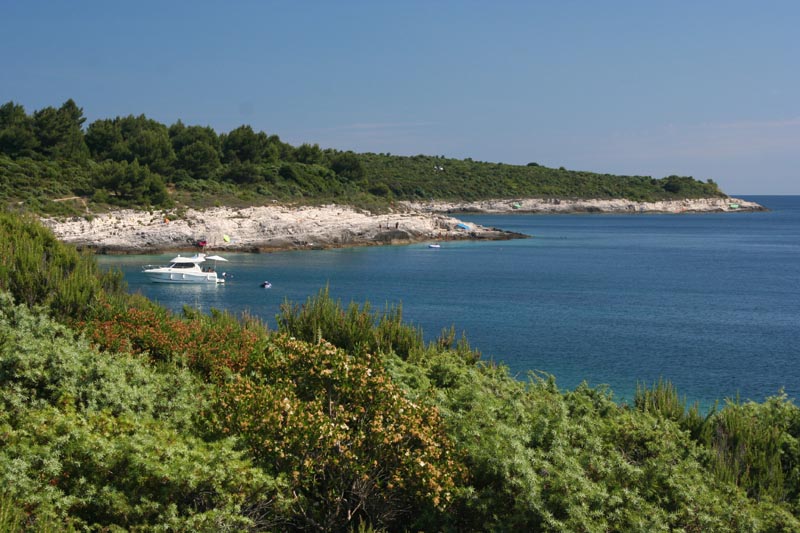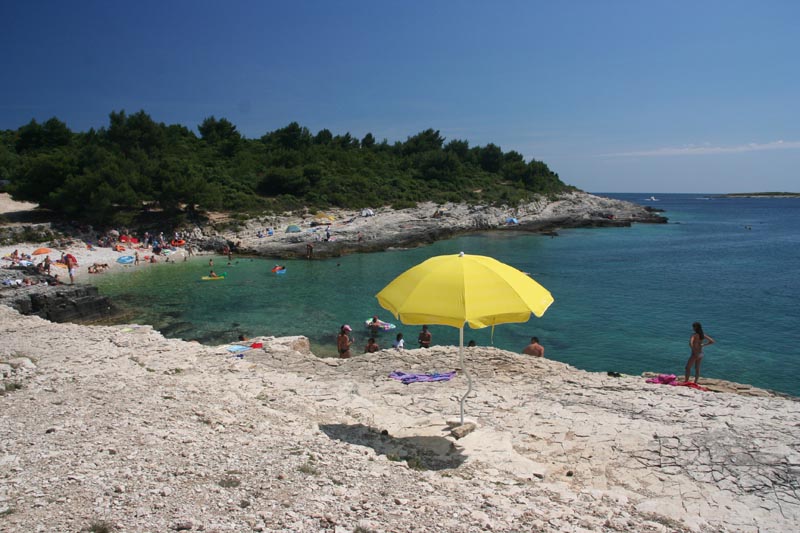 As you can notice, this isn't sandy seashore. That's why i have to tell thanks for Crocs products. And bigger thanks to those, who this patent copied and started producing cheap Crocs for few euros a piece. Without this genius plastic products swimming in Adrian Sea i can't imagine even now.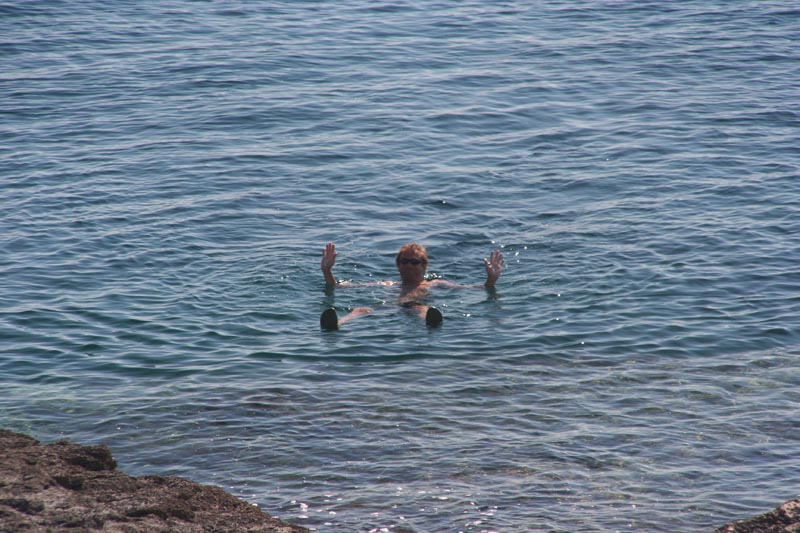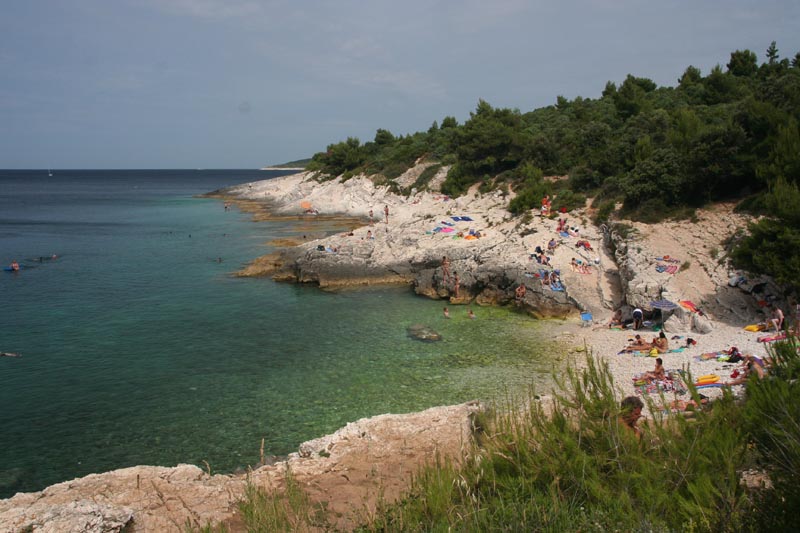 This evening by camping's television gathered germans, dressed with black-red-yellow accessories. While we ate the traditional fish, score was 0:0.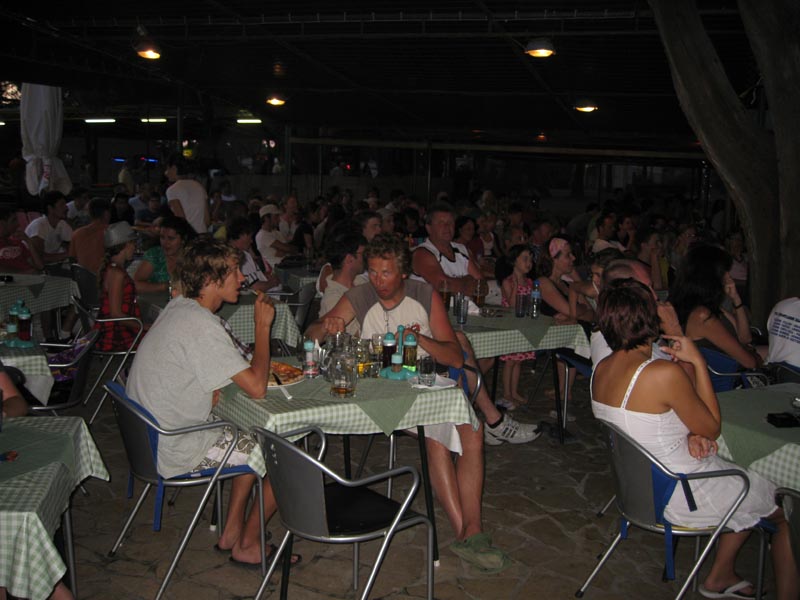 Then left sorry for spains, which from camping's public didn't receive even a bit of support. We told a few encouraging phrases, like Espana muchas beteras.. and they took a hit. Good, that german fans was too shocked about lost goal to come and talk at our table.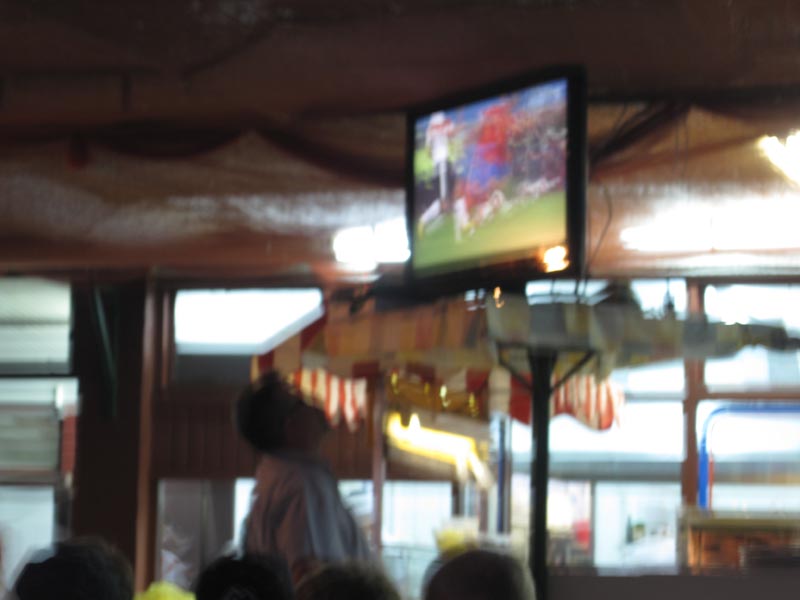 From Paula until Rijeka fastest road is over the sea.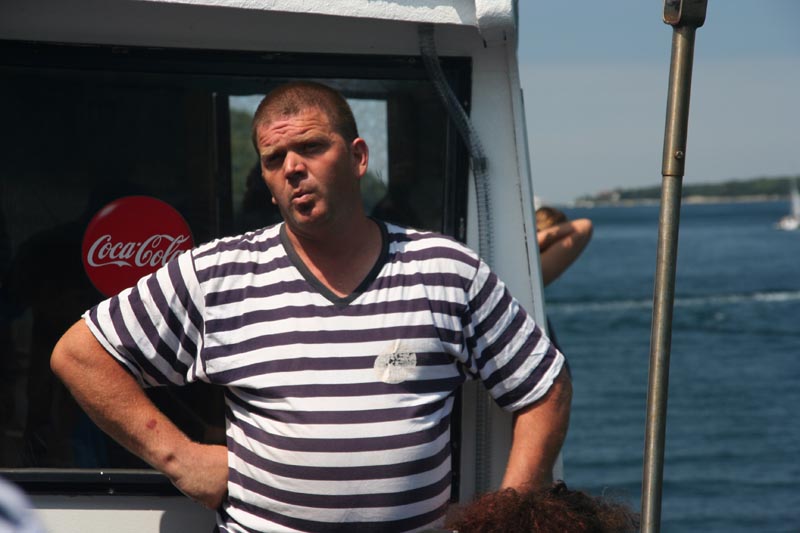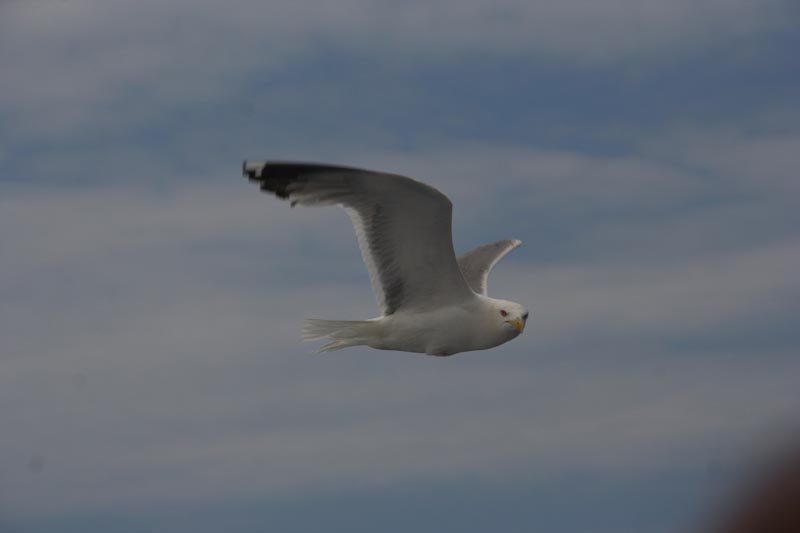 Along the way we passed by Tito islands, then an exclusive hotel built in lighthouse…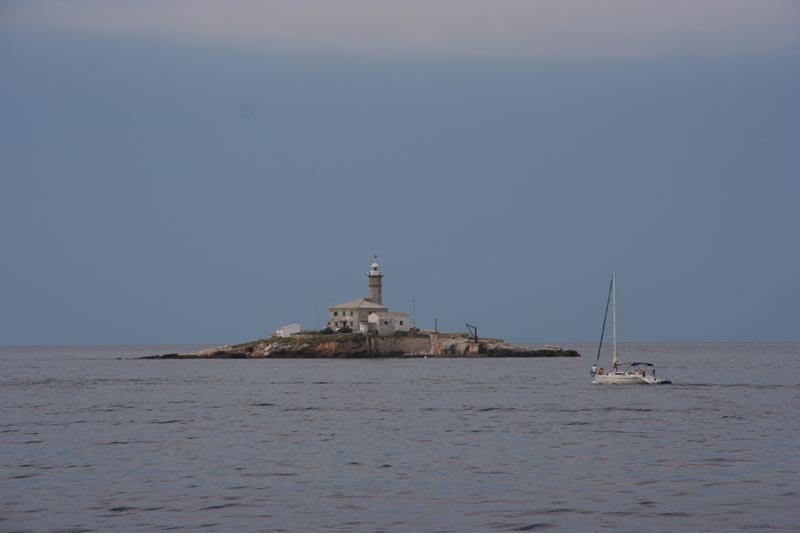 … which, i think expected guests.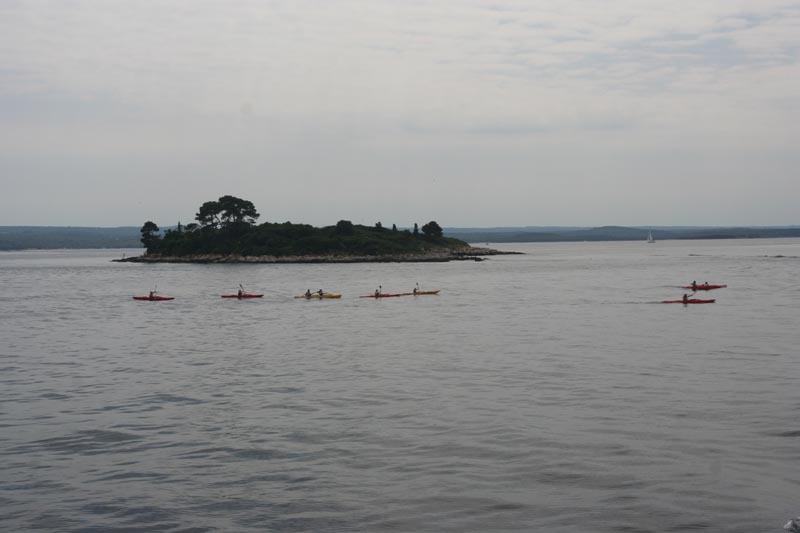 We turned into Croatian only Limski fjord.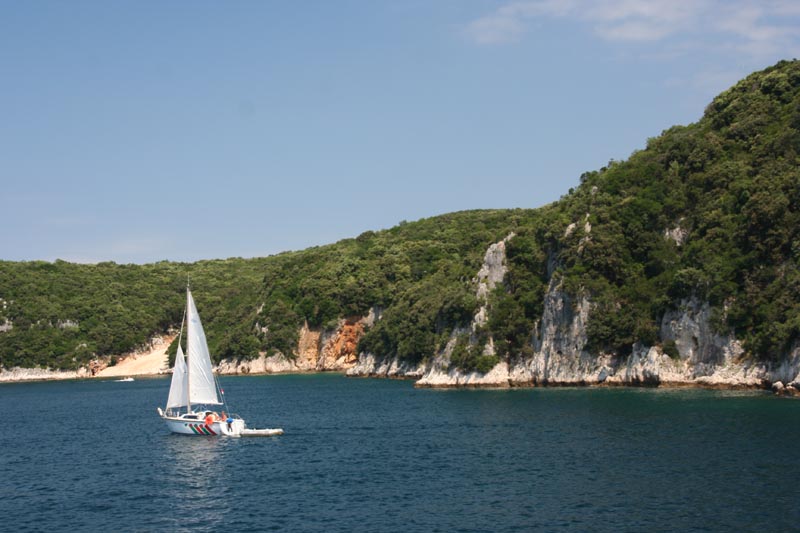 Passed by "penguins" colony, they refreshed in special dress code café.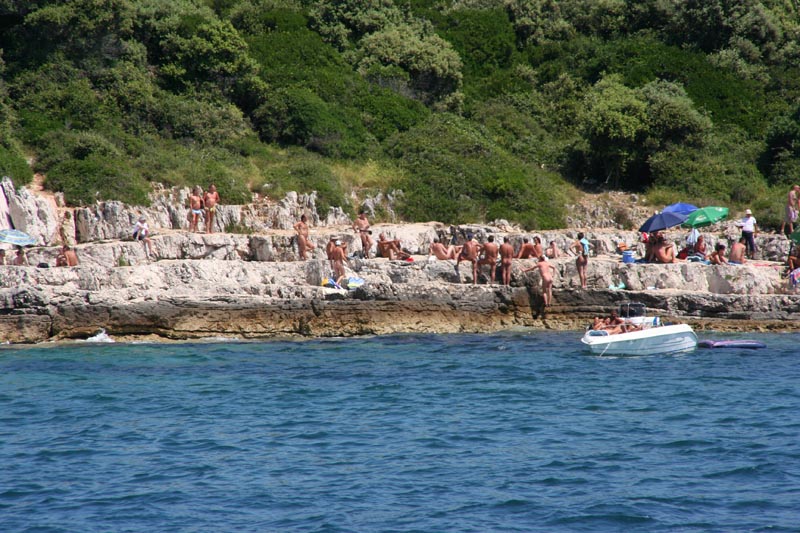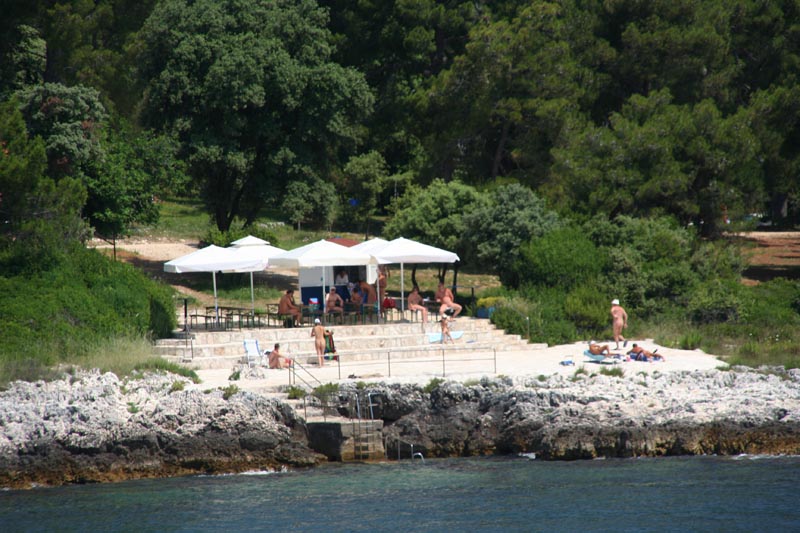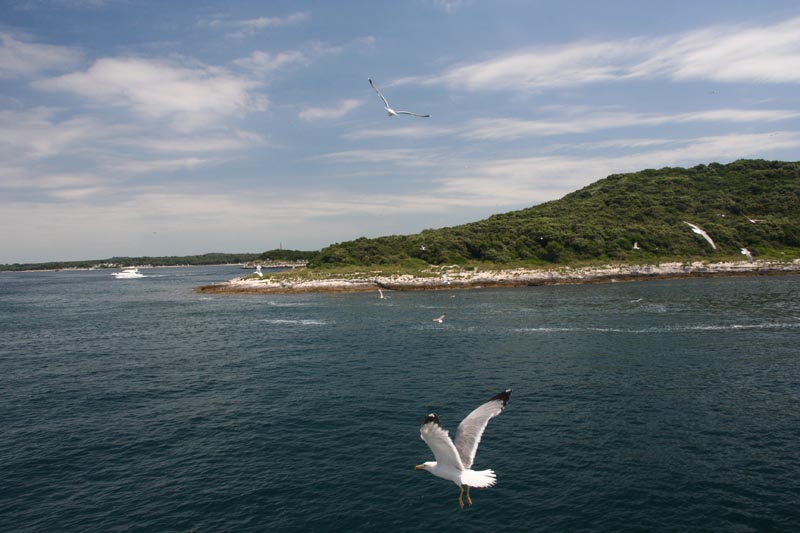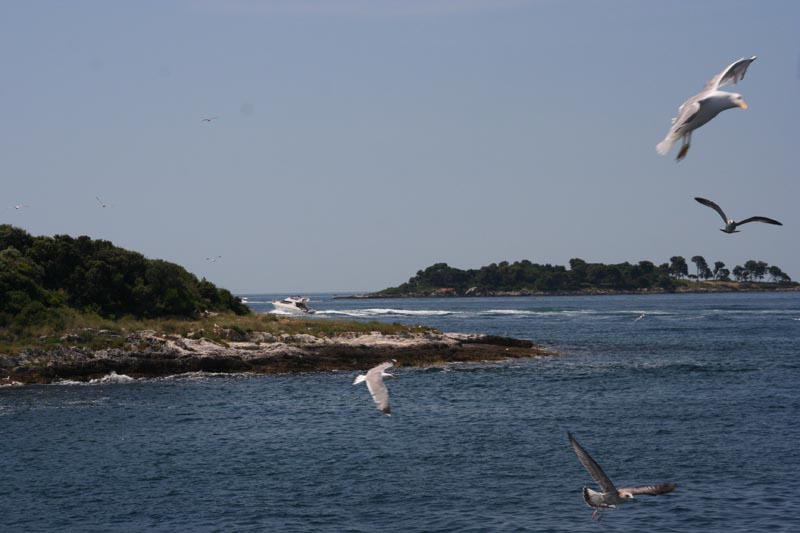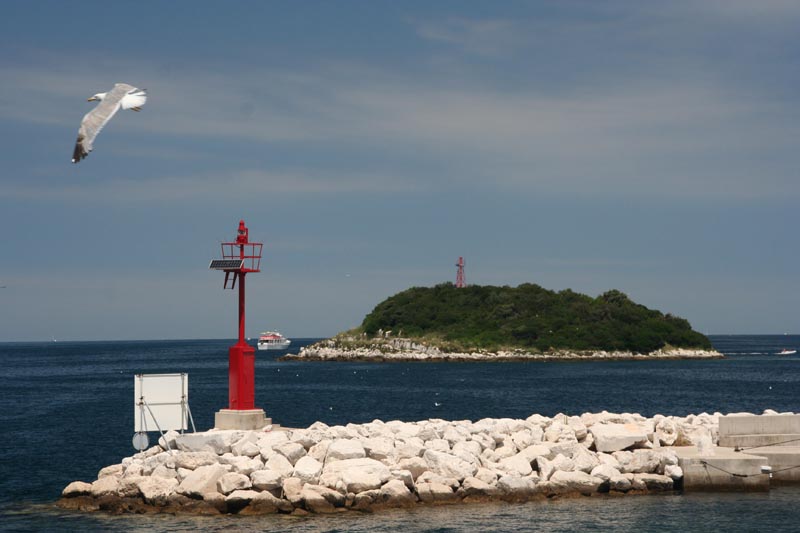 For a moment we arrived in the nice Vrsar port.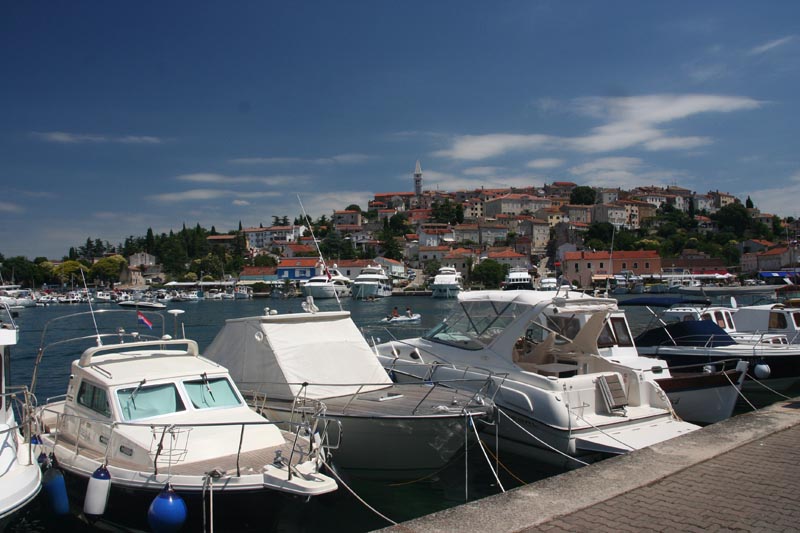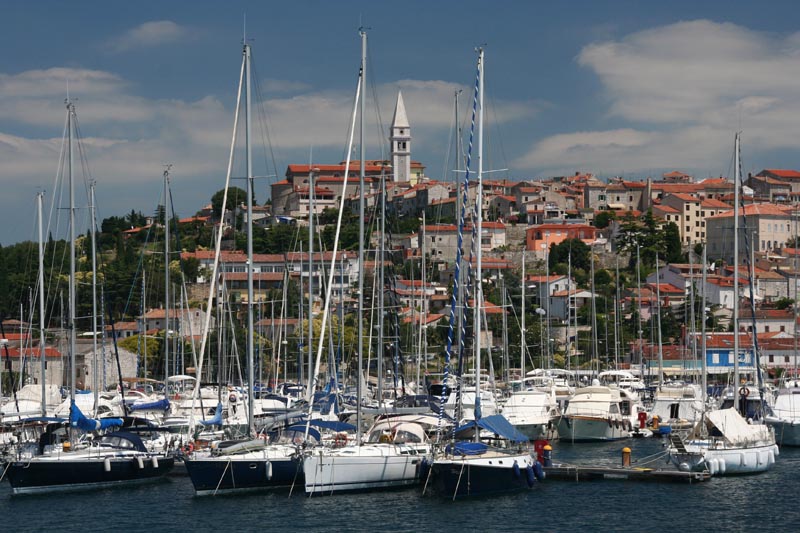 And then we arrived in Rovinj – nicest town, which is seen in Adrian coast. With venetians style architecture and a huge cathedral tower in the top of the mountain.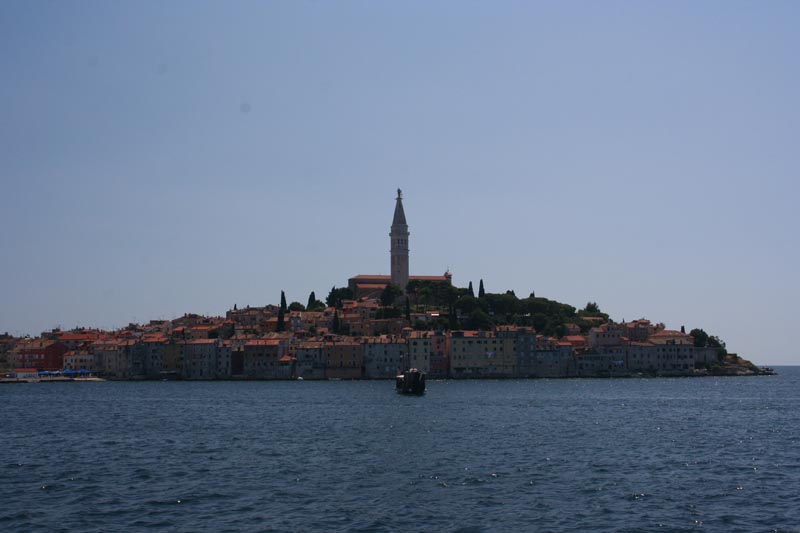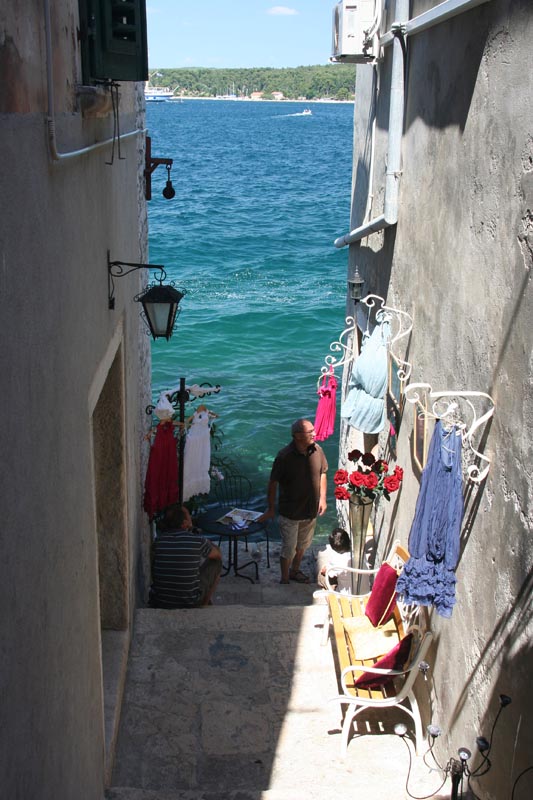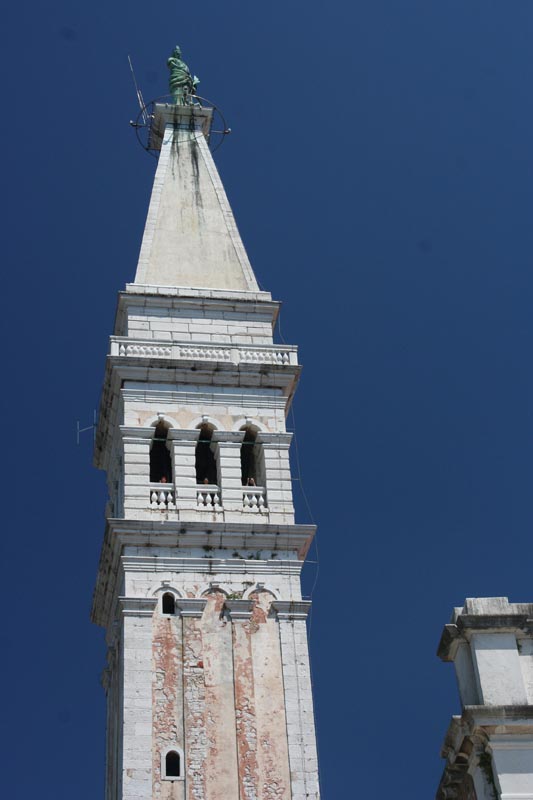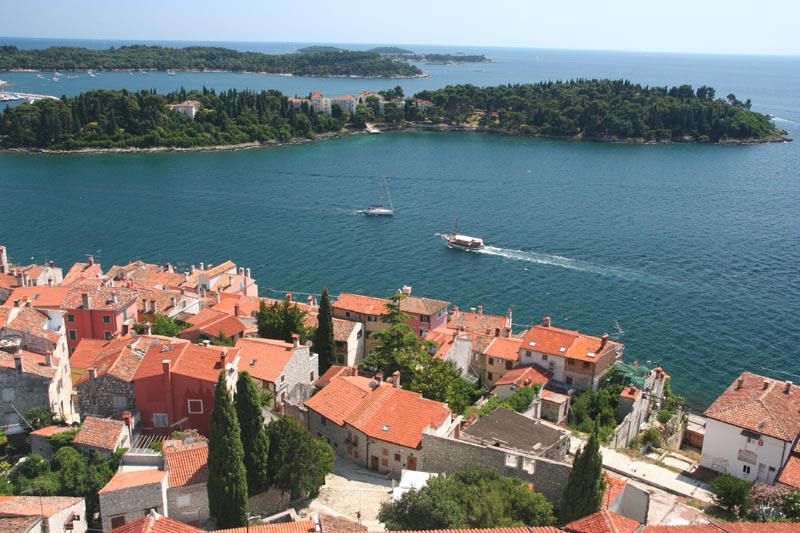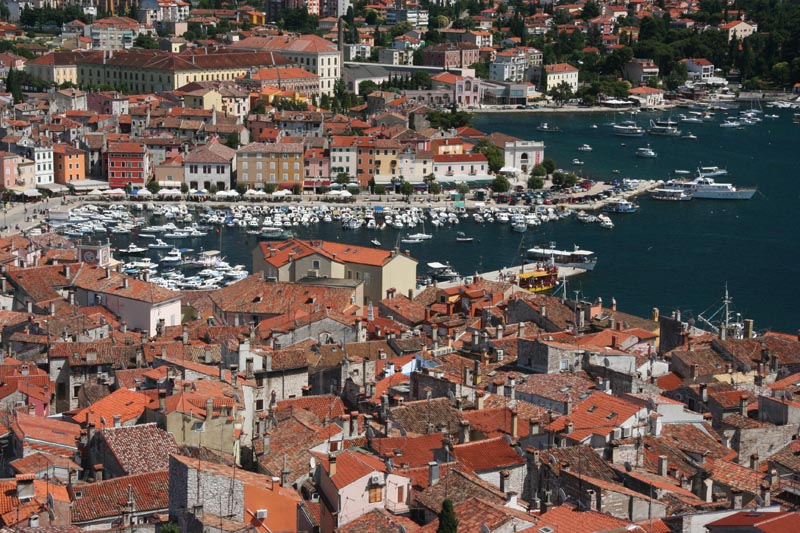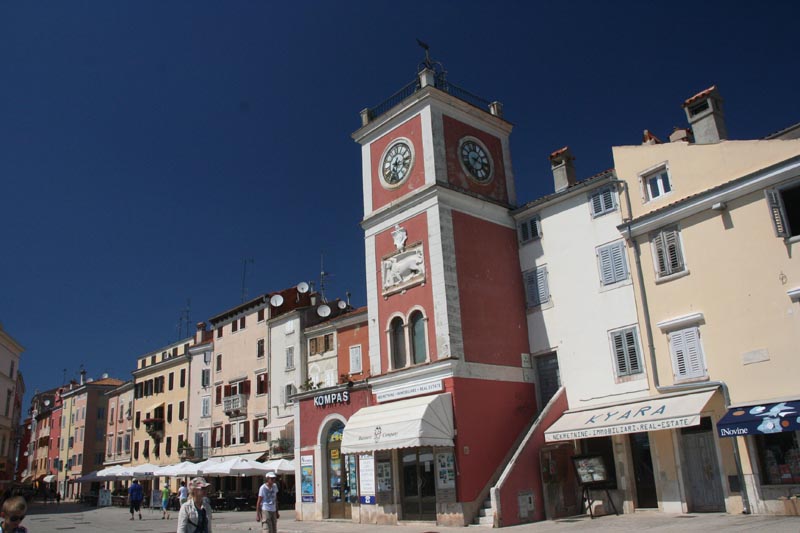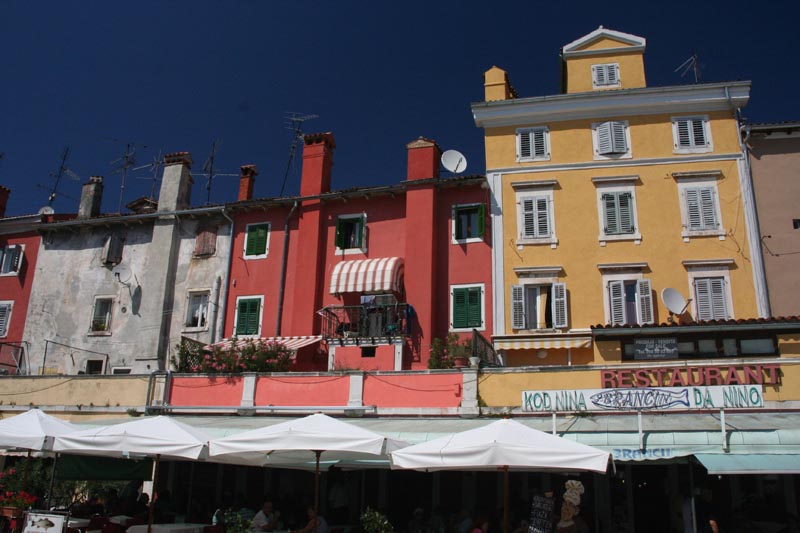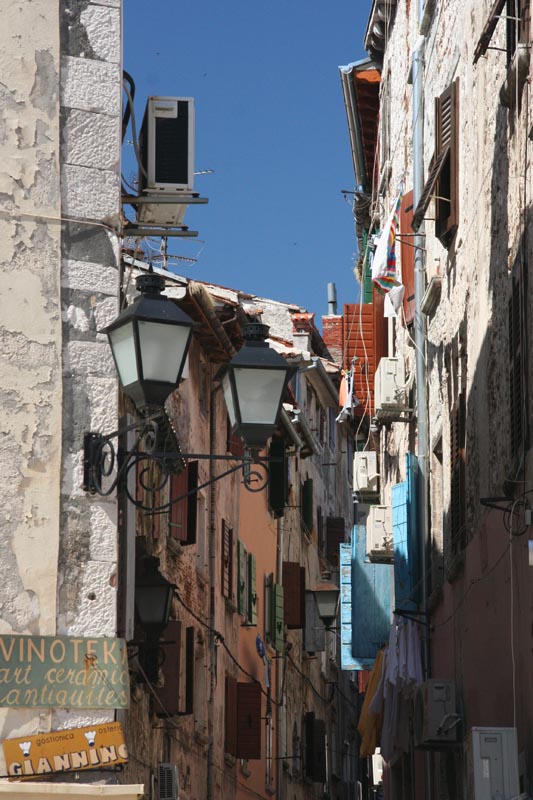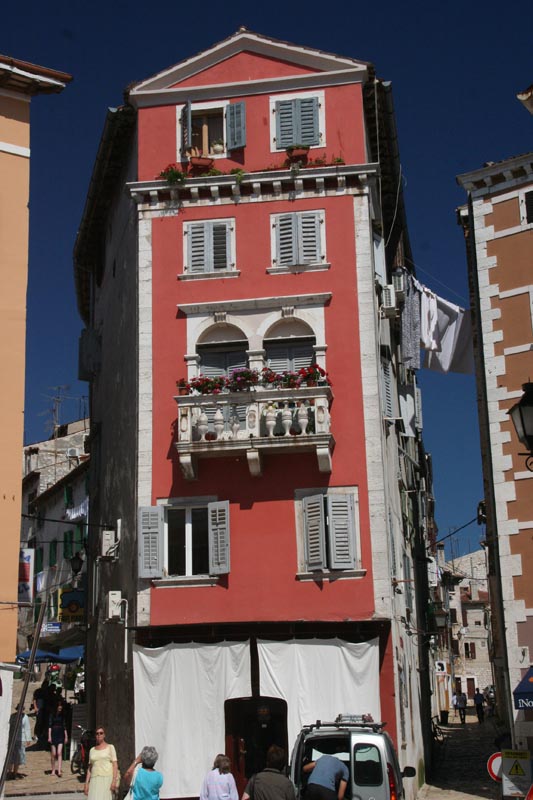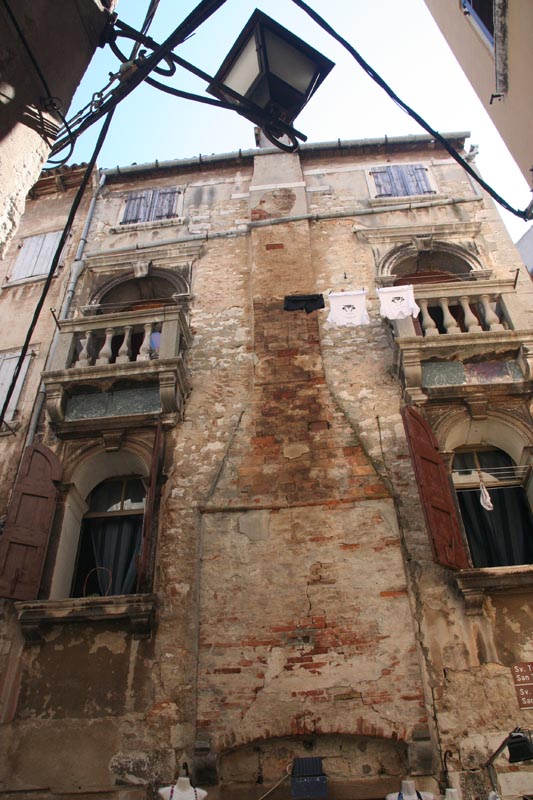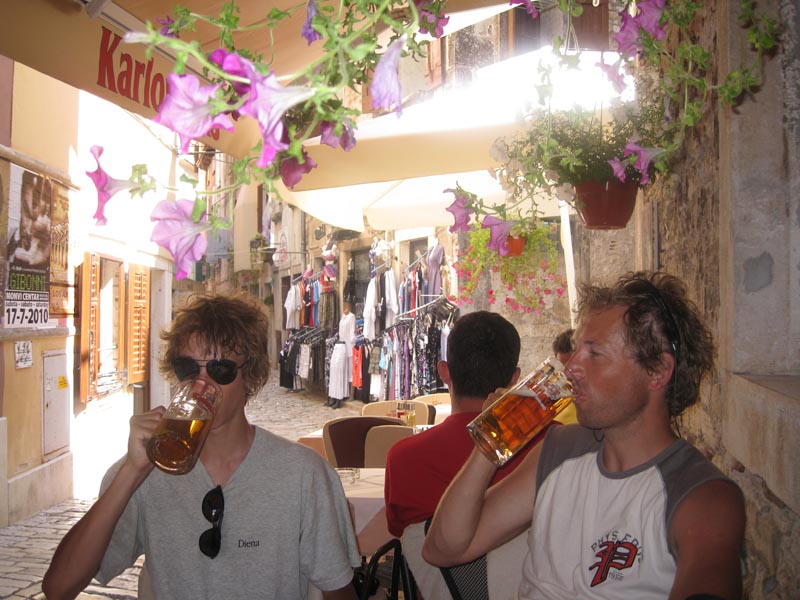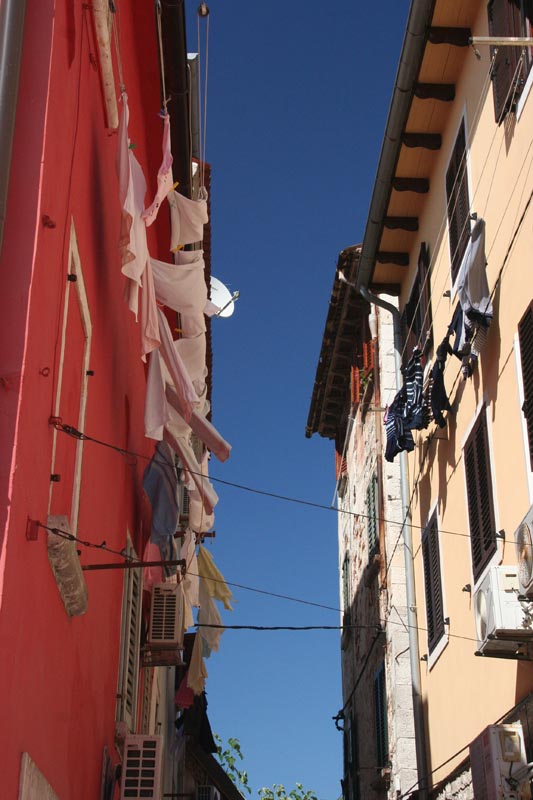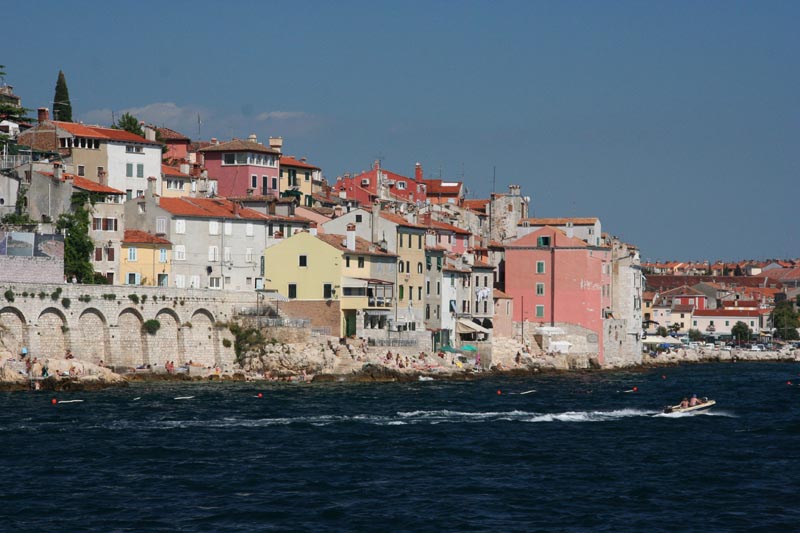 Returned in Pula to see more beautiful places, for example amphitheater and French fries restaurants that were on each corner.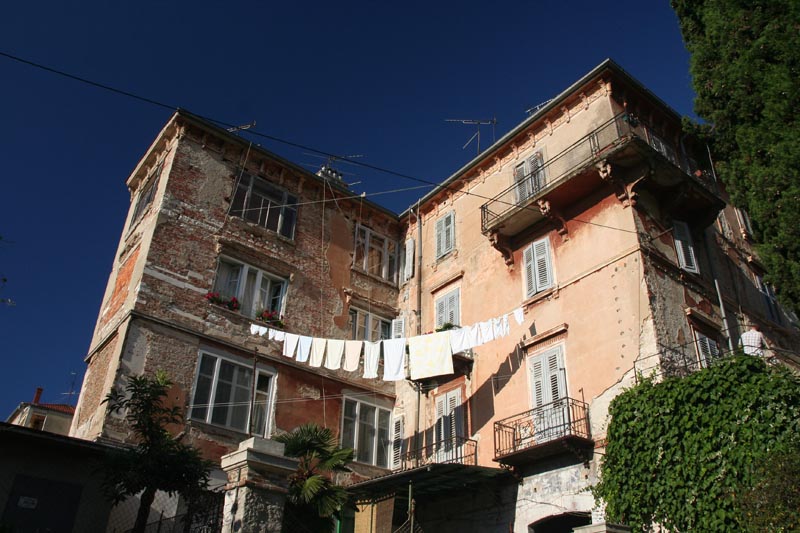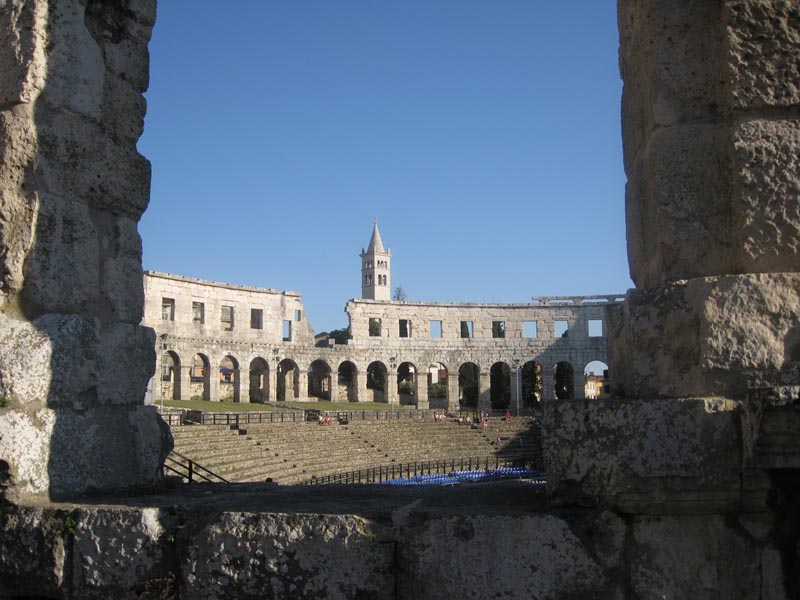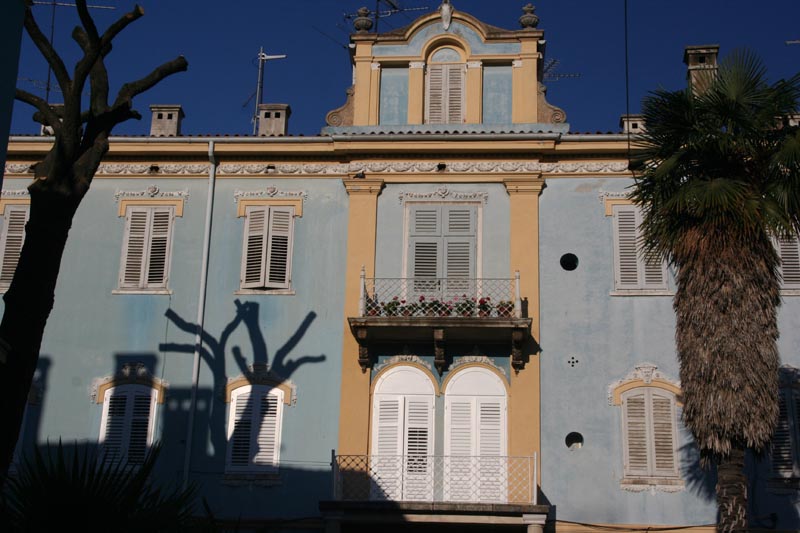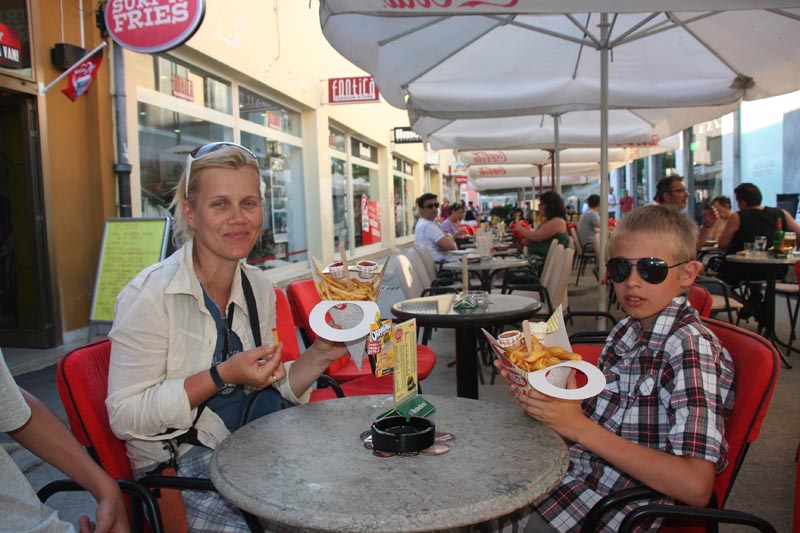 In evening at beach we were making tourist dinner and saw a big star, or maybe even a planet or rocket.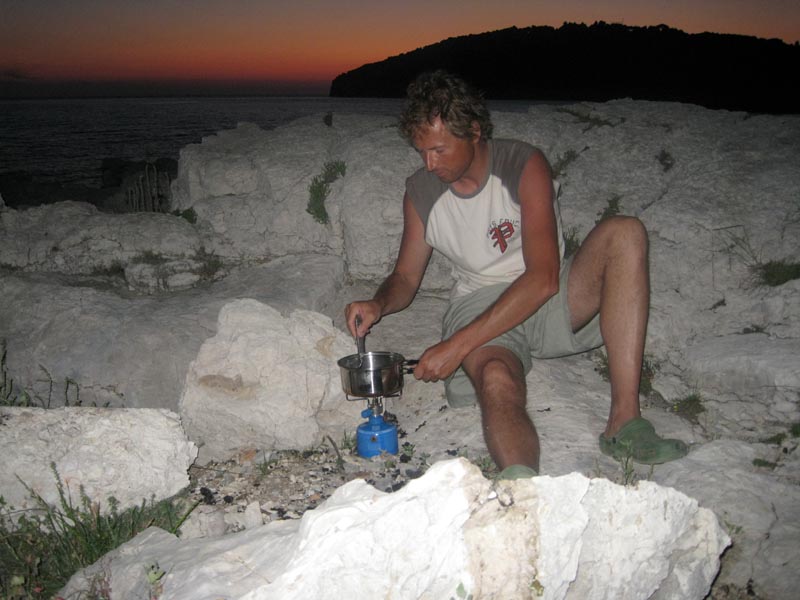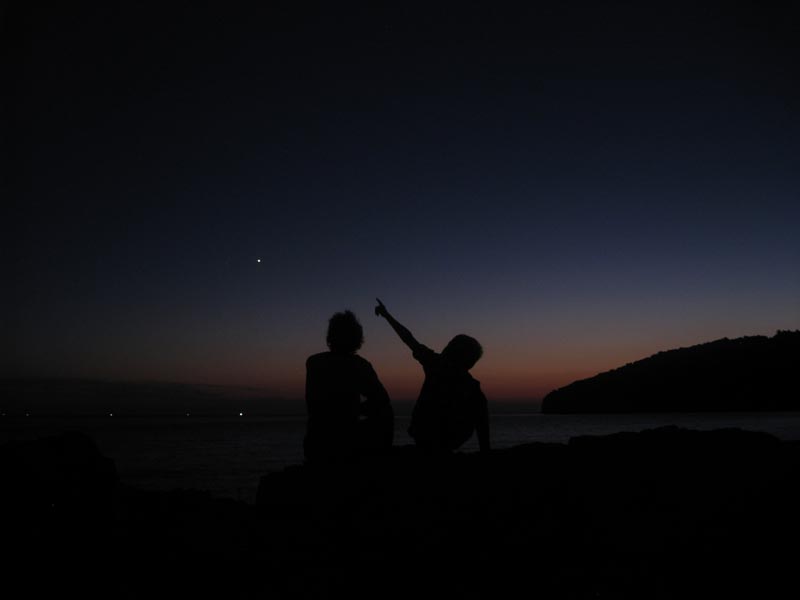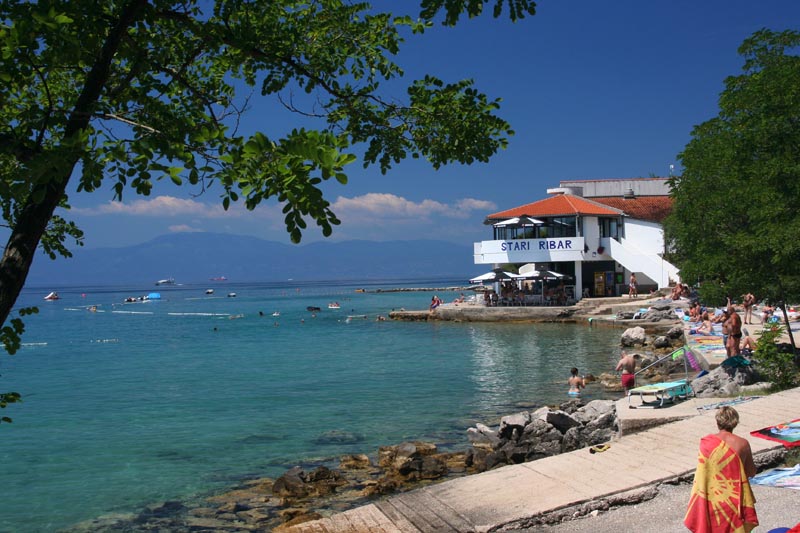 In the middle of the day, we came to Krk island, where before a week started our trip. Even this islands central city is called Krk.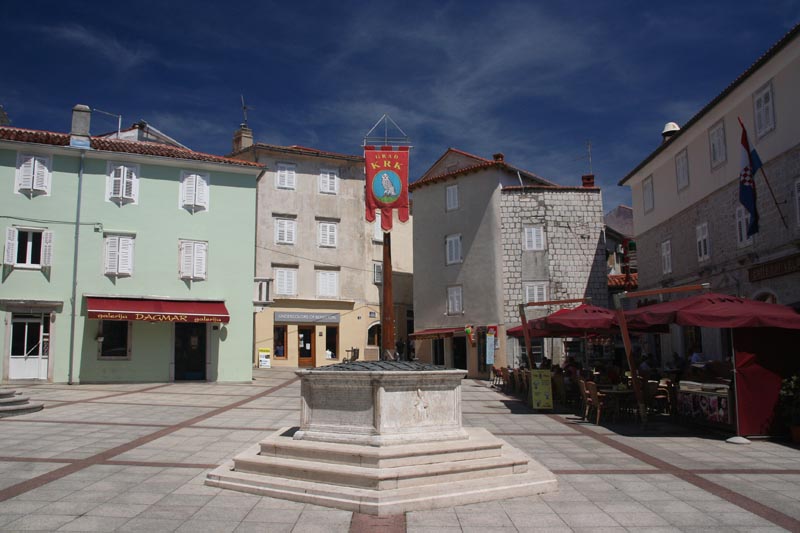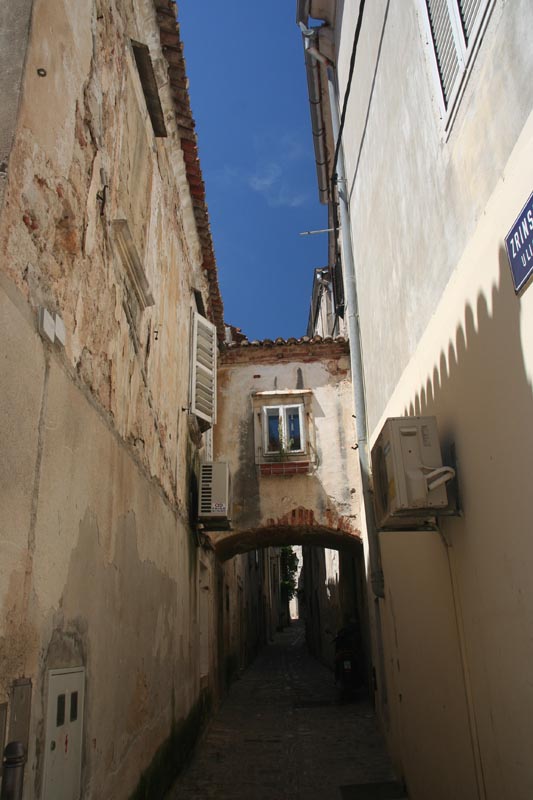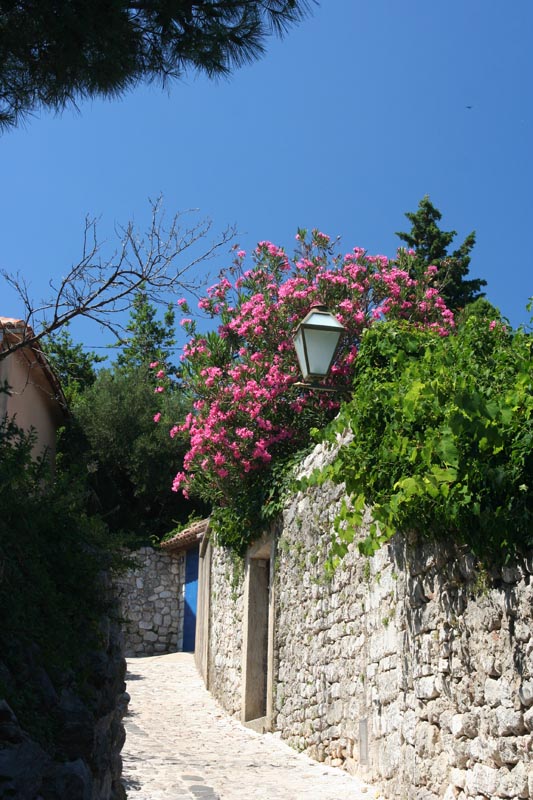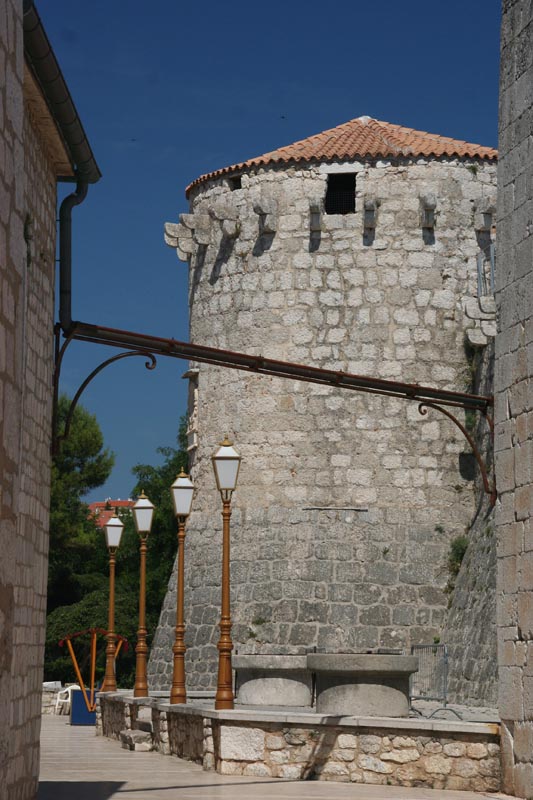 Roads they built like in lunch break they would refresh with vine and cola.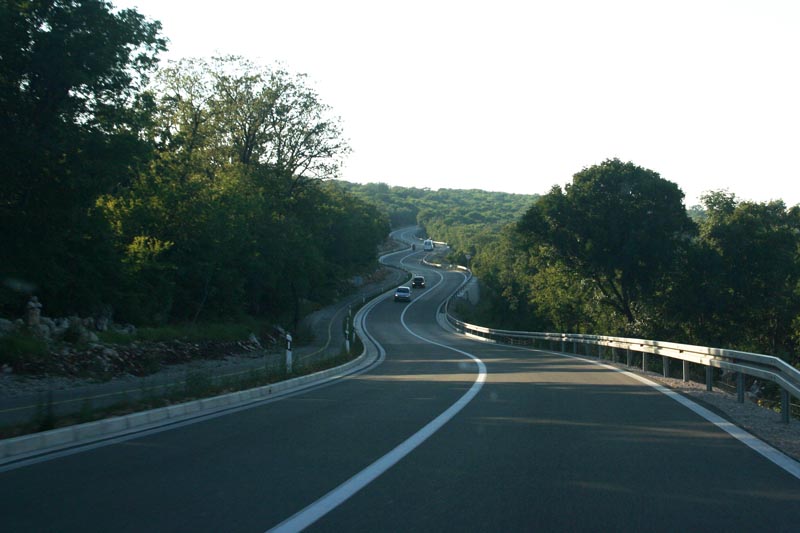 The road leaded us to the islands furthest tip – famous Baskas valley.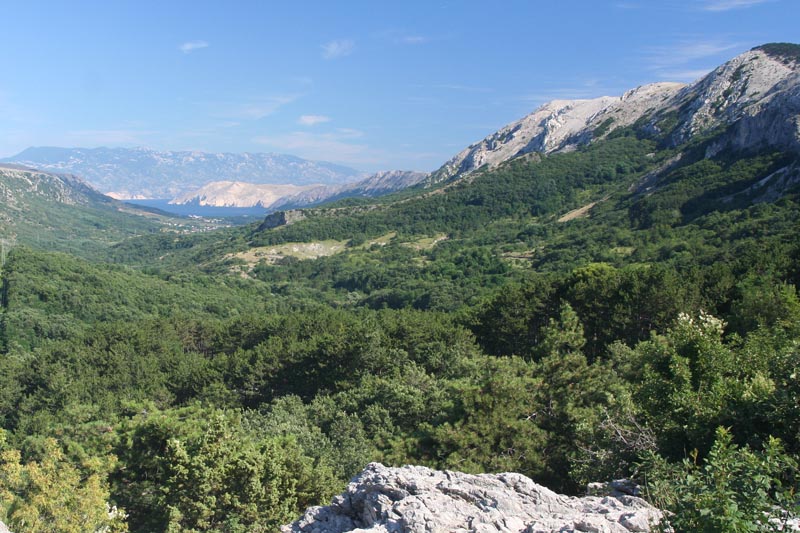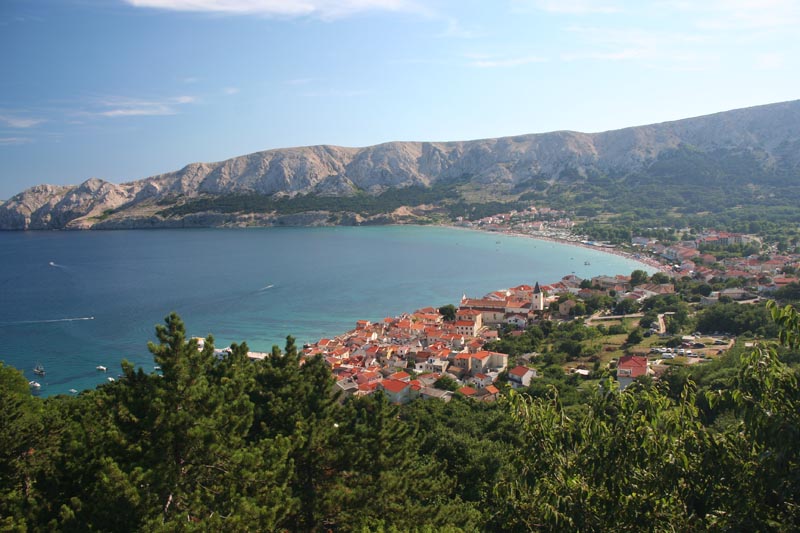 Little trekking above Baska surprised us with excellently beautiful sights. Recommend!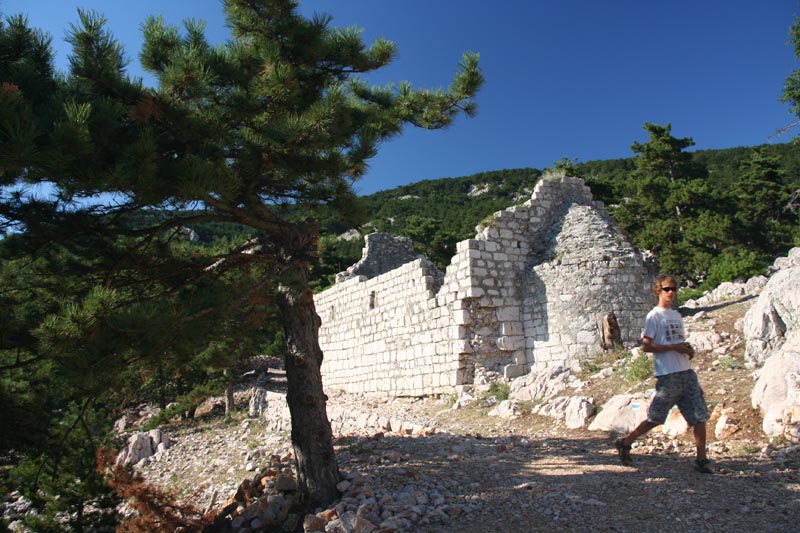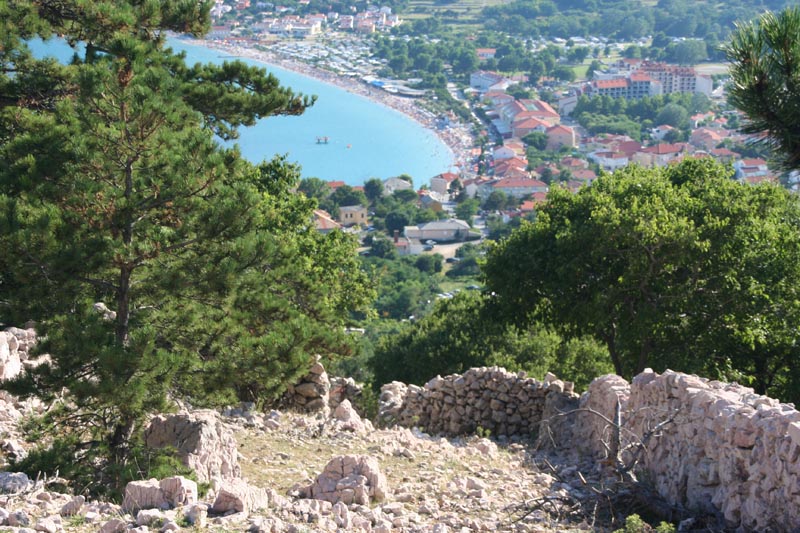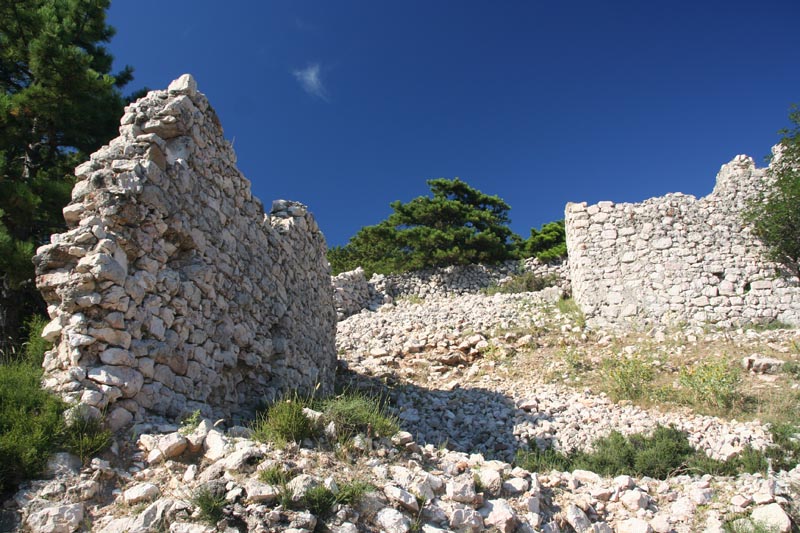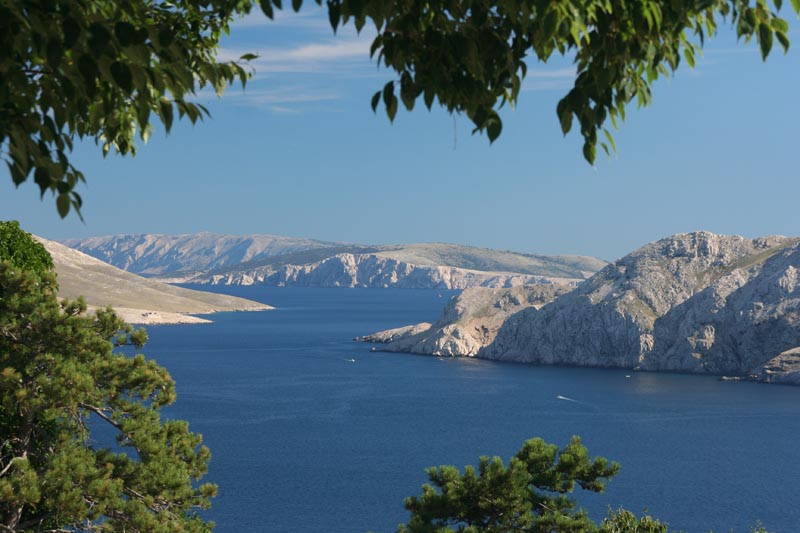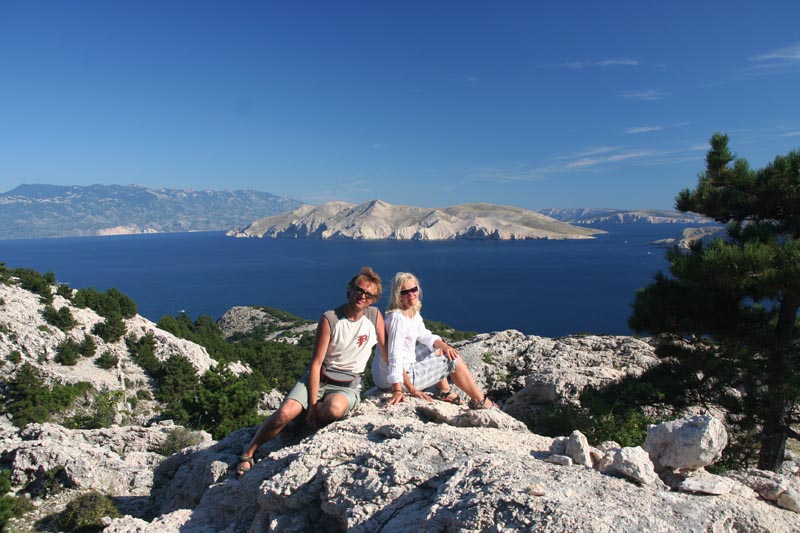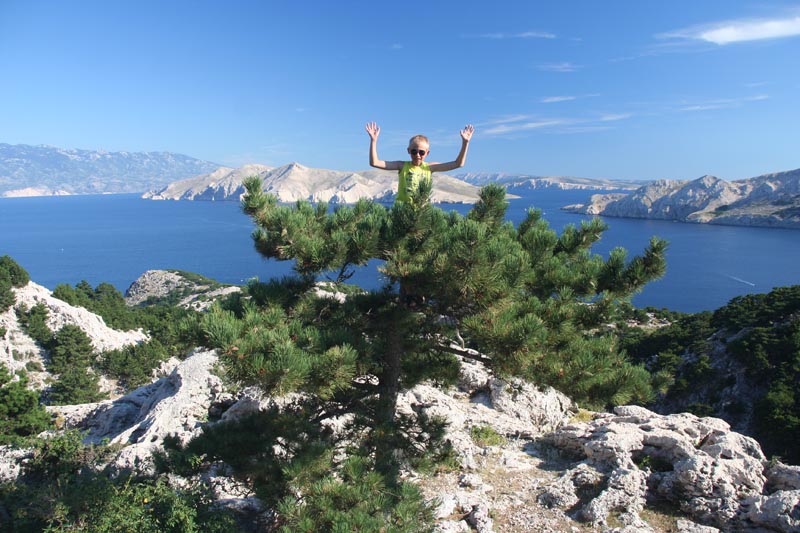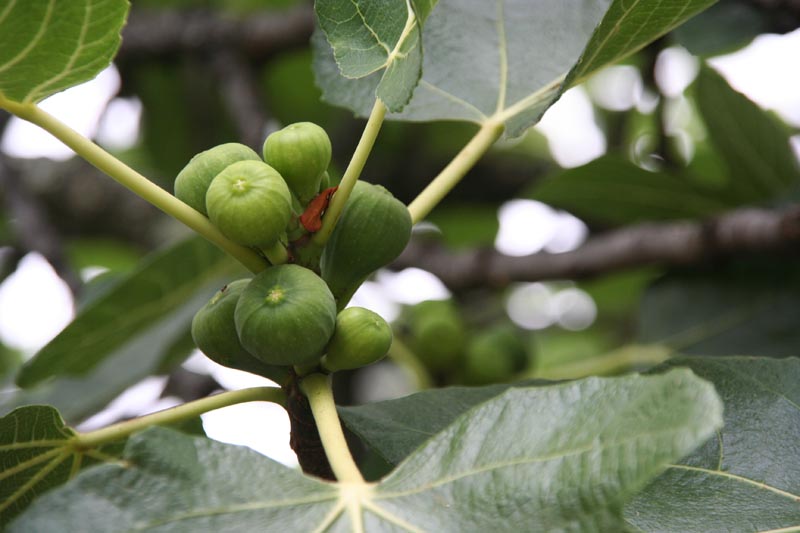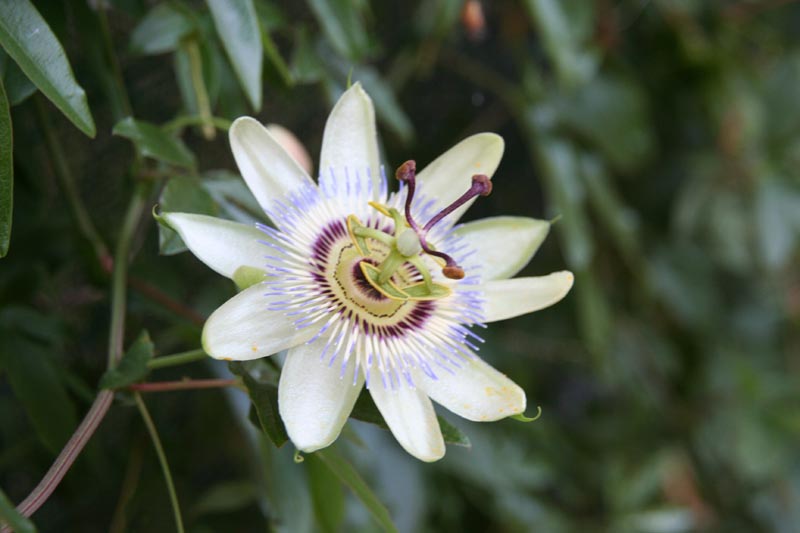 In camping, to his every evening hunting place came toad. He quite indifferent treated tourists, but no fly was unnoticed and  unseen – he quickly grabbed them with his long green tongue.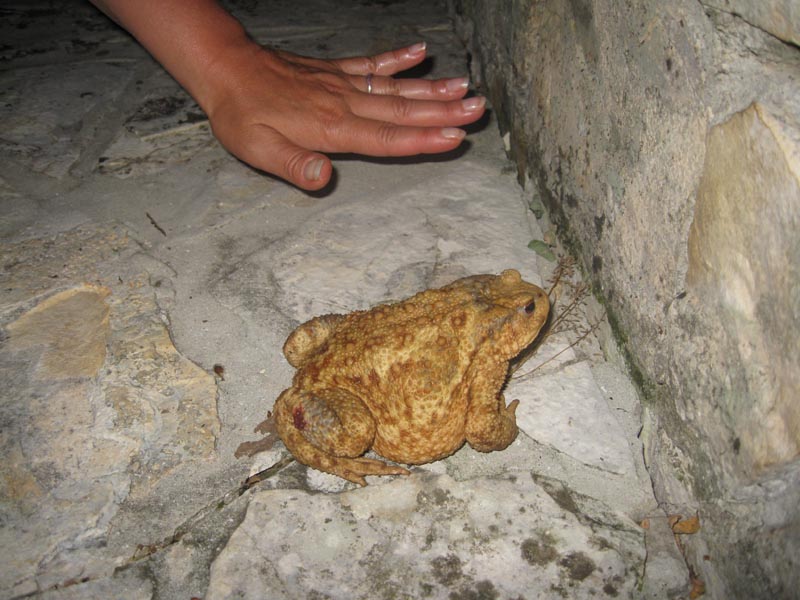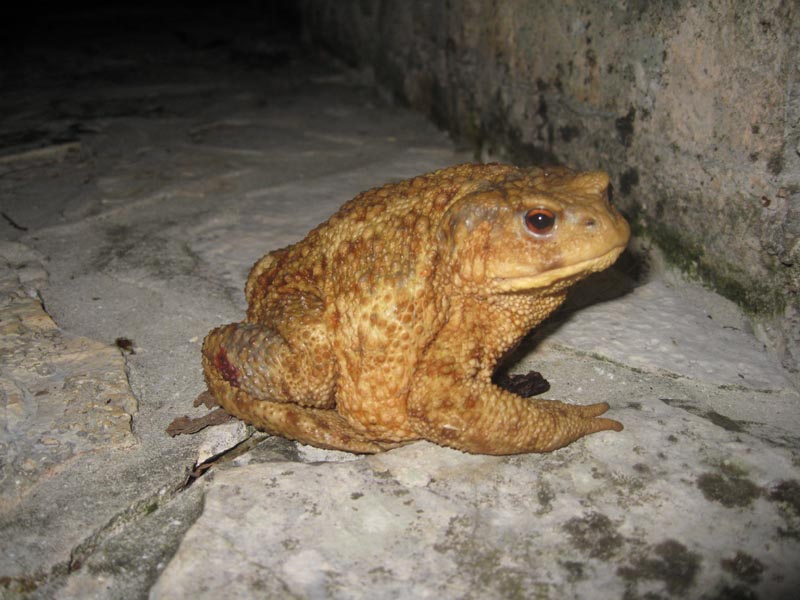 In the dark i tried to wash car with water gun. Didn't do so well. Just have to give it back the way it is.