Scottish Highlands and hiking UK's highest peak Ben Nevis
To explore:
historical sites
,
mountains
,
trekking & hiking
What do you need to conquer the highest peak in the UK?
You need to wait the next offer of cheap tickets to Glasgow from Ryanair.
You need to find  clothes suitable to the season in Scotland: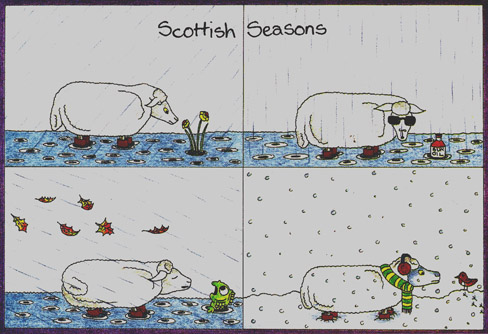 3. You need to book over the internet fuel-efficient car, preferably with a manual gear, to enjoy not only right turning itself, but also switching of speeds by left hand during this turn-:)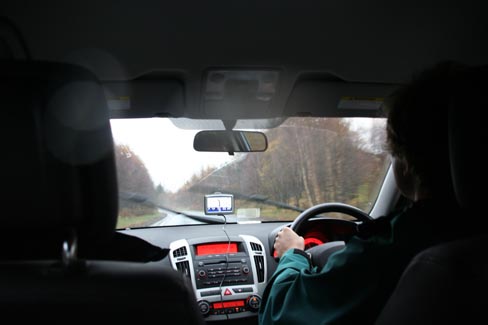 4. Also you need to book over the internet B&B for first night in one of suburbs of Glasgow.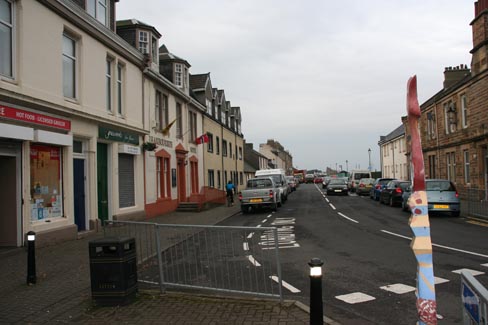 And forward!
First 20 miles the road crosses evergreen lowlands of Scotland.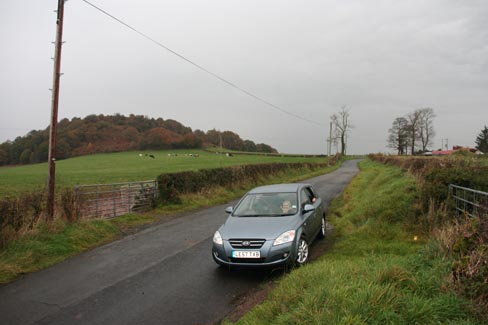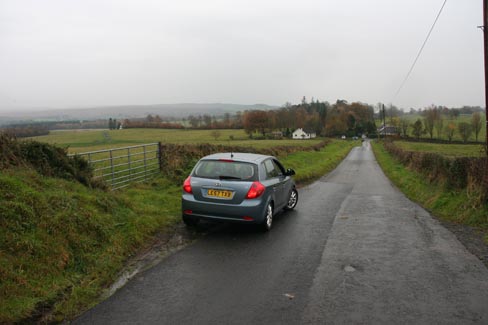 When you reach Loch Lomond it is possible to rest and enjoy views of the first mountains, only if fog allowed admiring for them. Said, at least, a few days in a year it is possible. Further you go on good narrow path along the coast of Loch Lomond.
Here, at last, it is possible to get used to the sizes of car. It is necessary to avoid hundreds of caravans and trailers with yachts, going to opposite direction (on the right of driver), and in the same time not scratching the cheek of passenger on the thorn of rock (on the left of driver!). And they do not love sluggish people on the road.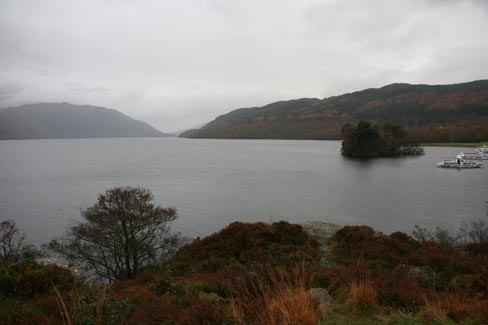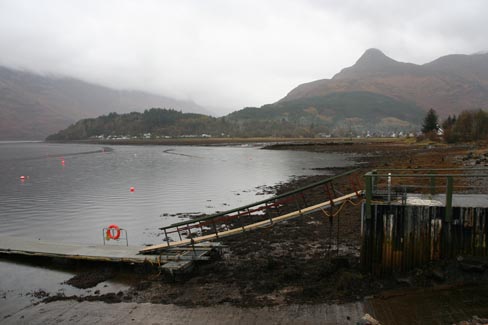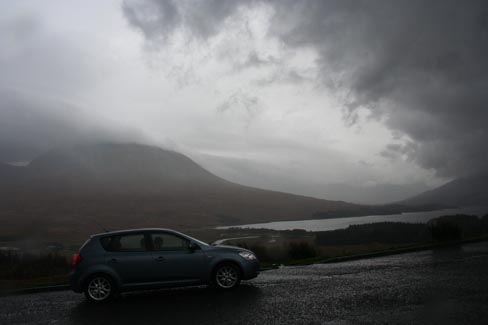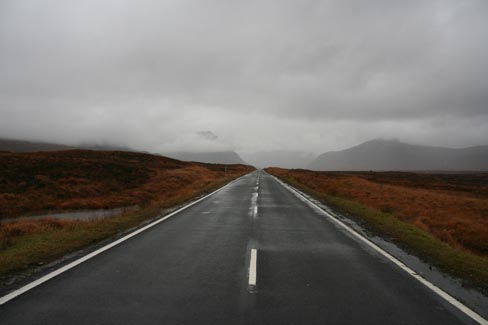 After Loch Lomond the Highlands begin – wonderful highlands of Scotland!
Boggy valleys change with the flat ridges of mountains.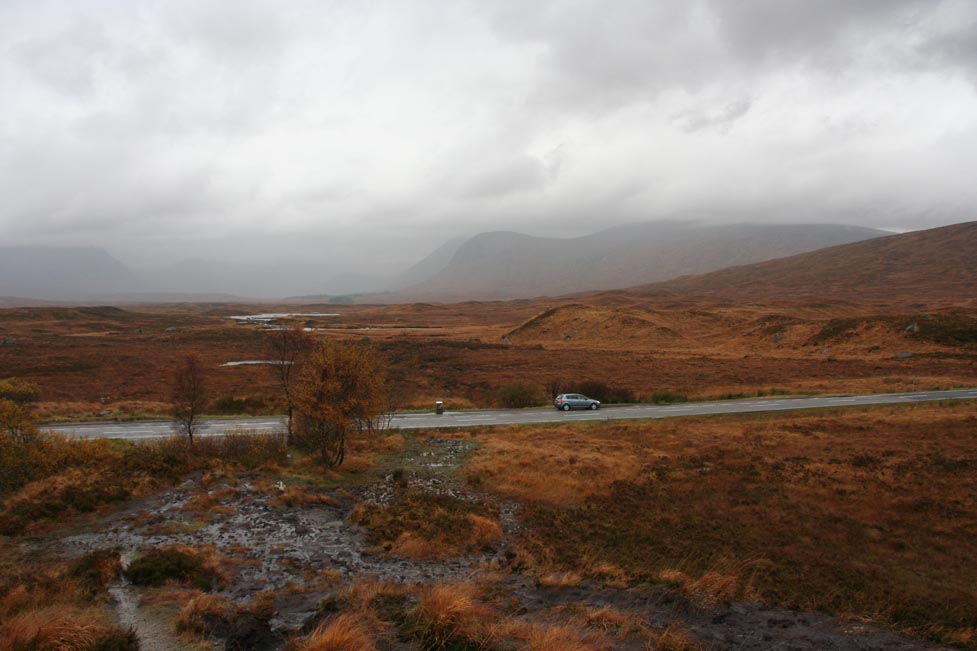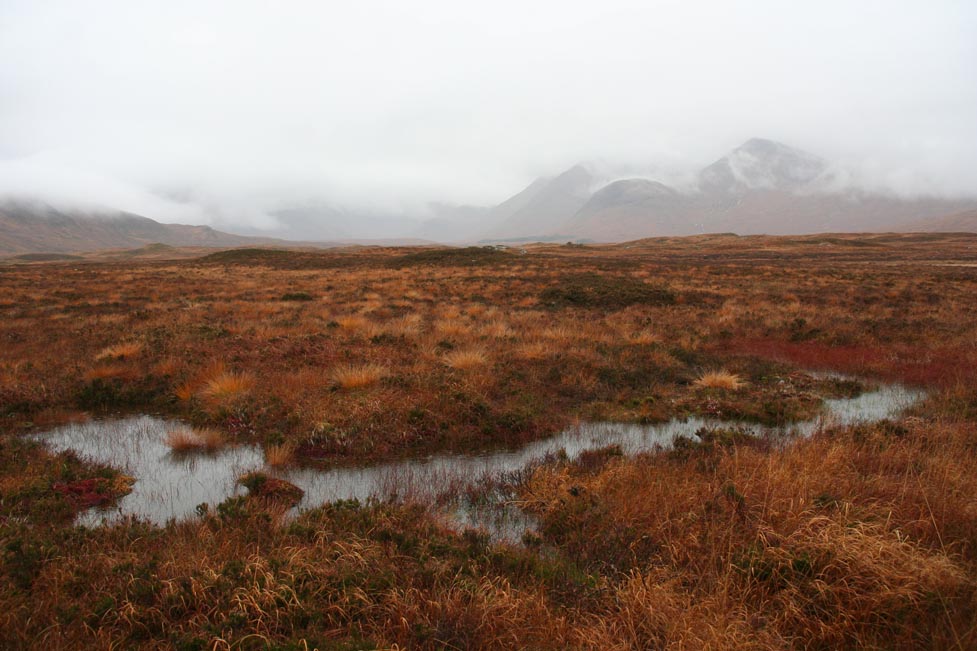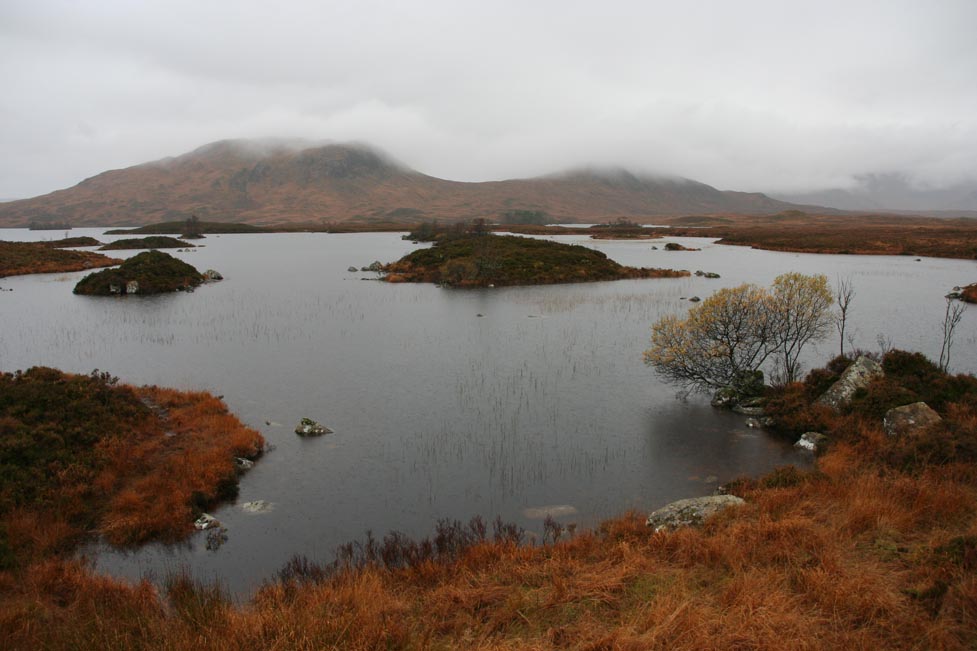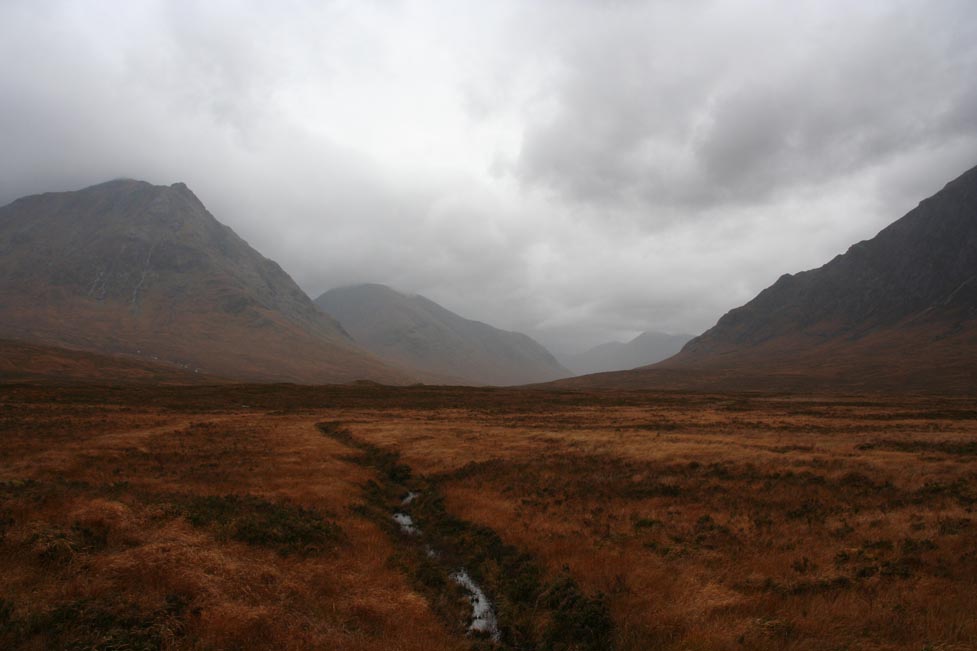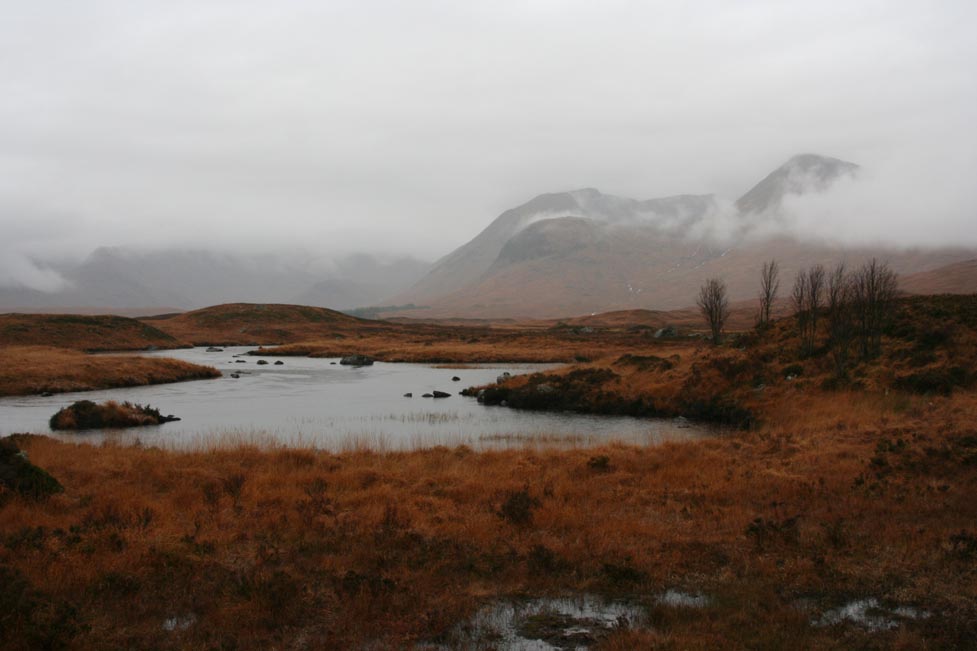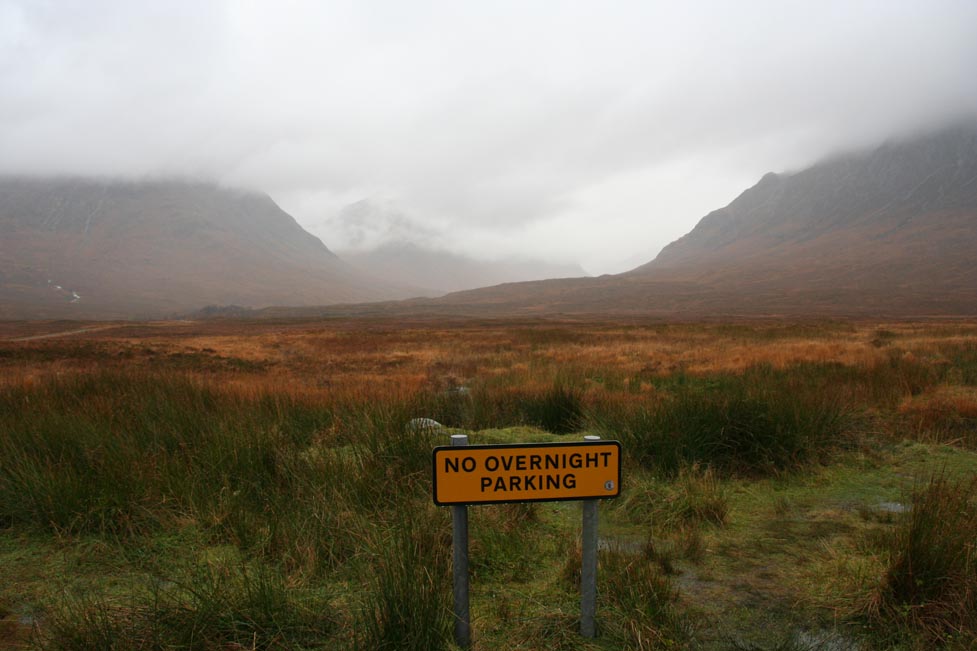 Farther the road leads to alpine areas, if this is the right name for just 1000 m high hills.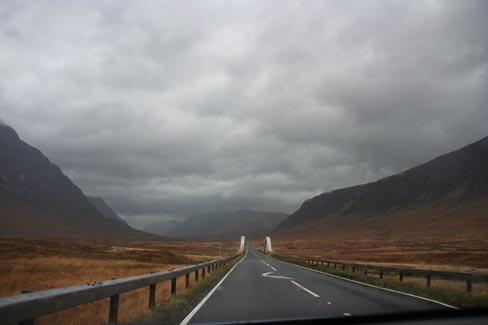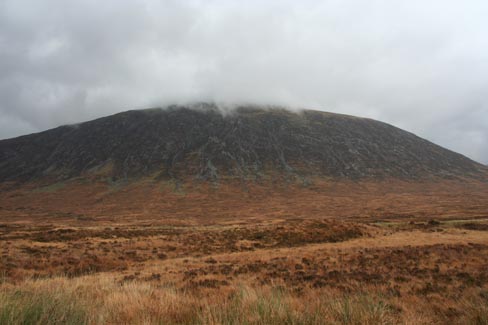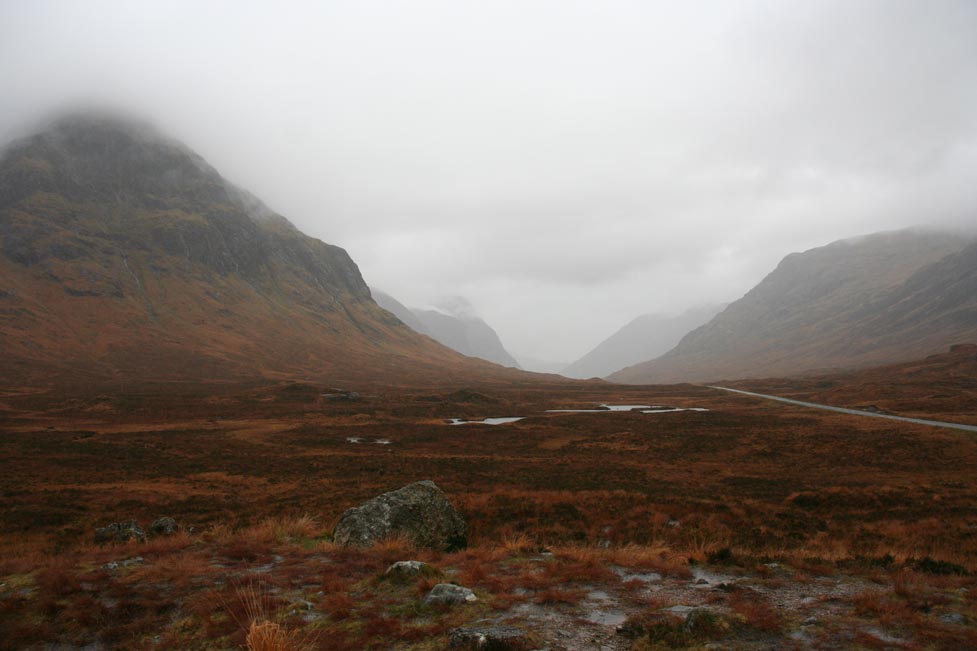 The best way to enjoy beautiful landscapes is to hike the famous 8 days West Highland Way, which ends in Fort William.
In these photos you can see a few views of Glen Etive.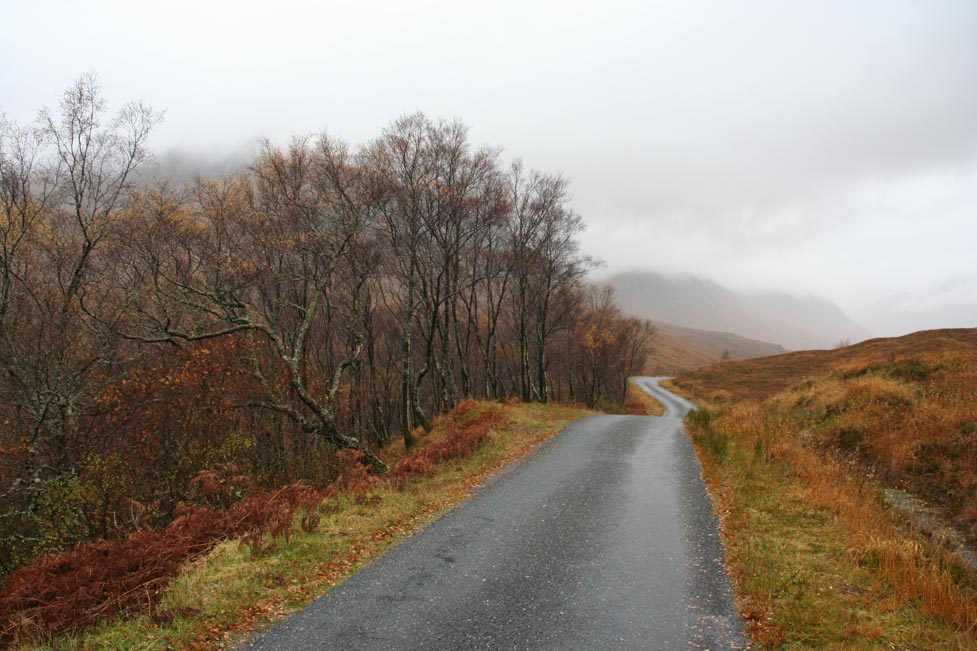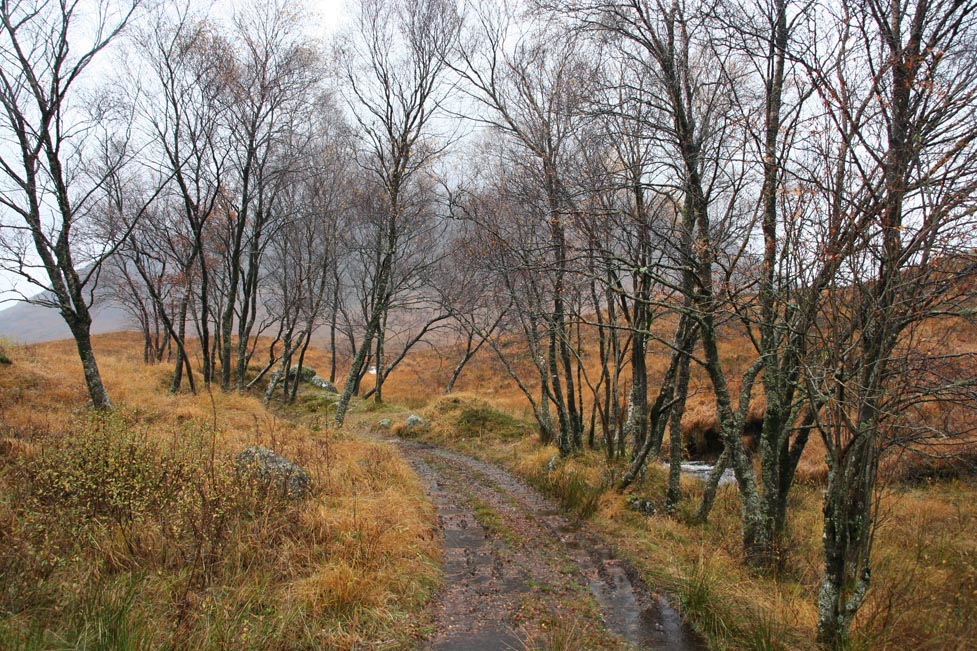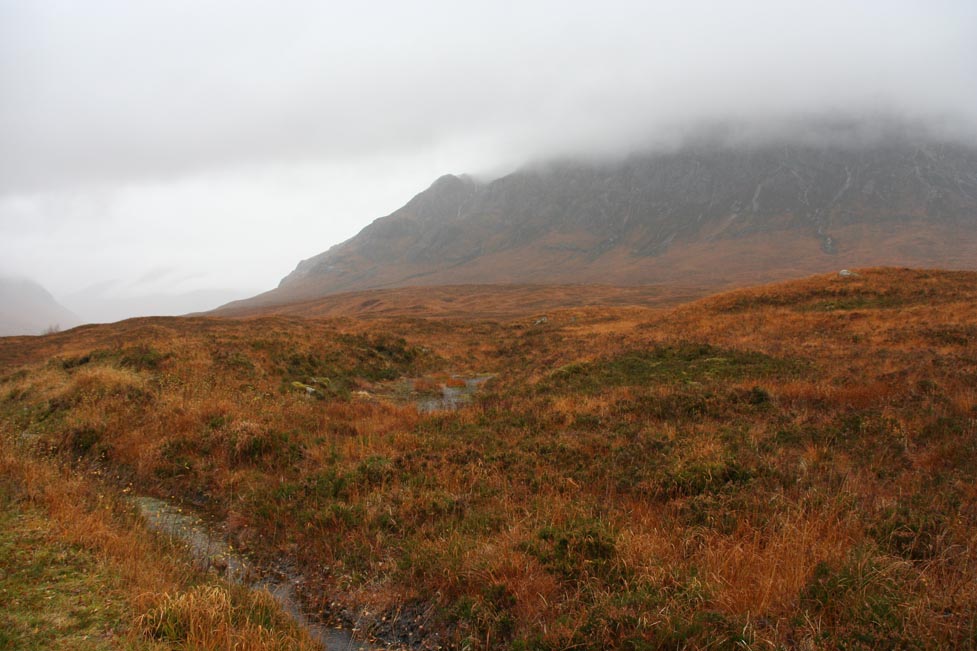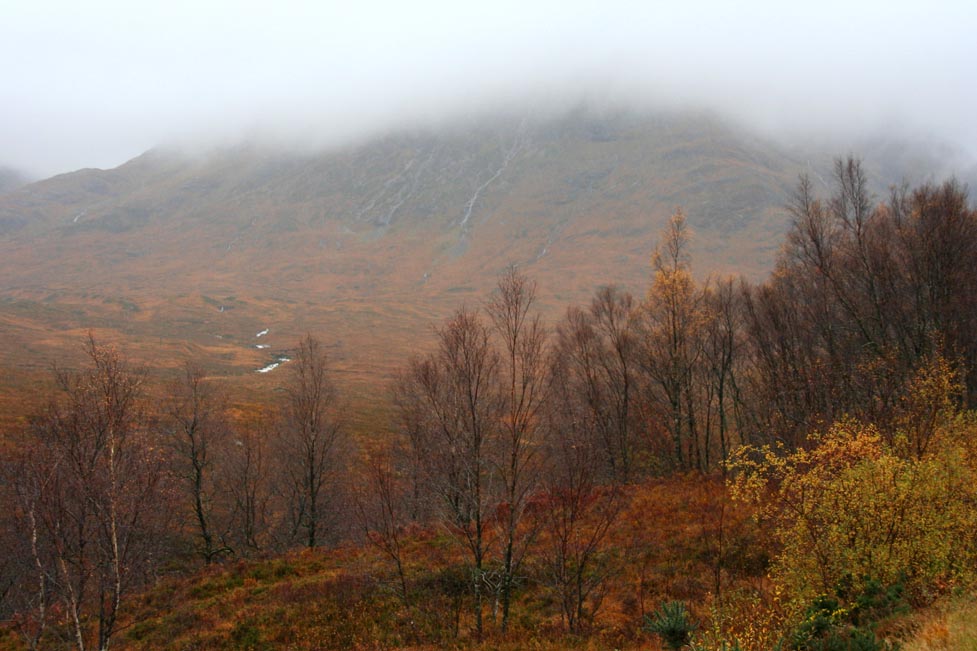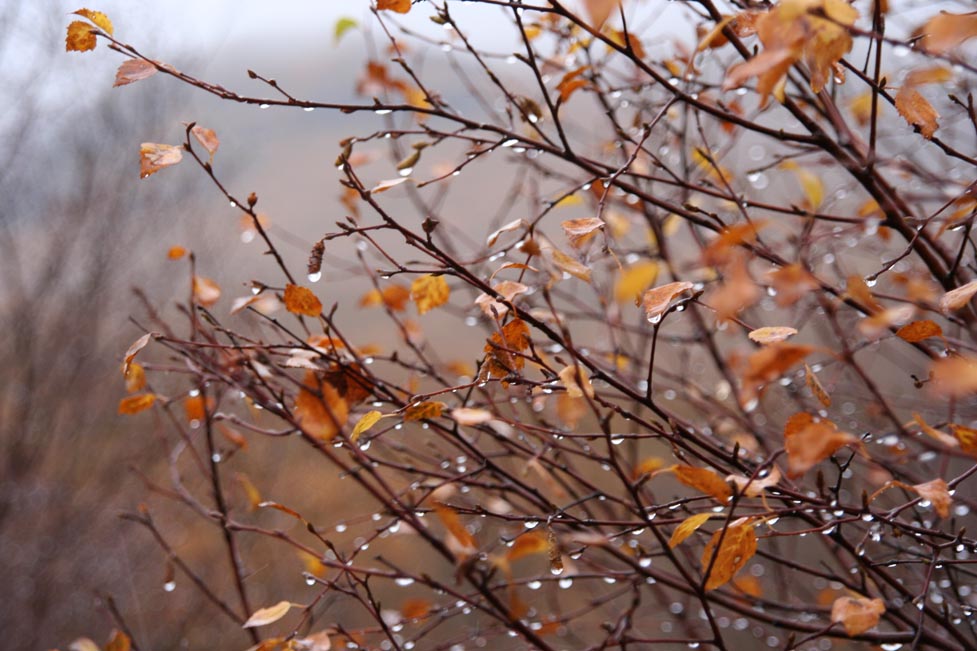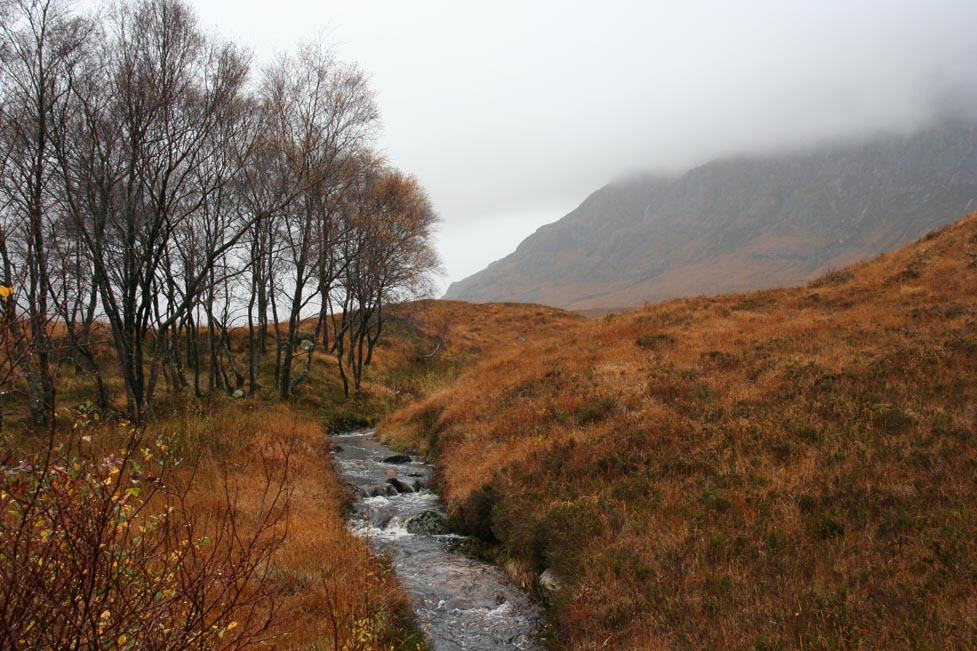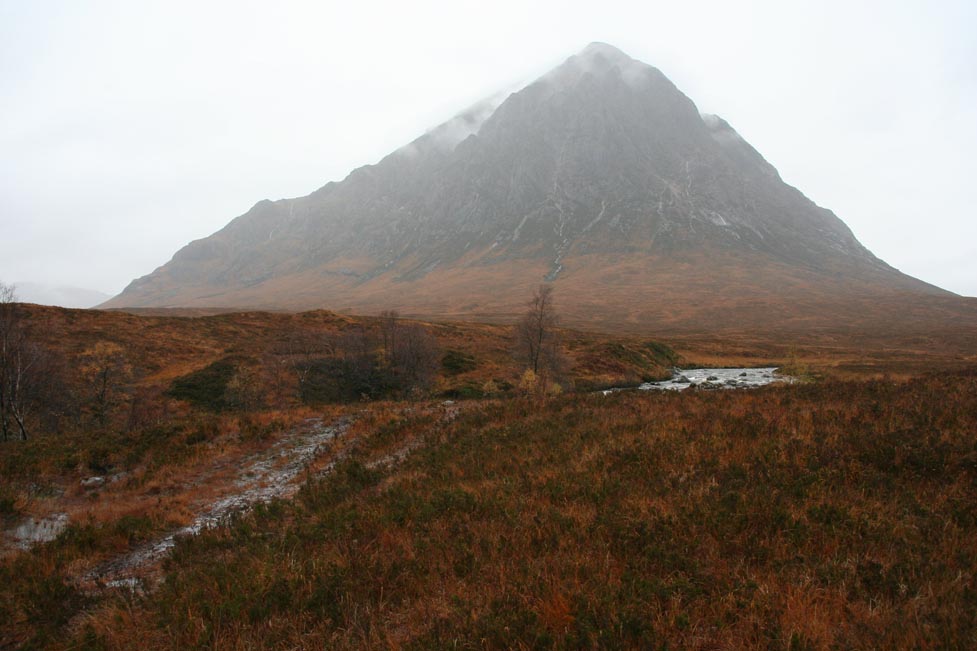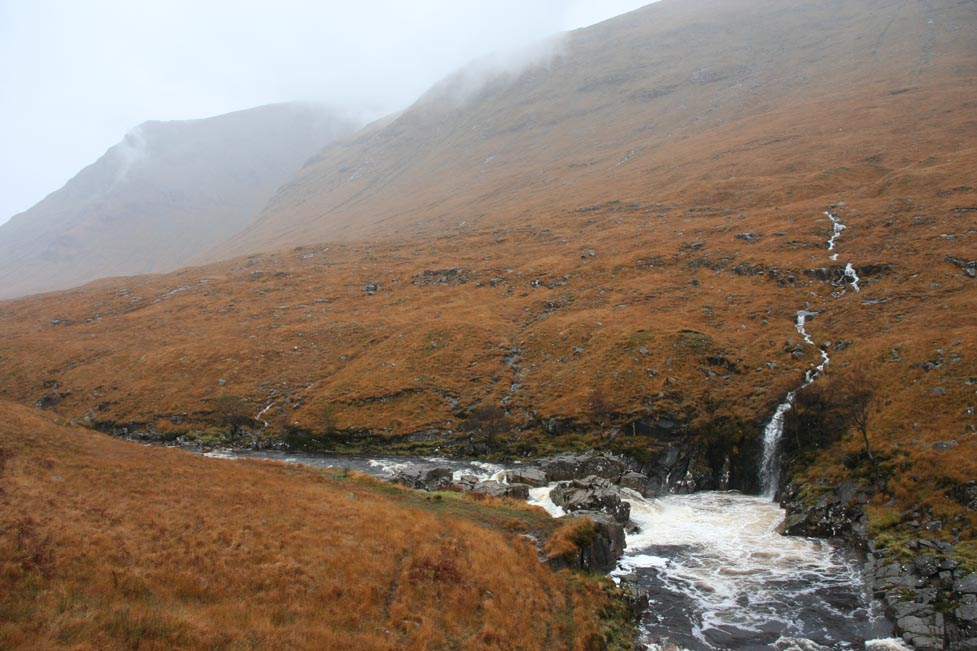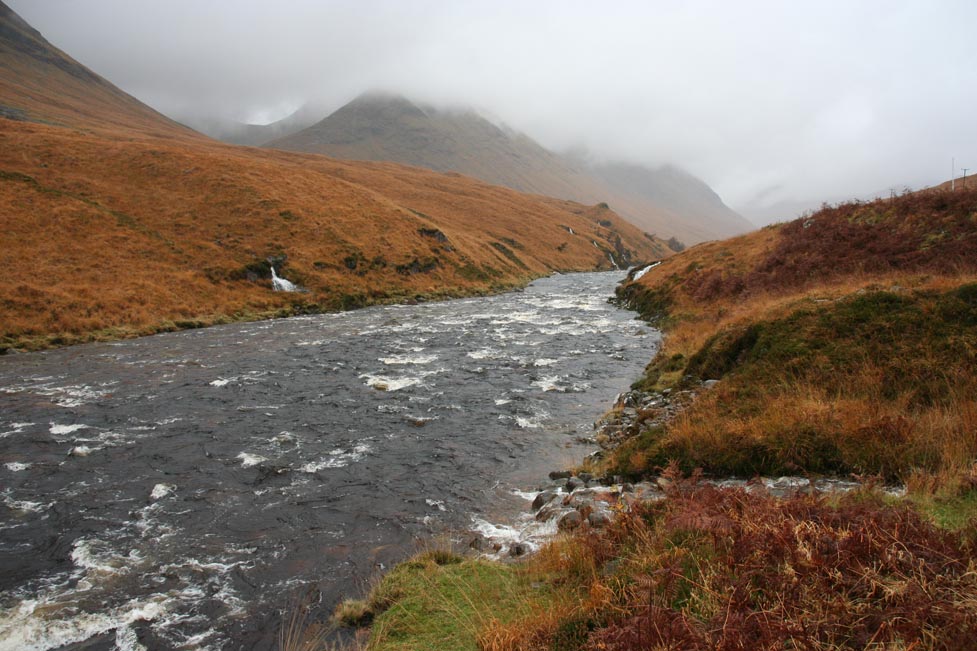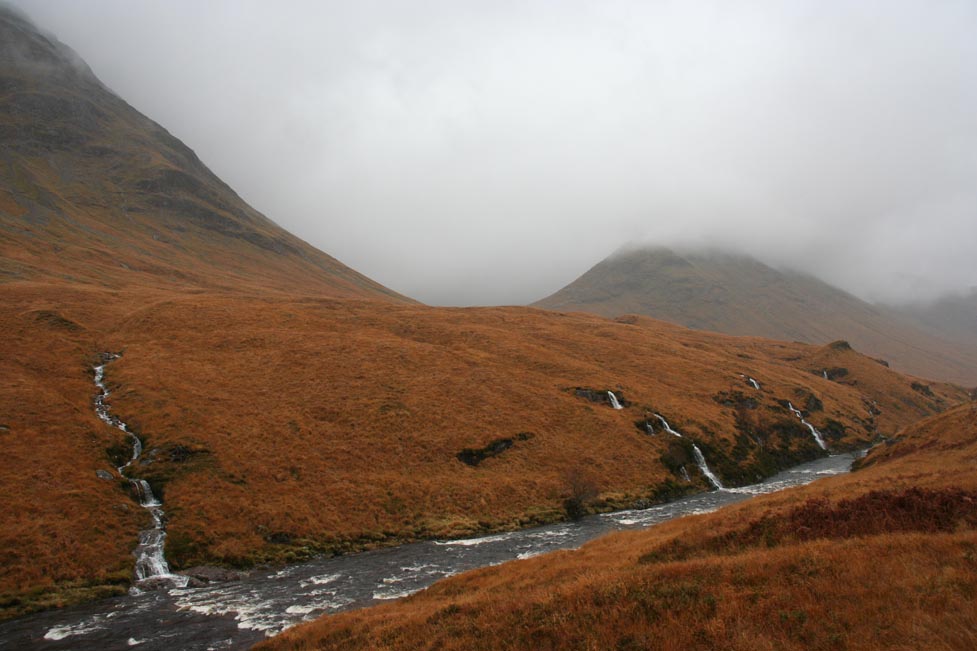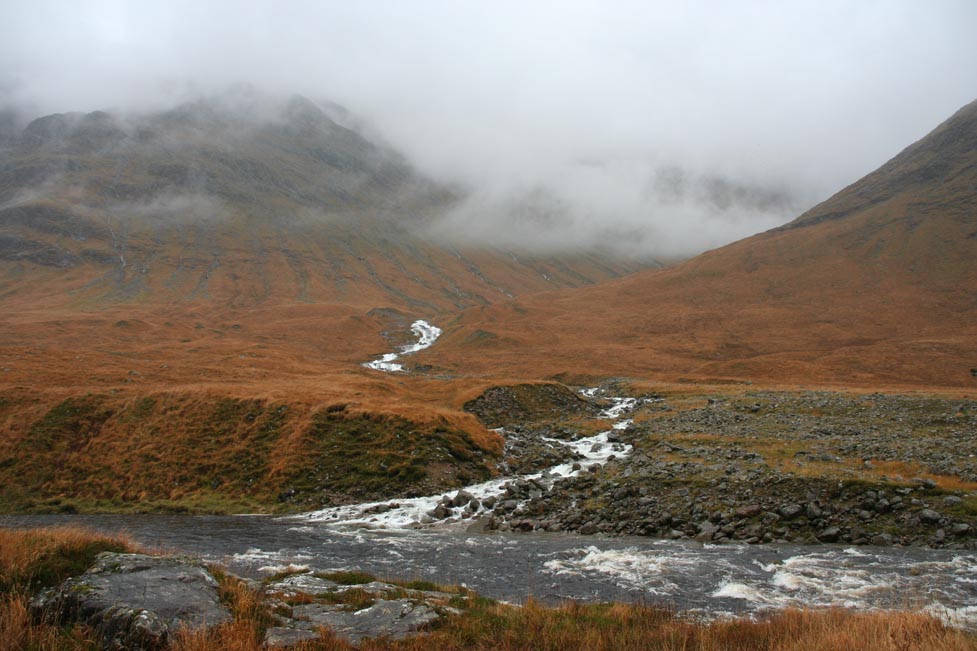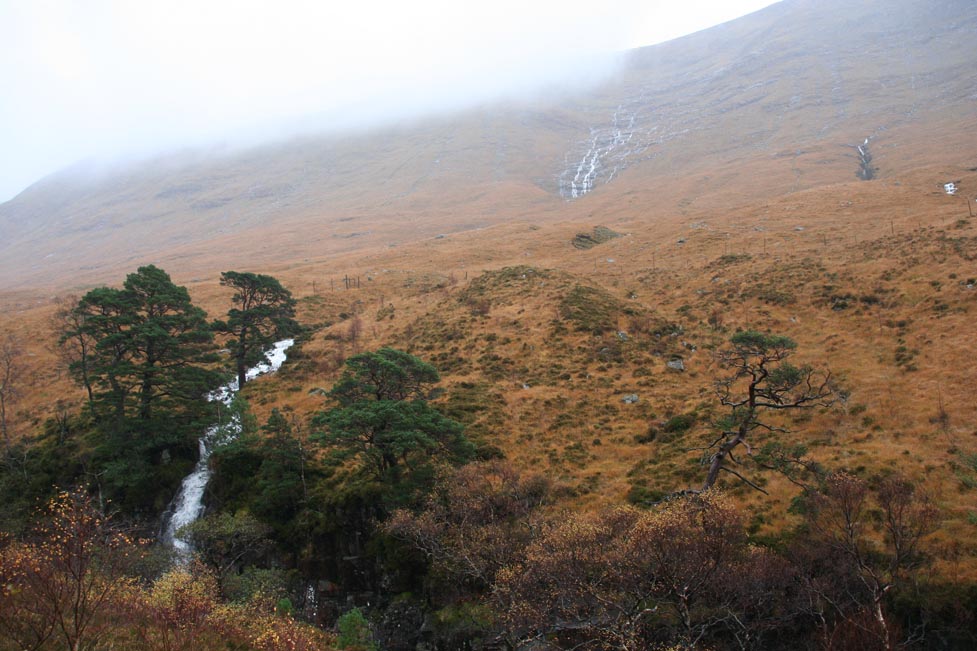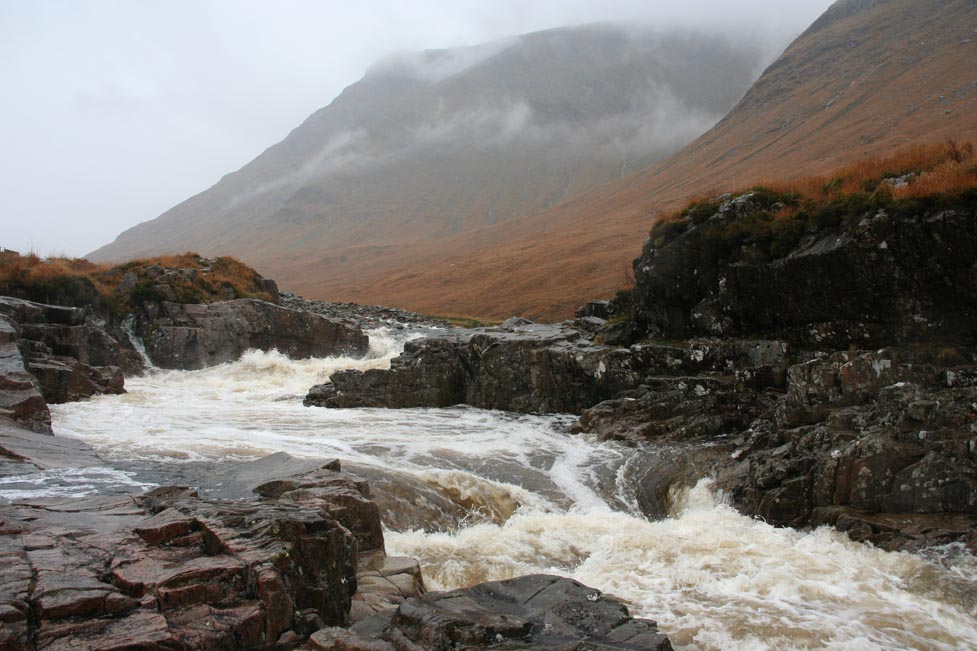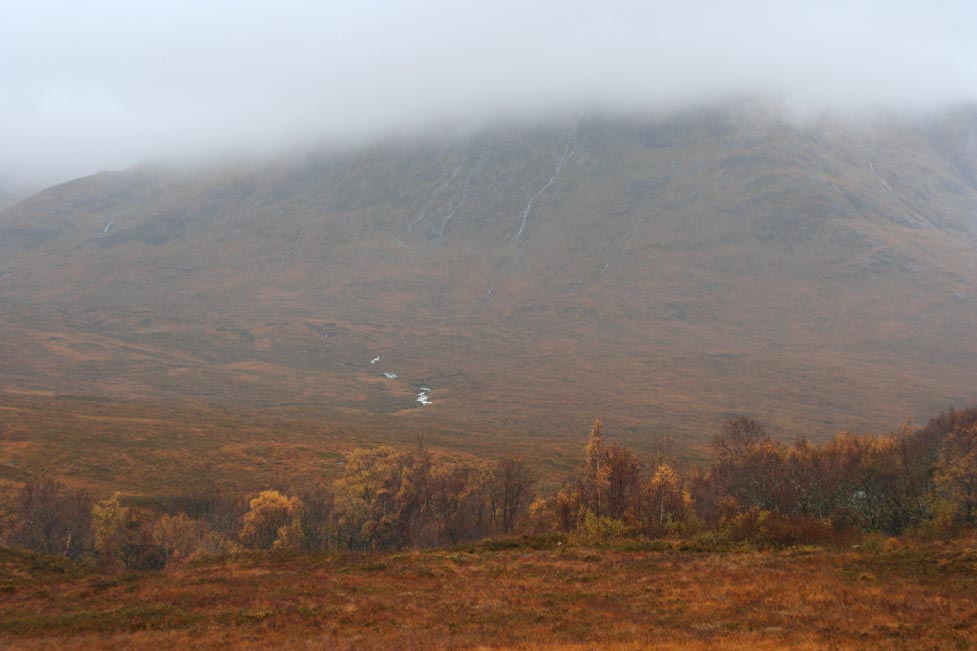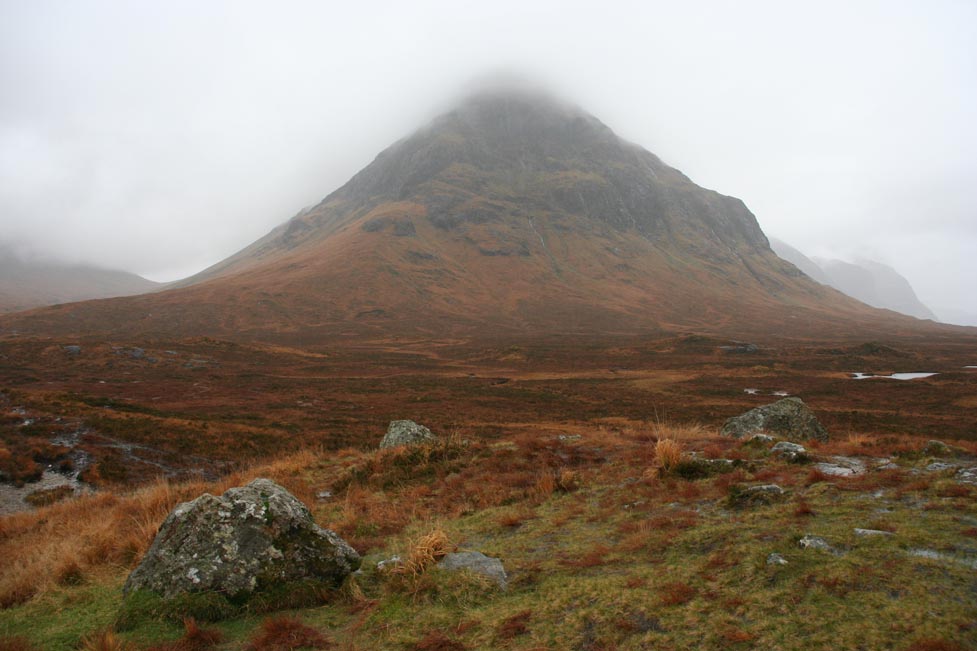 The region of Glencoe is located in 1-2 days walking distance from Fort William. This region is especially picturesquely. Take a look on some photos!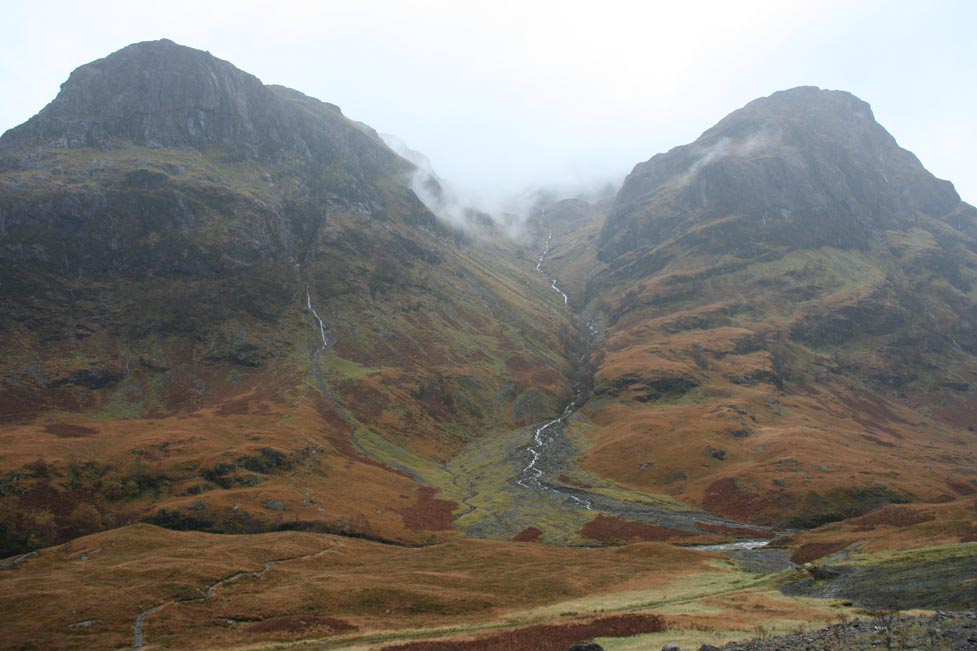 The bay of Loch Linnhe testifies that we conquered mountains and reached Fort William.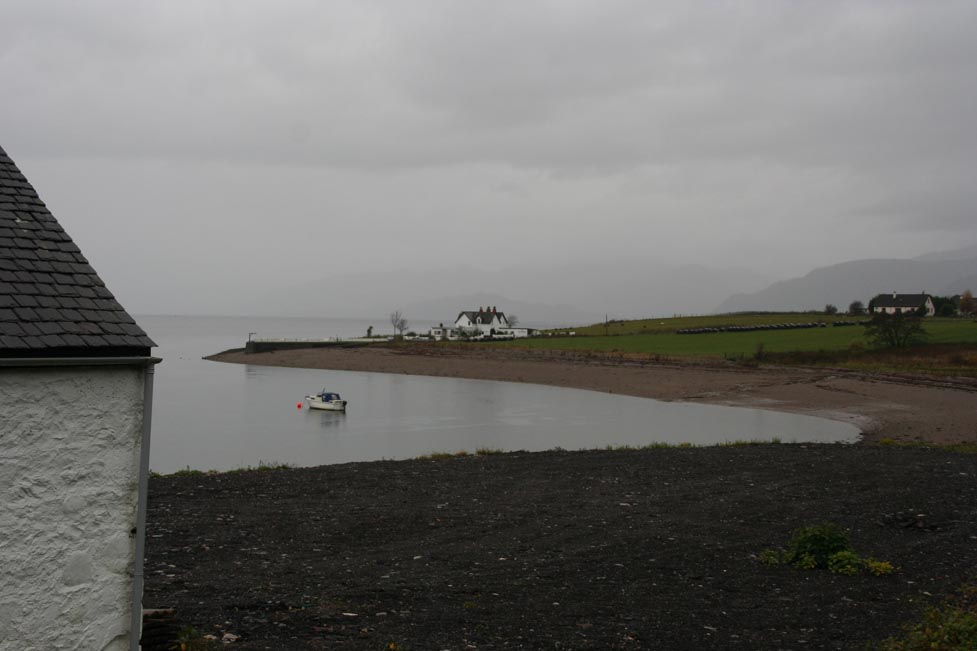 Sometimes road is crossed by ships.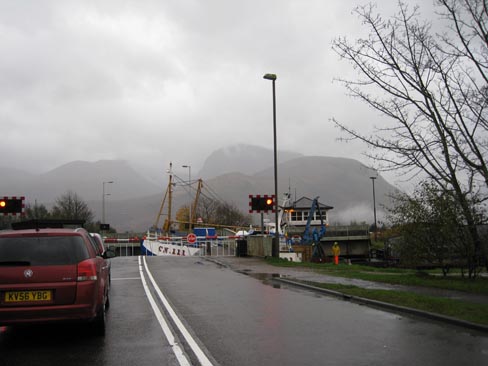 We are in Fort William. We decide to go on the path of Glen Nevis and find some Geopoint near the Steall waterfall. This is one of the most famous trekking routes in Scotland. Here you can see the wonderful canyon, the excellent path, the impressive waterfall.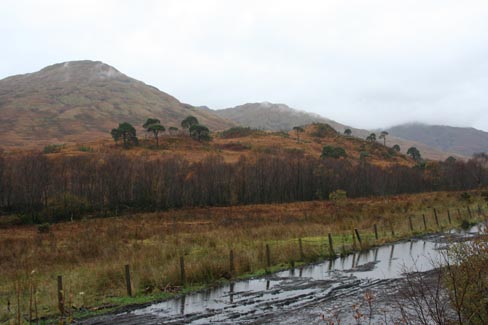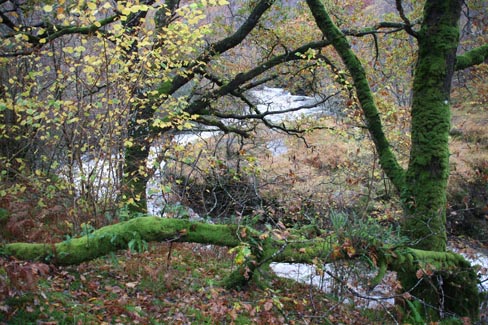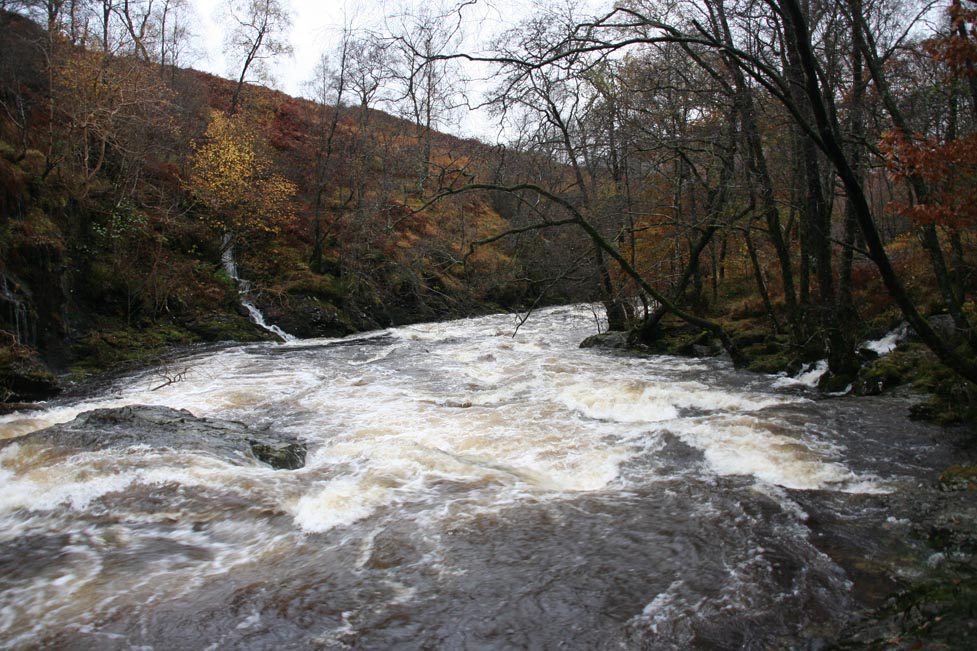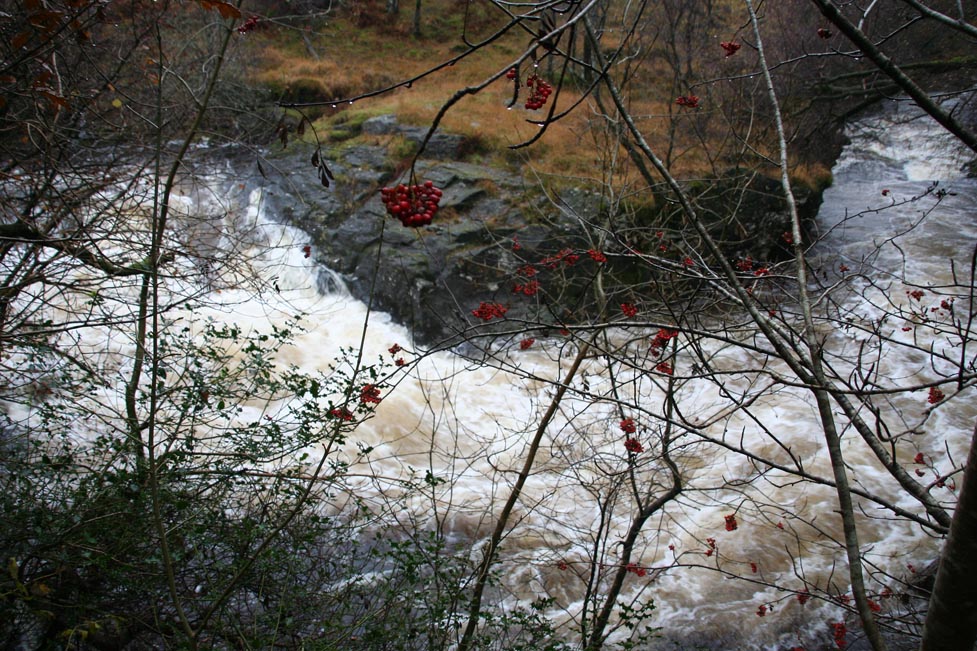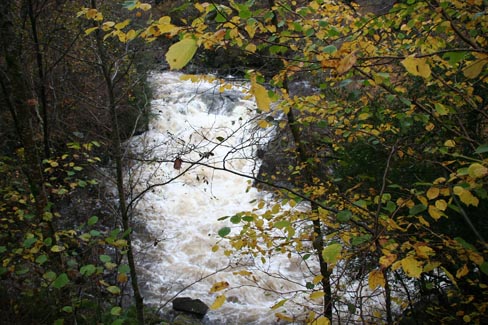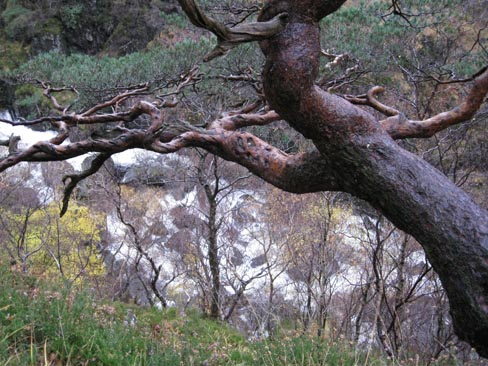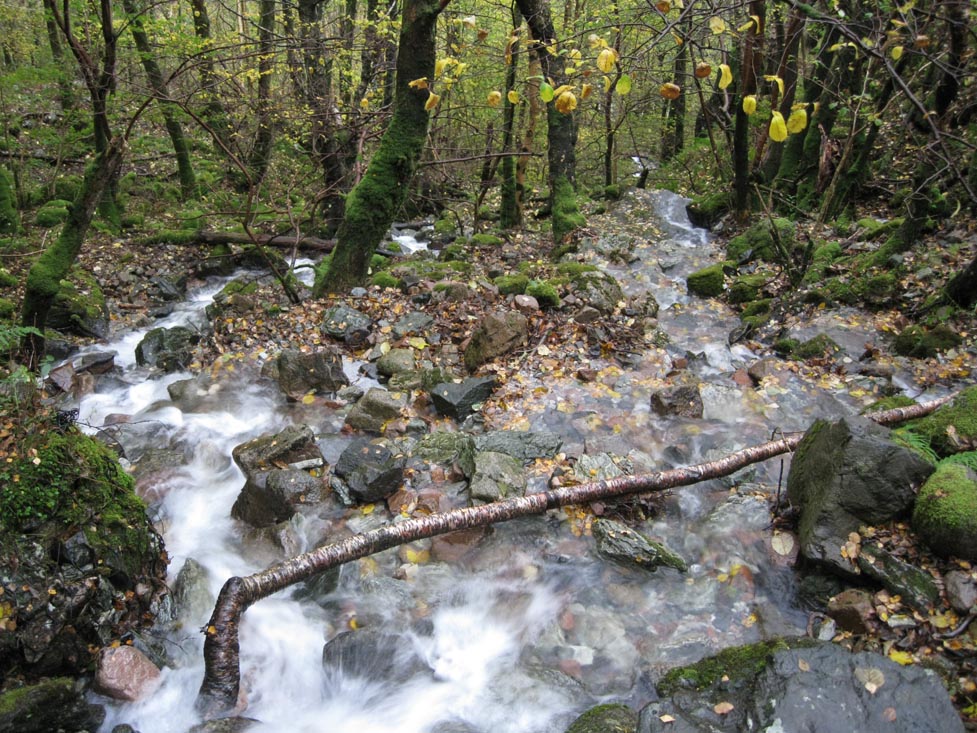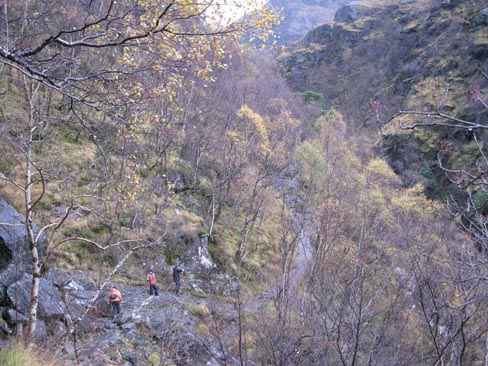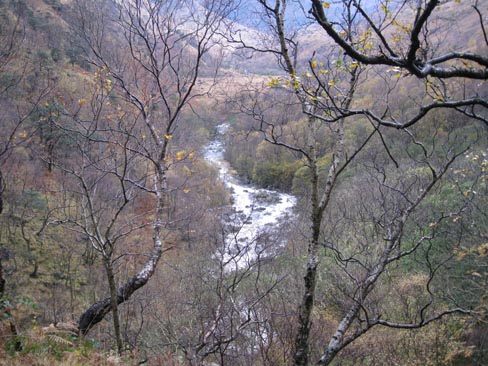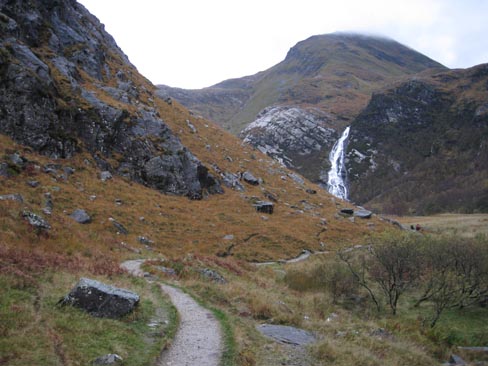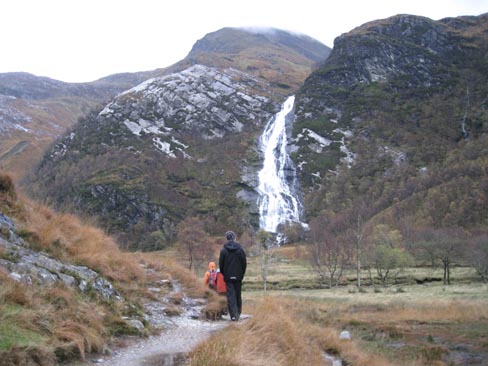 The excellent path later gets lost in the marshy meadows filled with water. The flows of water stream on lowlands of pasture and to avoid them, we unconsciously climb higher and higher on the slope. But it is not getting better, and we have to run through the slope down again. Near the old ruins we find our first geopoint in Scotland .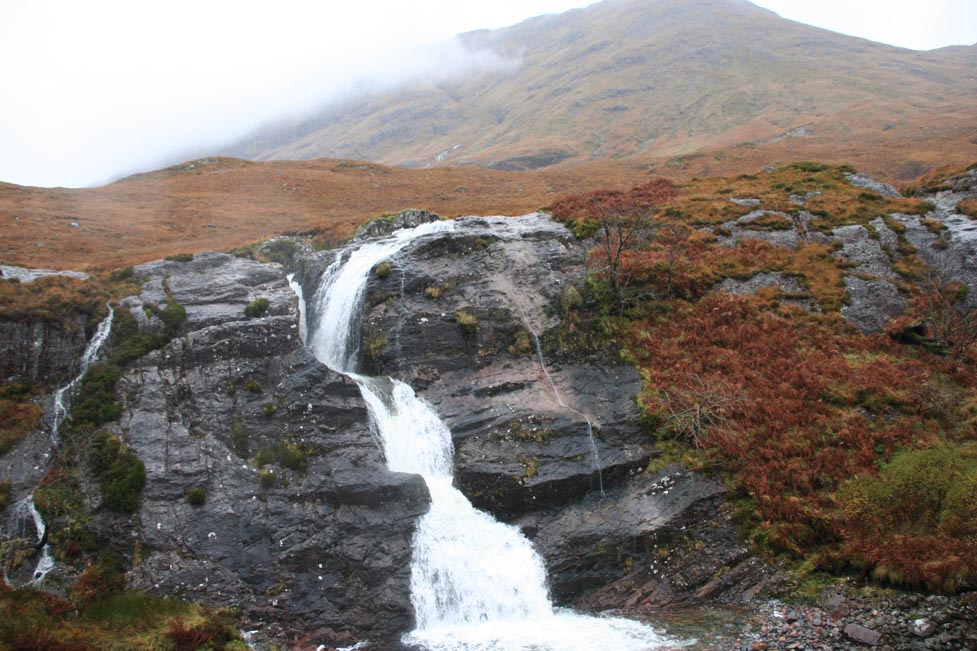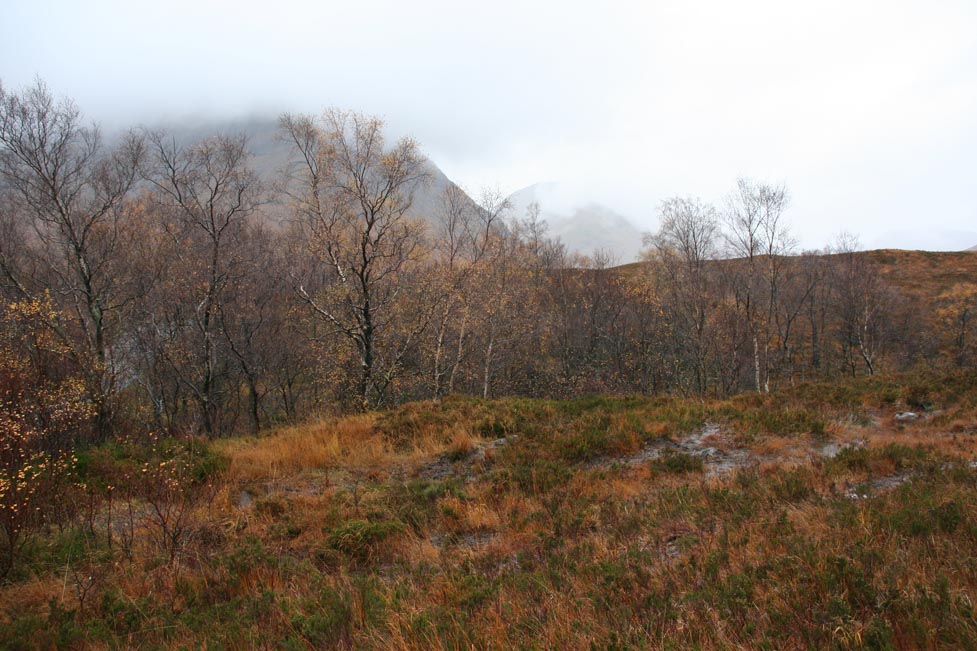 Evening in a guest house we spend by drying our feet and preparing to the great climb of tomorrow.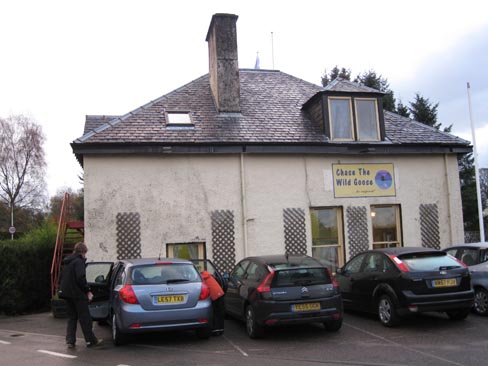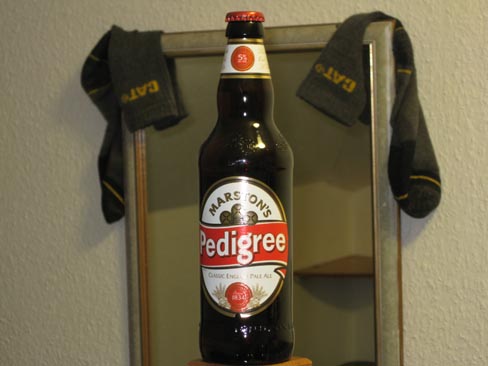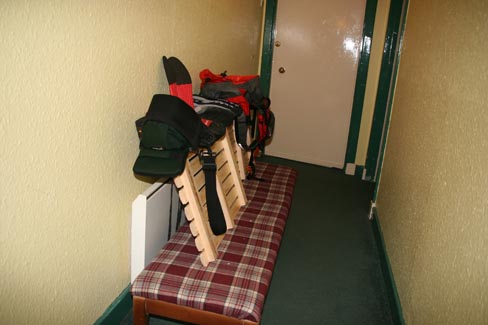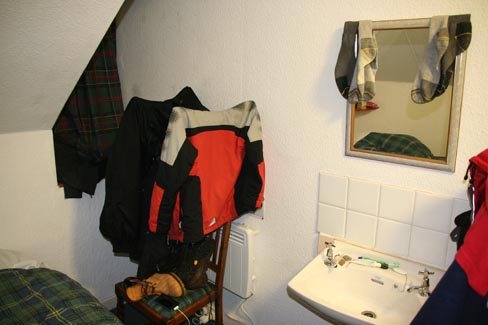 The morning comes unexpectedly hopefull.
Sometimes even a clear sky is seen! Of course, this does not apply to the direction where among black clouds should be Ben Nevis.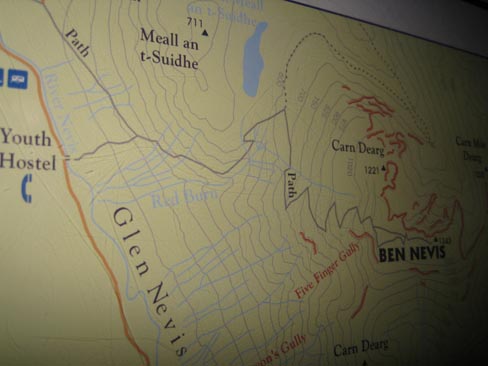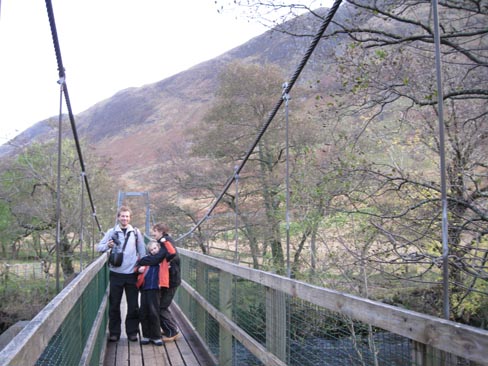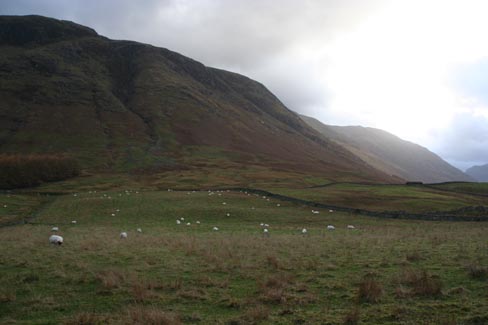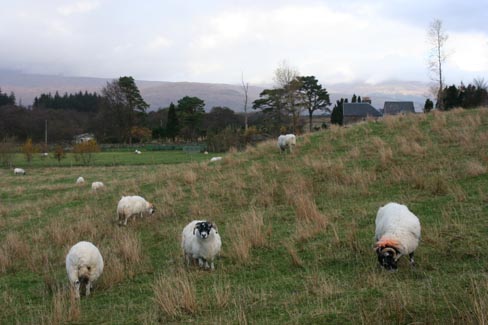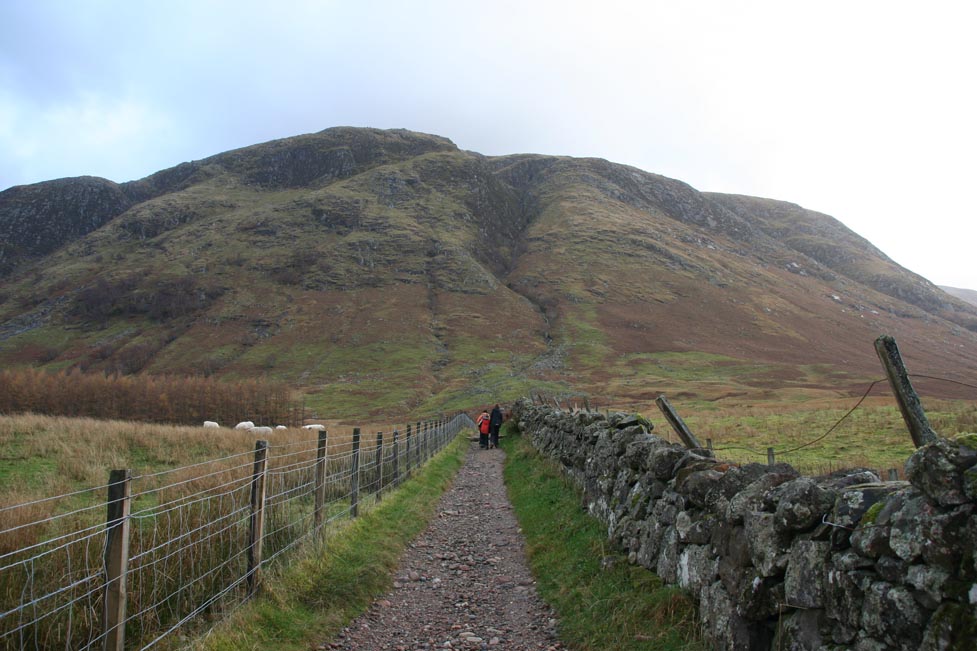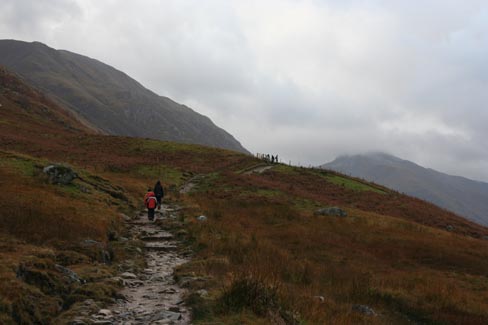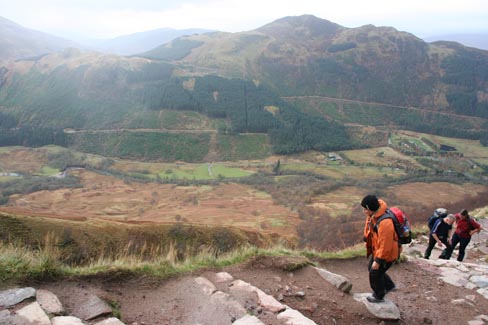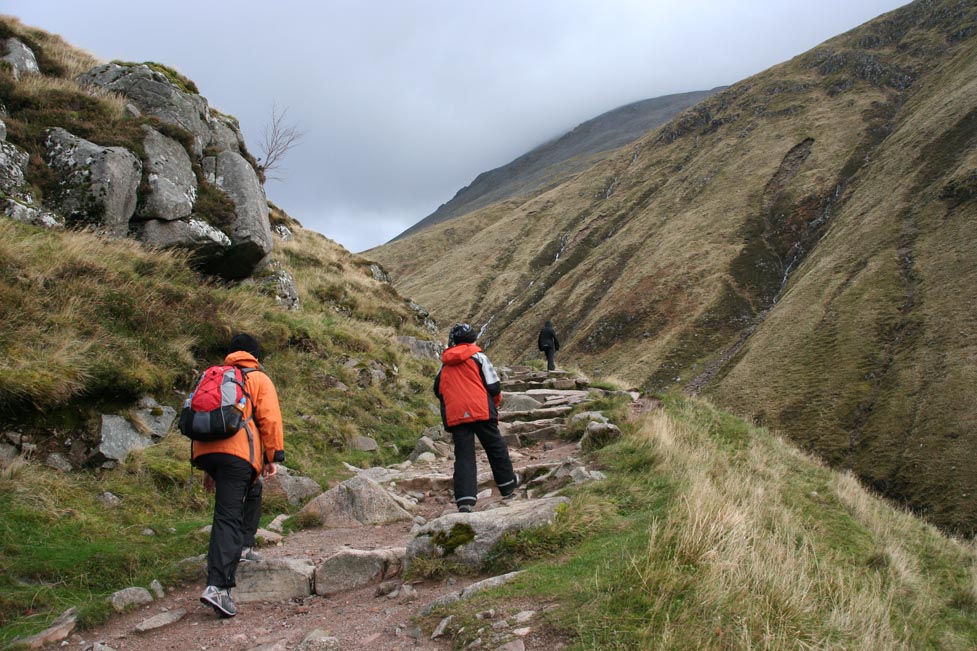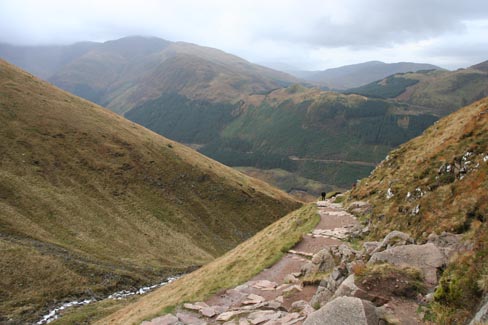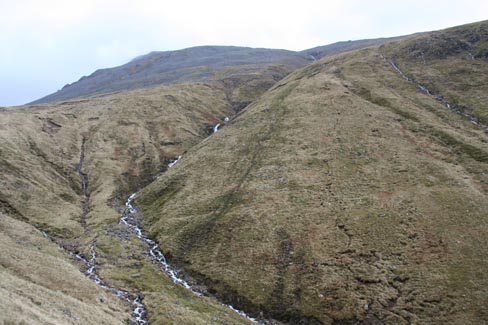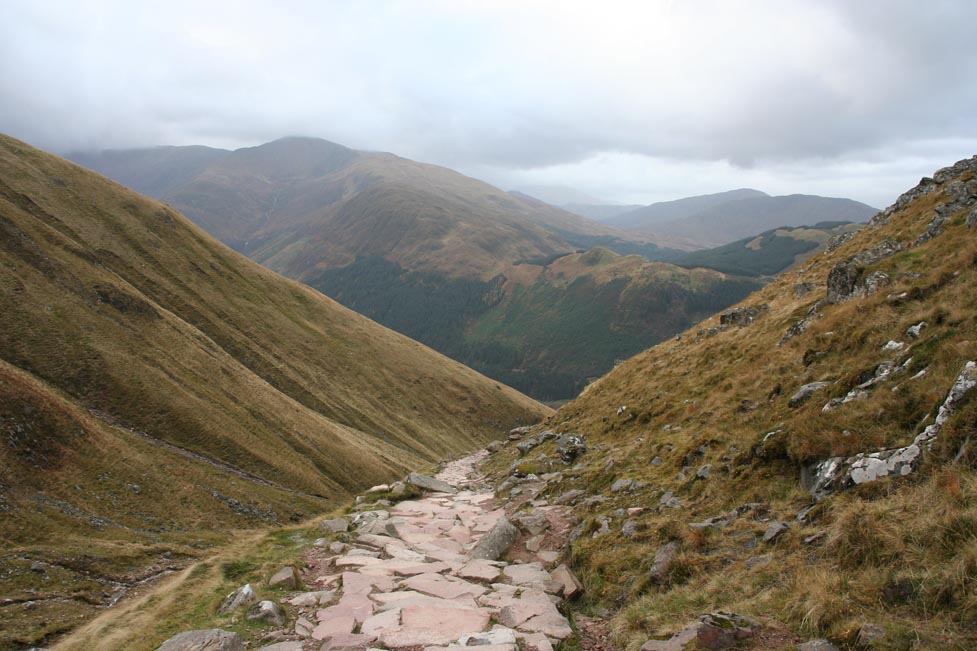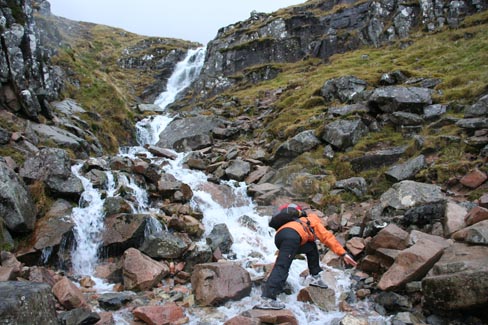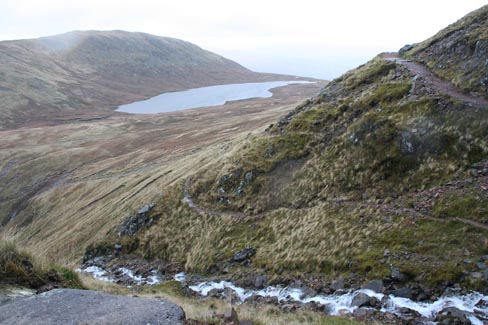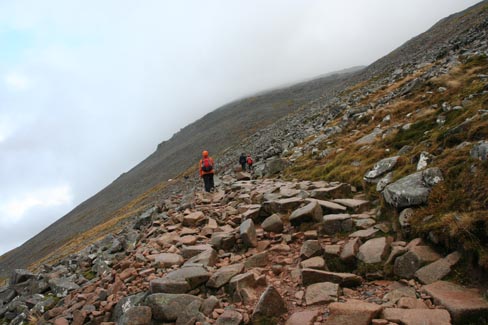 The higher we are climbing up, the more hopeless landscape appears. In the third of our way we at last reach the edge of the clouds. The temperature has dropped to 5 degrees and the gusts of wind carry the almost horizontal streams of rain. Nylon pantaloons get wet in a few minutes, and water flows on feet and further down in my boots.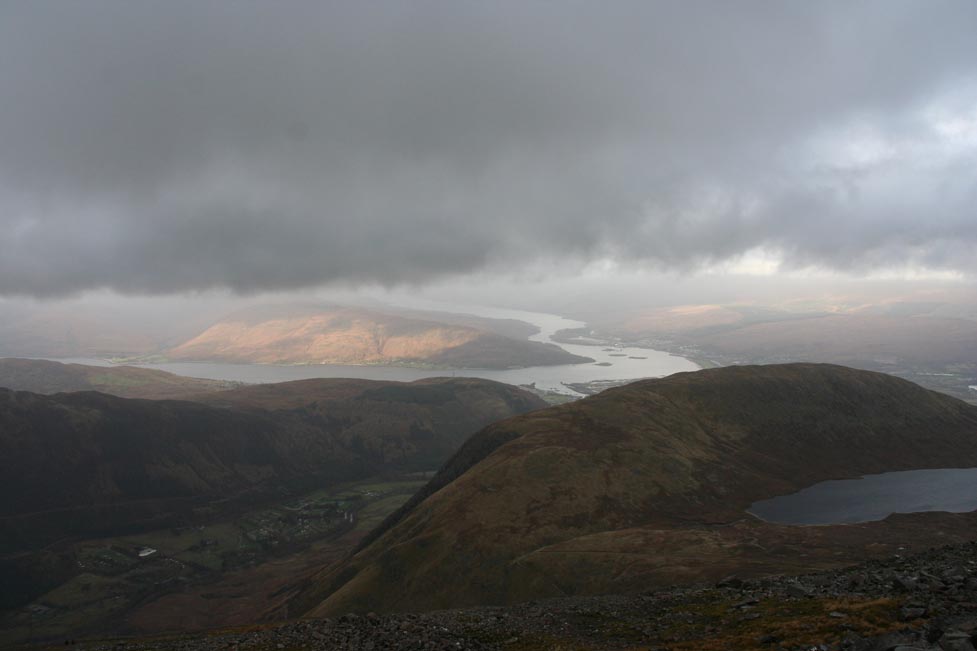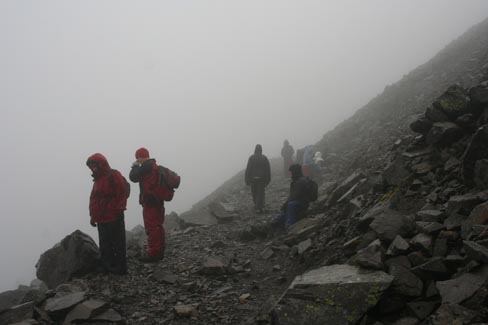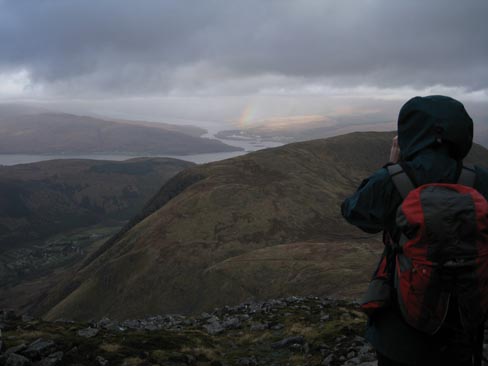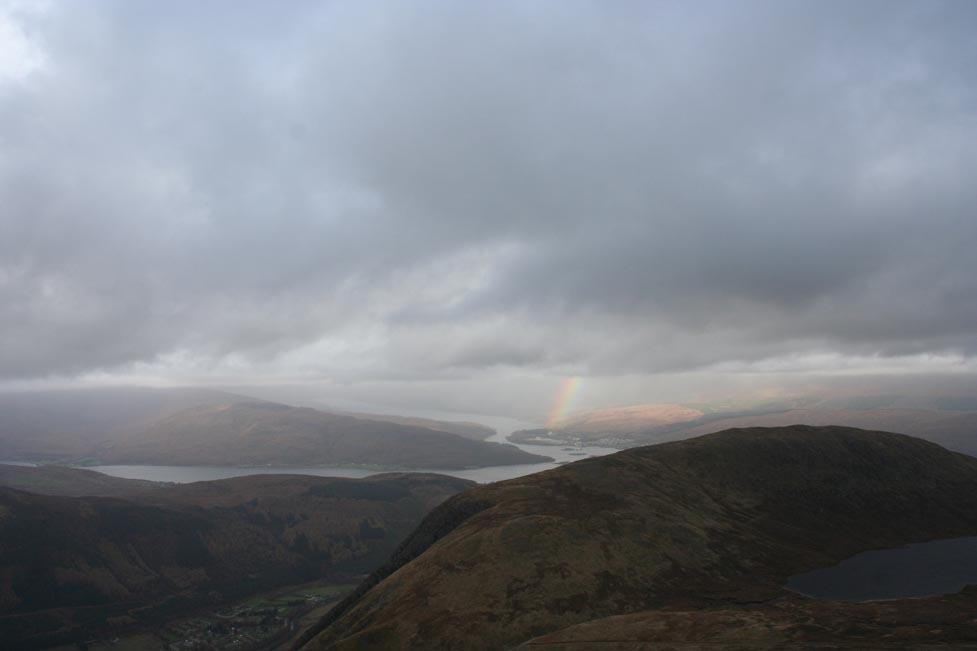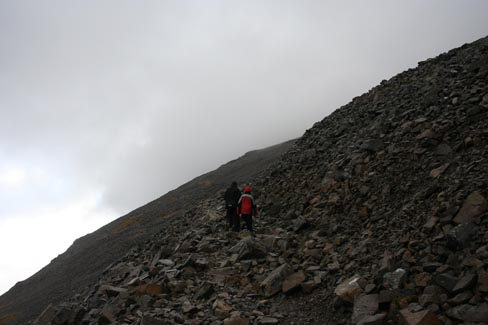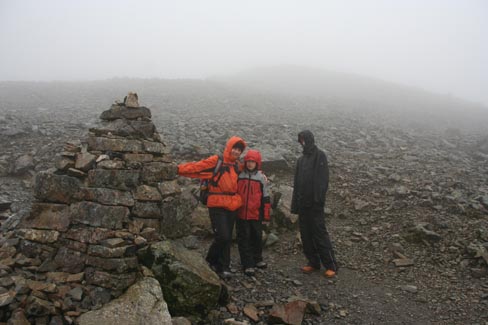 The last hour passes to wander in clouds and look for the path from one stone pillar to the next. Unfortunately our hope that rain will not flow into clouds is not justified.  Quite an opposite, the humidity yet even more embraces from all sides.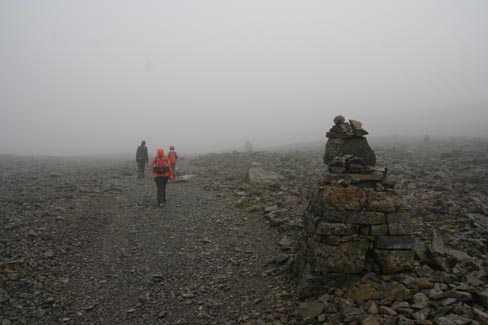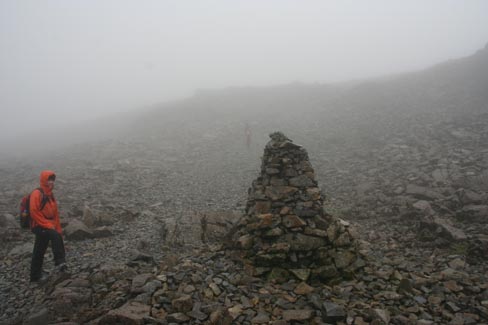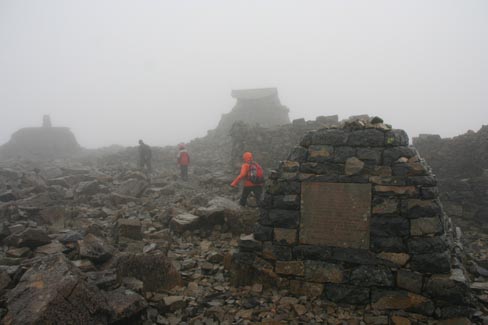 The last 1000 meters seem endless, until the moment when finally ghostly building appear from the fog. We raise flag on the official pedestal of the top (4409 ft), after we try to conquer the house of meteorologists, which is located higher. It is cold and empty, nothing from our expectations for warm refuge. Then we slide on wet stones to the highest geopoint of Britain, and then hurry to leave this hell.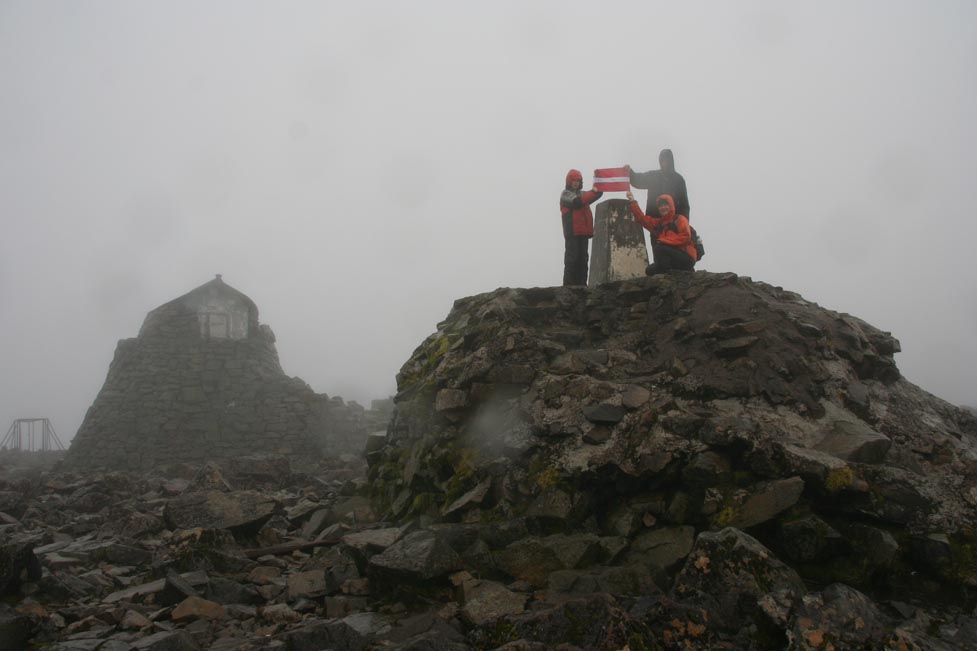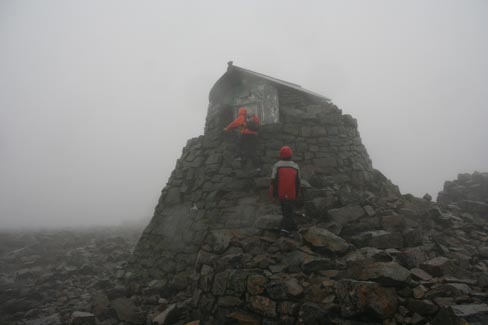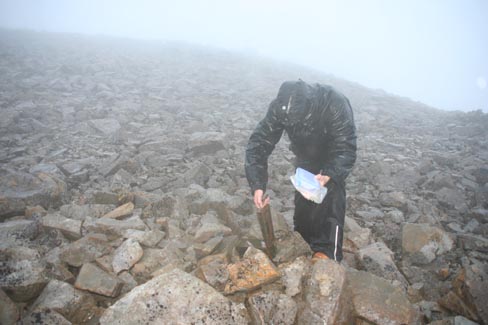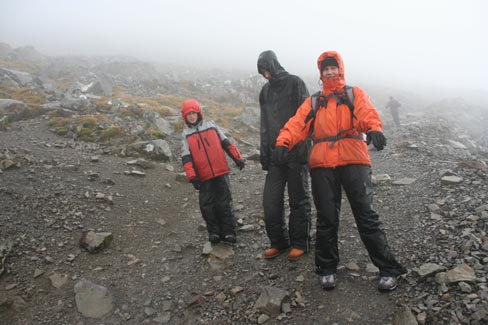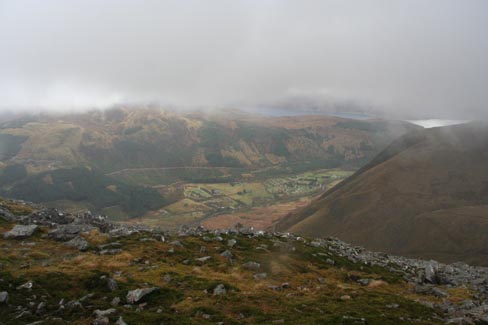 The road down pampers us by some nice views, but it is quite difficult to take a picture. As soon as I take out my camera, the beautiful landscape immediately is closed by next cloud.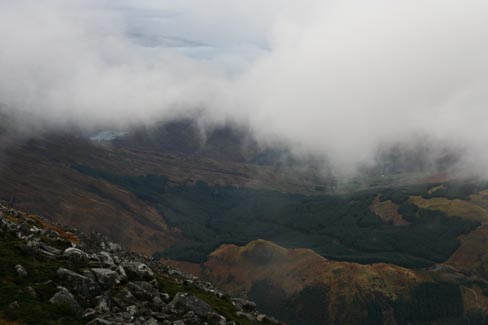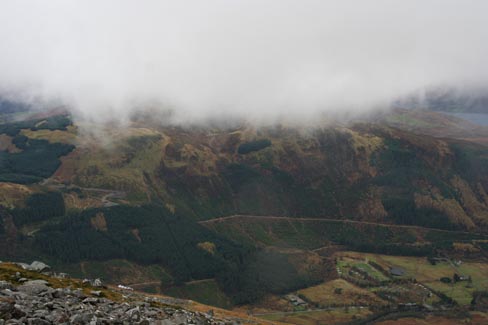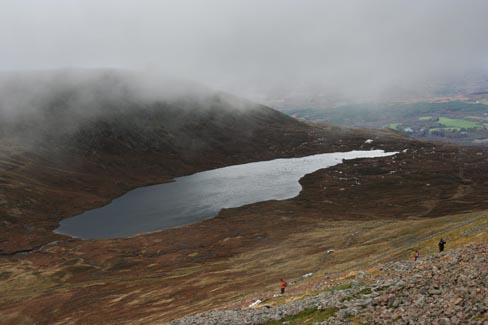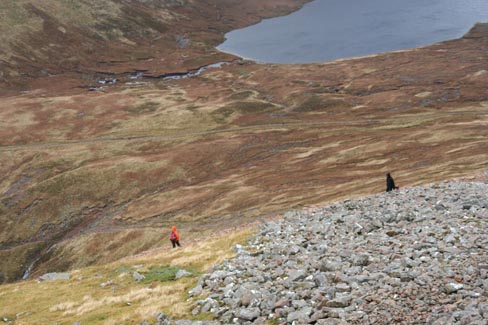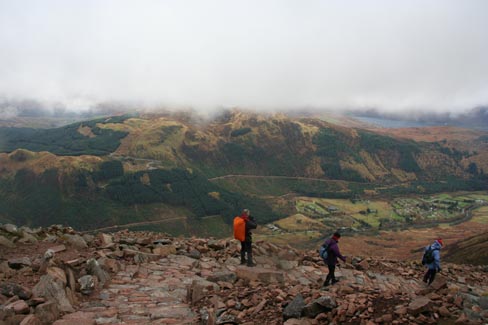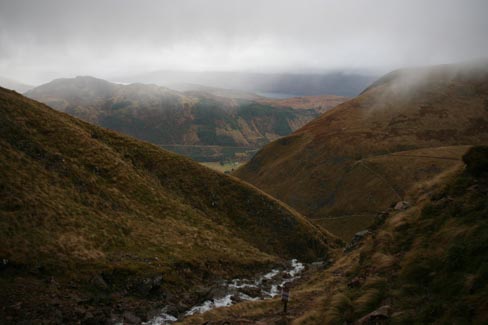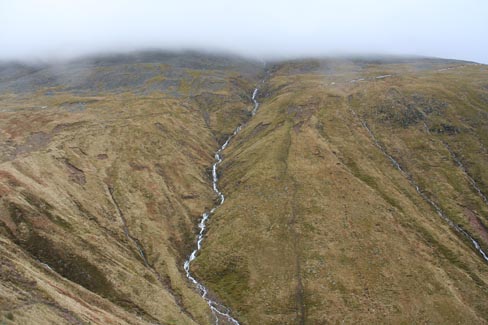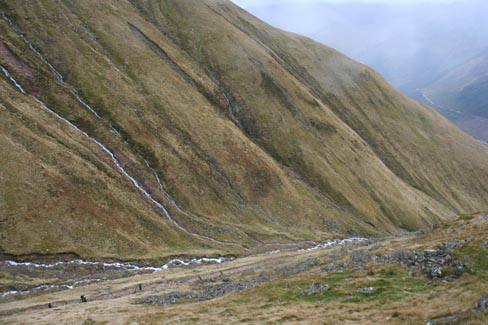 Finally on the lower pasturelands Ben Nevis says farewell to us with the strongest ever thundershower, to make sure that absolutely nothing remains dry. During the day previously small rivers have overflowed and flooded the roads.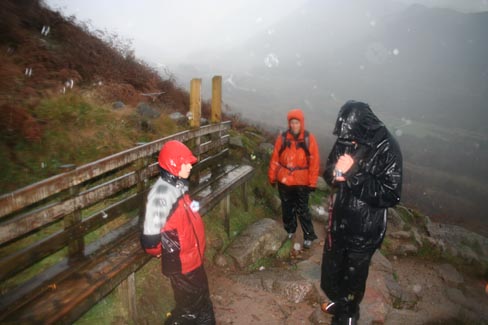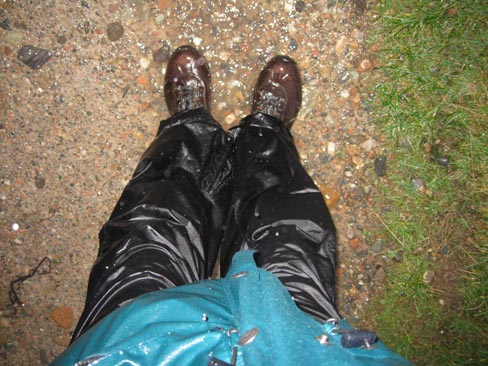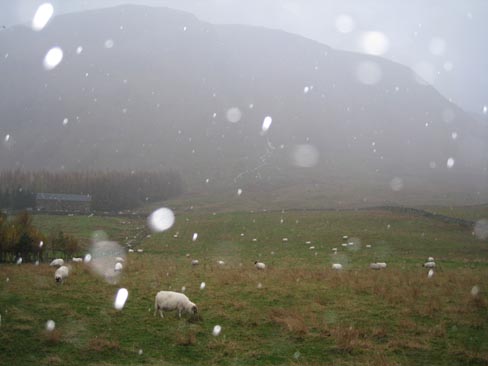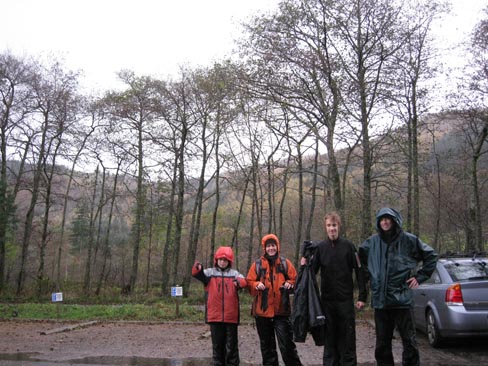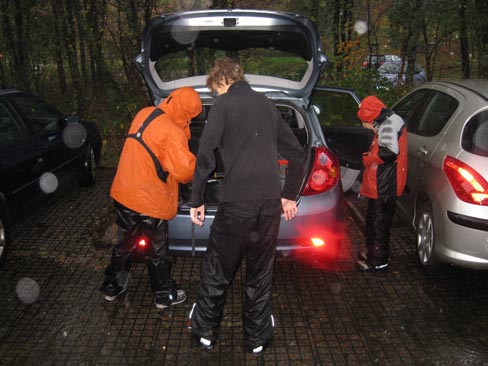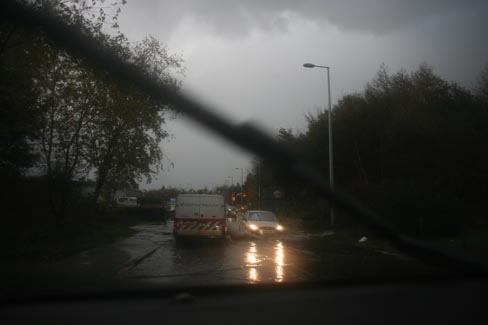 The employee of guest house understands us and helps to pull the ropes for drying clothes in some unoccupied room. Unfortunately there is one general problem with heating in Scotland. Scots are very thrifty. They programmed heating radiators maximum of one hour of work, and then they should be switched on again. Looking, how from sleeves and legs of pants water flows on the floor, we decide to create our own system for rapid drying just above the radiators. We use all pieces of the furniture, which we have found in guest house.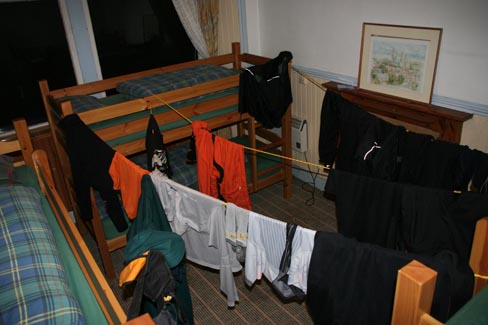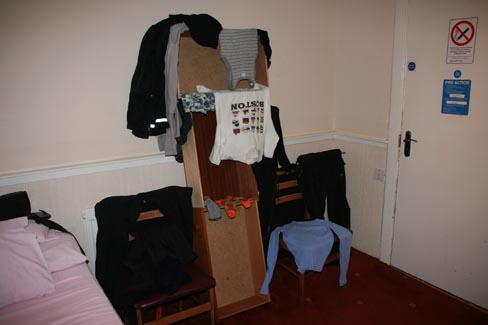 It is Sunday morning. Scottish hearty breakfast consists of eggs, beans, sausages, ham, pancakes, and it is necessary to notice, the price is very reasonable. This breakfast is better and cheaper comparing to standard products of McDonald`s right across the street. Our gain is unarguable.
We decide to buy a few bottles of beer as souvenirs, but on shelves there is a red tape with inscription that an alcohol is sold from 10:00 every day, except Sundays, when it is sold from 12:30. Just try to understand strange laws of the Scotches. We decide it is to let people go to church first.
We return to Glasgow and stay in the center, on a small mountainous street, in some classic British motel. The motel is so historical with creaky stairs, window on the roof, with a view of the stone covered roofs, ancient floor and furniture, tea-pot in room and toilet on the stairs.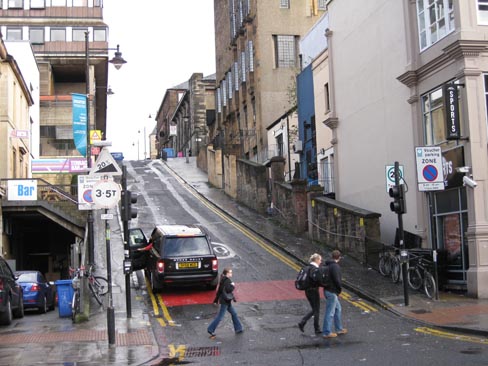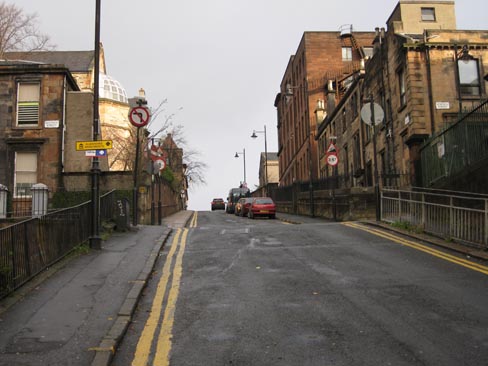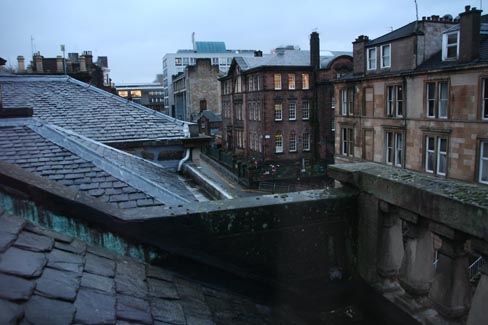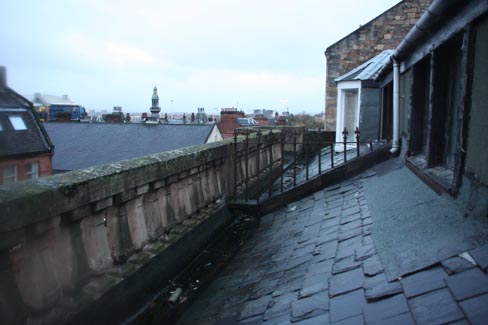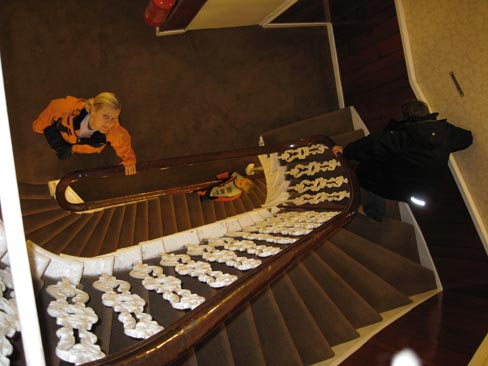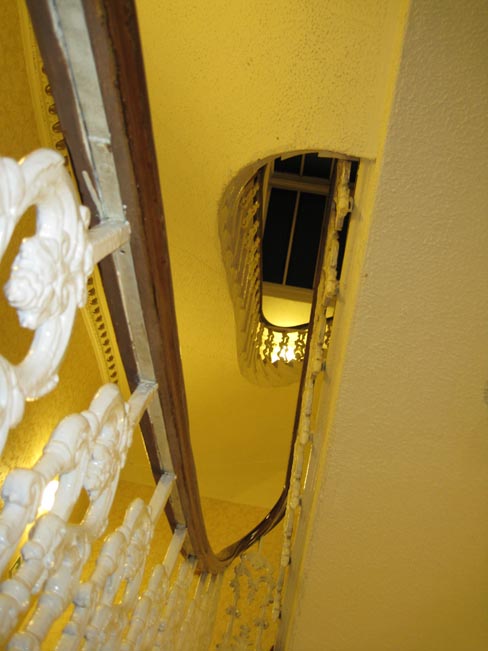 And here downstairs, if you manage to get down on the twisted stages, you are waited by the wide choice of different pubs and other dinning places.
We tasted traditional haggis, which is prepared from various viscera. As I understood: Haggis is a traditional Scottish dish made of sheep or calves viscera minced with oatmeal, suet, oatmeal and onions and boiled in the animal's stomach.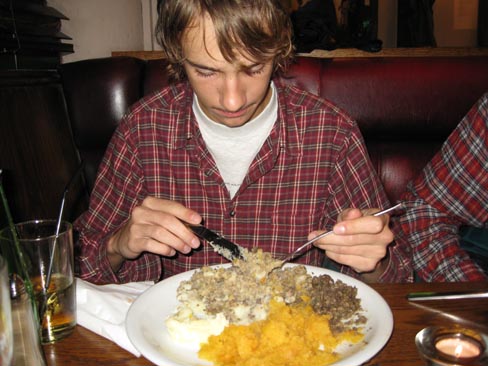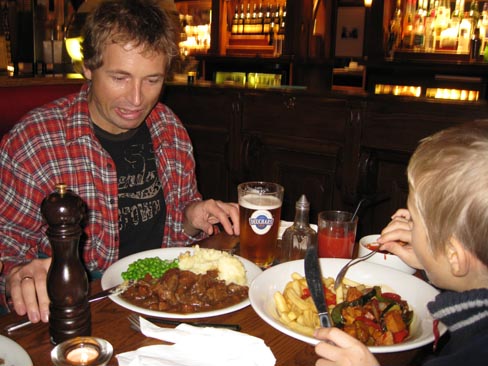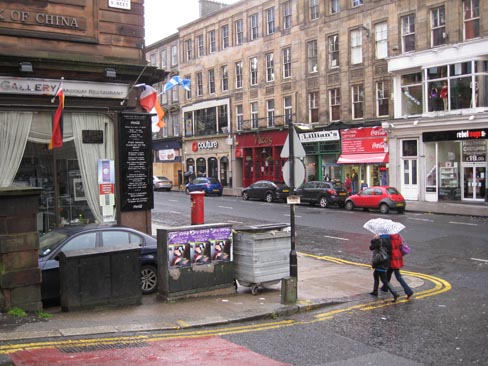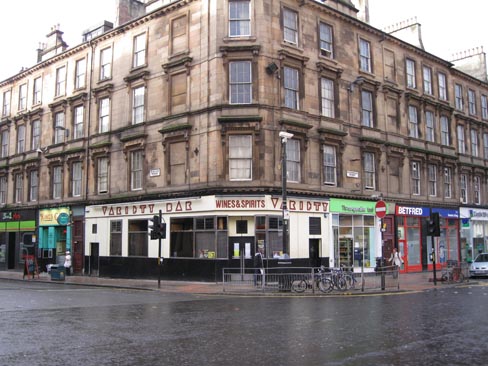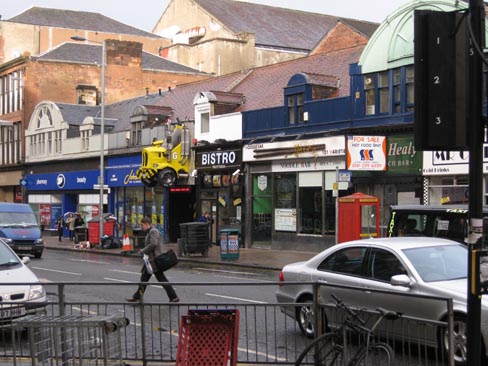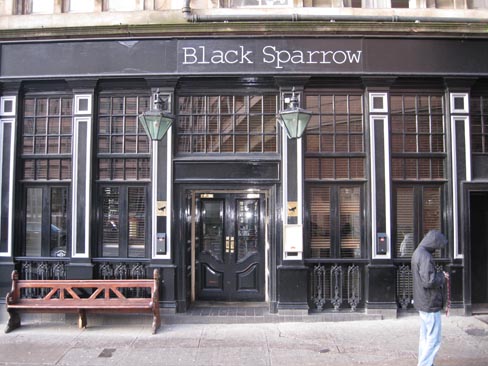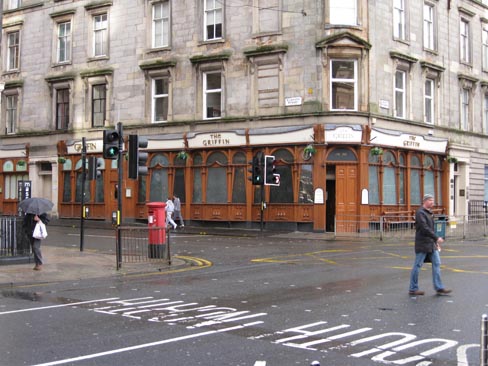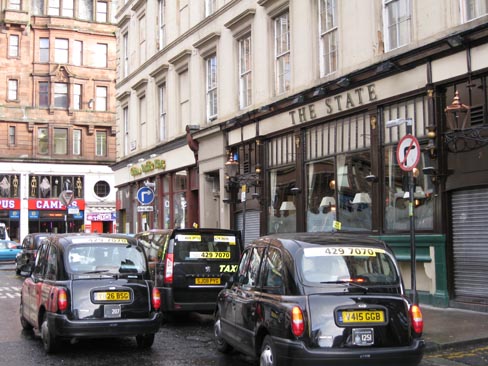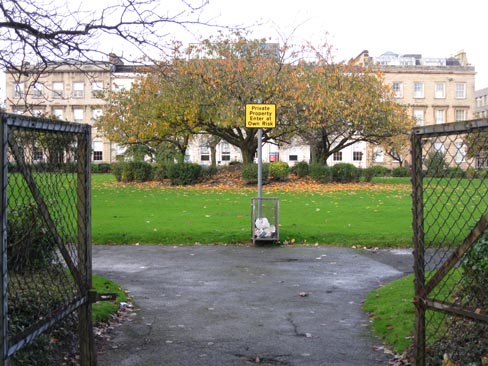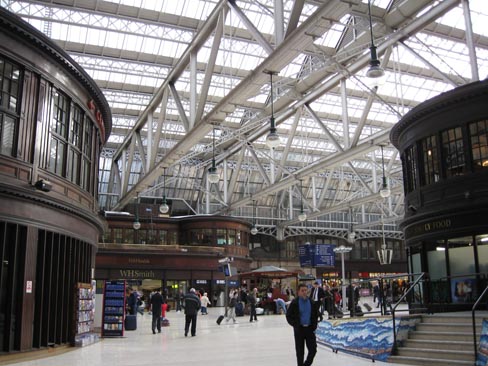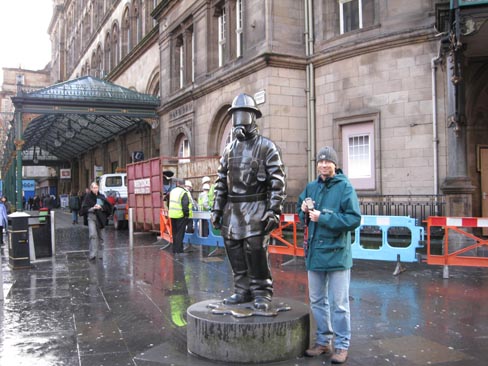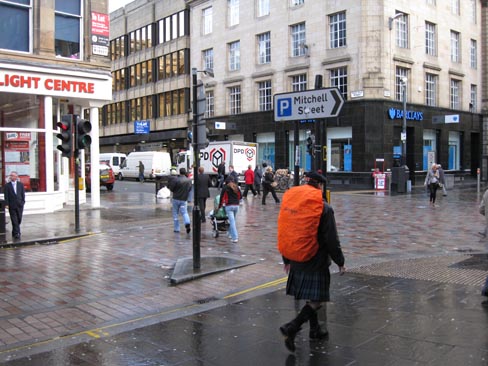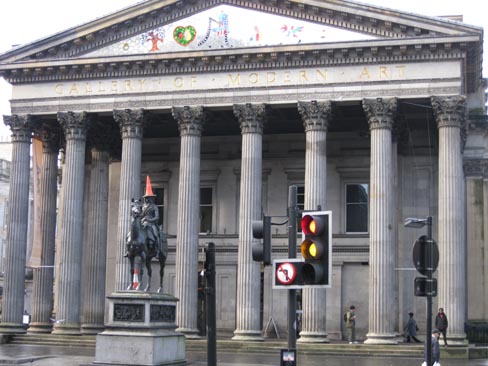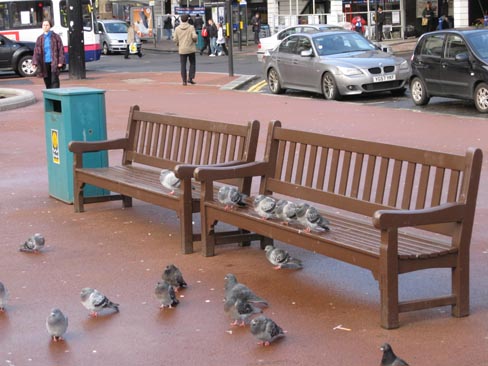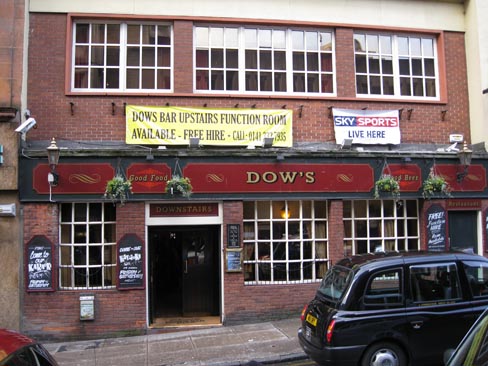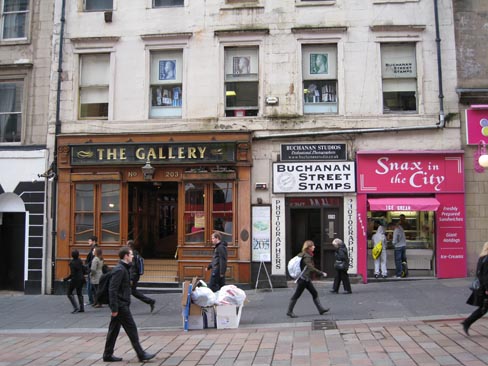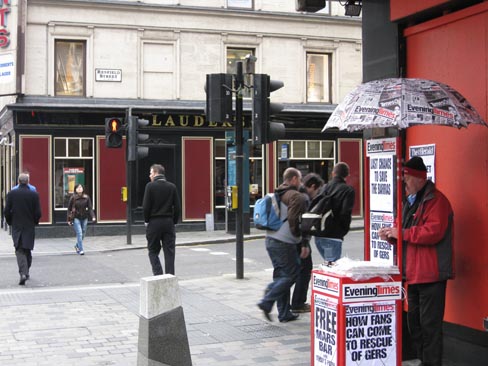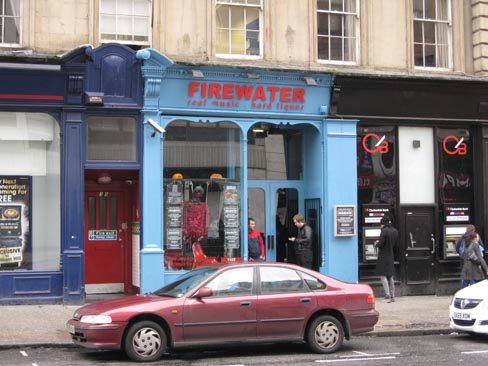 In legends is mentioned that Halloween is a tradition that was founded by Celts in this part of the world and then borrowed by American pop-culture. Today is the next day after Halloween, but only separate night-clubs testifies about it. Even in Riga Halloween is celebrated more scale…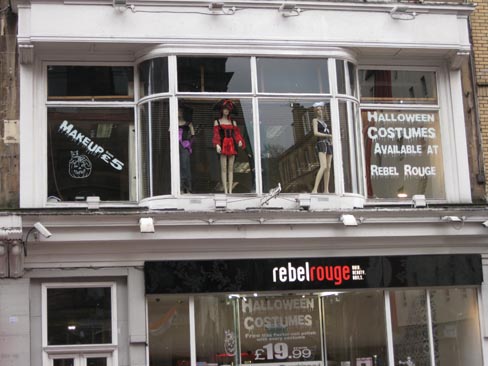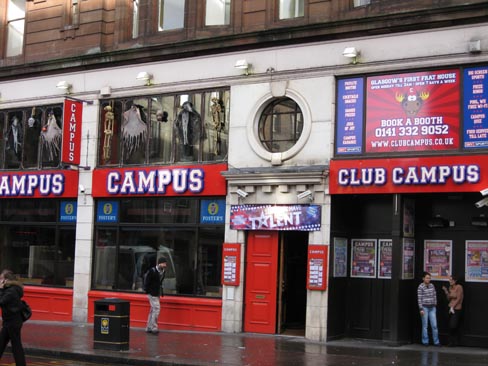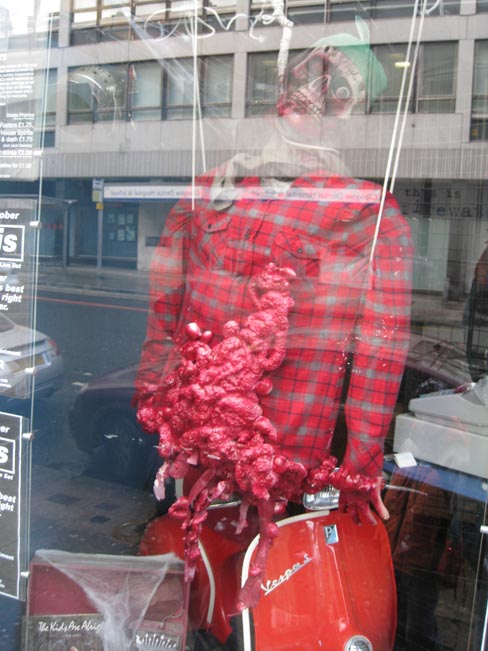 But to conclude – should come back once again, when it is not raining-:)